Assignment Profile Propagation Vs Assignment Profile Synchronization
Assignment Profile Propagation
While changing the rules of the assignment profile when we propagate those rules in order to inform SAP SuccessFactors Learning that it has a new way of grouping users in the assignment profile. For example, if the user originally has an assignment profile that pooled all the user with a job code (101), and then the user returned and added a rule which says that an another user with job code (202) should also be in the pool, it means that we have propagated the assignment profile's rules so that SAP SuccessFactors Learning knows to pool users with job code (101) and now also users in (202).
Therefore we propagate these rules in order to make them stand and once we click propagate all the users falling under these rules will be picked from the target population.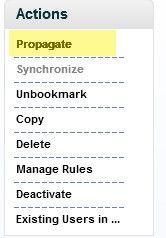 Propagation attaches the users who are captured by the rules (the pool of users) with the assignments (catalogs, curricula etc) in the assignment profile and it will allow us to preview those users.

Assignment Profile Synchronization
Synchronisation is mostly used to check the changes made in user record and also to adjust the target population if assignment profile as per as the changes made. So for example if as assignment profile that after propagation pool both the user with jobs codes (101) and (202), now let assume that some users who were having job code (101) earlier have now changed their job or transferred to another department and now they have job code as (303), please keep in mind that we have no changes in our assignment profile rules and its target population are still the users with job codes (101) and (202) but some others as we said moved to another department and now have different job code or vice versa and few have joined and get assigned the job codes (101) and (202). Now in this case synchronization will go and check for these changes in the user records and will adjust the target population of assignment profile as per these changes.
Therefore it will according to our example assign items/curricula to users who has moved into departments that have job codes (101) and (202) and also at the same time remove the users who do not fall within that rule anymore such as those users who have moved to other departments.
Note: Synchronization can be conducted manually (at Assignment profile level) or scheduled from admin side.
Assignment profile level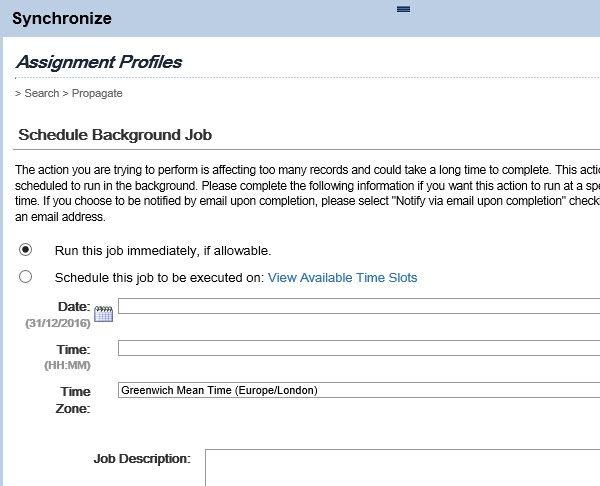 Scheduled from Admin side