Home »
GTS (Global Trade Services)
SAP GTS (Global Trade Services)
Definition or Meaning - What is SAP Global Trade Services (GTS)?
Full form or SAP GTS stands for (Global Trade Services), exporting across borders, and with negligible risks, can be made possible with the SAP GTS platform in place Known for its benchmarked methods and tools required for effective trade services, this platform helps you keep in line with dynamic international trade rules and regulations that are different for different countries. There is no need for you to spend extra resources, time and energy for the same.
The SAP GTS automates all kinds of global trade processes and helps in the management of a large number of businesses across the world. It presents tools which you can use for responding to the trade laws in different countries, via an electronic medium.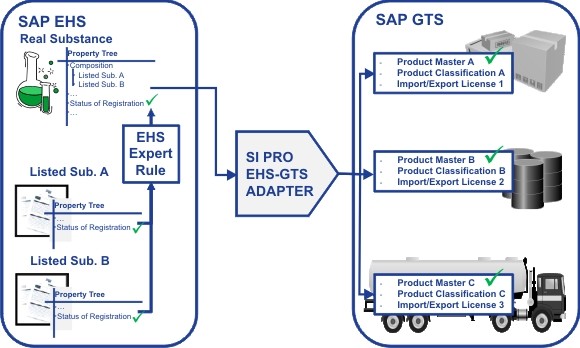 These are some of the things that can be achieved with the help of an automated GTS platform:
Reduced risks of trade penalties and fines.
Cost control during export procedures.
Boost in productivity and streamlining of all trade processes for improved international operations.
Elimination of all the manual tasks with the help of automated tools. Correspondingly, the time associated with these manual tasks is also eliminated.
Seamless and reliable integration through all cross border supply chains.
Reduced delays with regards to inbound and outbound custom clearance.
Better customer satisfaction and protection of the company's brand name.
Reliable gauging of the credibility of global clients.
The GTS platform provides adequate tools for Compliance Management, Risk Management and Customs Management. All the tasks and procedures that are a part of these modules are taken care of efficiently.
There are no restrictions on the size and nature of businesses for the effective implementation of the SAP GTS platform; it is efficient for companies in every industry. This system understands the nature of business and takes appropriate actions to complete the trading procedures. It helps in avoiding any delays during import and export processes, which in turn can cause a financial strain on the company. It is possible to respond to the global opportunities that develop in the ever changing business world. All this can be done by minimizing the financial risks involved.
Read Next:
Tutorials
Trade and Grow with SAP Global Trade Services (GTS)
Regardless of its nature, trading is a crucial part of every business organization. Most products are not confined to the geographical borders wherein they are created and may be demanded globally. Th ...
Business Partner Update Failures in GTS
We are having these below issue: Business Partner update failures in GTS Transmission error while transferring Partner Red lights on /SAPSLL/PARTNER_APPL Log Error "Business partner xxxxxx ...
403 Forbidden Error in GTS NWBC (Netweaver Business Client)
A 403 Forbidden error is being displayed on Web Browser while accessing areas of GTS NWBC (Netweaver Business Client) Accessing Areas where this error occurs: Customs - Export Customs - Import Im ...
Get solutions from our experts!