Definition or Meaning - What is SAP MRS?
Full form or SAP MRS stands for (Multiresource Scheduling), In case you're looking for a module which helps you manage your resources in a much better and efficient manner then there's no better software than SAP Multi-Resource Scheduling, based on the SAP NetWeaver technology this allows you to become more efficient and boost your profitability levels. By using this you would be in a better position to put the resources in the right place at the right time.
The software provides assistance in finding the relevant resources related to your demands and consecutively assign them to the demands and later these arise from the units of work corresponding to the areas of Service, project system which are the primary source of these sources of demand meant for SAP Multisource Scheduling are listed below:
Customer Service orders
CRM service orders
Projects from Collaboration Projects (cProjects)
Projects from Project System
Plant Maintenance orders
With the help of SAP Multiresource Scheduling one can do multiple things which vary right from viewing the status of resource planning, allocating appropriate tools as well as employees which require demands from various areas.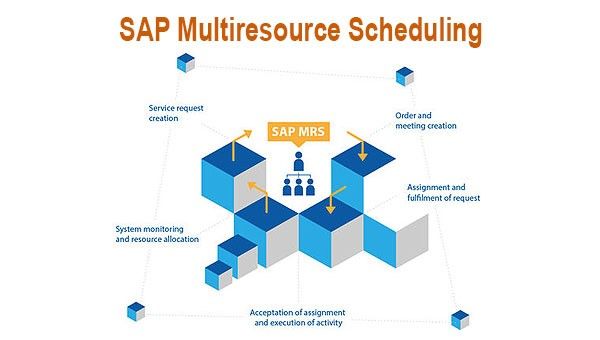 By using the SAP Multiresource Scheduling the following functions can be facilitated:
The user is able to receive Spontaneous and automatic support for the purpose of planning resource which is solely based on qualifications, partner roles, availability, along with automatic assignment creation based on utilization and an intelligent shifting of existing assignment plans.
A graphical interface which is intuitive in nature and helps in planning manual resources which use all the information related to the utilization of resources, open demands and also covers all scenarios which cover all possible conflicts with present resource planning.
Capacity management is also handled very well by SAP Multiresource Scheduling as all the workload listed at the team level is duly considering planned and unplanned orders, as well as employee availability.
The module helps you to optimize your daily assignment planning, for instance, it can increase the utilization, reduce the time spent in travelling, and even allows you to adhere to service level agreements.
For visualizing the travel routes the module allows you to amalgamate geographical information by allowing you to support employee which is located the closest to you.
One can even integrate the mobile devices which provide information to employees and can help you keep a track of the status of assignments.
You get a real-time update of daily activities which is all made feasible by using the dashboards.
Based on the SAP NetWeaver technology the SAP Multiresource Scheduling enables resources to be planned across systems. You can implement SAP Multiresource Scheduling as an add-on based on SAP NetWeaver or SAP ERP.
SAP Multiresource Scheduling built on SAP ERP
By using the SAP Multiresource Scheduling which has been built on the SAP ERP, the following functions can be performed:
The system of modelling personnel resources as employees in SAP ERP HR can be effectively done when using SAP Multiresource system.
Integration with SAP Project System is made easier since SAP ERP is being used.
Within SAP Multiresource Scheduling the usage of qualification becomes easy.
In project systems, the web-based resource management can be done seamlessly.