SAP software products have helped businesses all over the world to grow and prosper. Products such as SAP ERP and SAP CRM have become indispensable to any large scale organization. Sometimes handling all these software solutions can get tricky. This is because there are a lot of applications and data associated with these software solutions.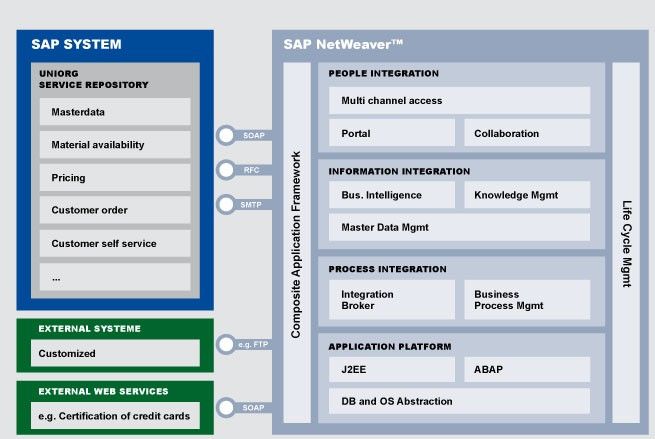 That is why the SAP NetWeaver was launched. It is a platform that handles other software solutions easily. Data can be integrated from different sources into a single environment.
In this post, we will learn more about SAP NetWeaver.
What is SAP NetWeaver?
SAP NetWeaver is SAP's primary integration platform that supports applications such as SAP CRM and SAP ERP. Companies can use this software to integrate business processes and data from different software. It offers the foundation to operate different application landscapes.
You get the required tools, web services, and server functionalities. This assists you in seamless data, system, and application integration. Moreover, it supports various business operations.
These include -
Supply chain management
Finance management
Customer relationship management
Human resource management
Developers and administrators use SAP NetWeaver to handle different SAP systems. It also comes with different usage types for analytics tools, such as BW & PI and Portal. Furthermore, SAP NetWeaver offers an extension to big data, cloud, and mobile solutions.
SAP NetWeaver History
SAP NetWeaver was developed by TopTier Software in 1997. In 2001, this company was acquired by SAP. Later in 2004, SAP NetWeaver was launched by SAP as NetWeaver 2004. NetWeaver 7.0 was made launched on October 24, 2005. The SAP NetWeaver7.5 SP 19 is the latest version.
SAP has worked with tech giants such as Sun Microsystems, HP, and IBM to develop SAP NetWeaver's components. Later on, development tools were created for SAP NetWeaver. These include –
ABAP Workbench
SAP NetWeaver Developer Studio
Visual Composer
SAP NetWeaver Development Infrastructure
Core Capabilities of SAP NetWeaver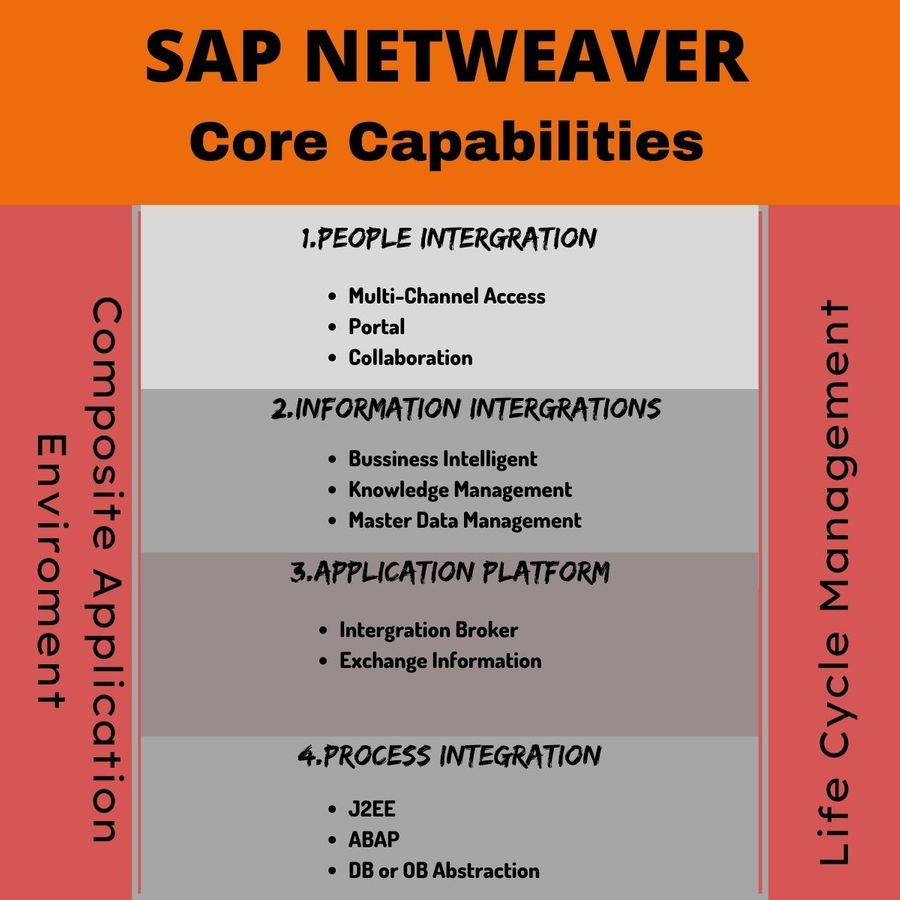 The core capabilities of SAP NetWeaver include –
People Integration
As the name suggests, SAP NetWeaver lets you bring together your employees, staff, and stakeholders. This enables them to work more efficiently. This is made possible through its portal technology that delivers unified and personalized access to users. This access is role-based, so users can focus more on the data that is relevant to them.
SAP NetWeaver allows all staff to collaborate and communicate effectively. It offers Collaboration Rooms, chat, and application sharing facilities. You can use third-party tools such as Microsoft Exchange and WebEx to collaborate effectively.
Another important feature is the Multi-Channel Access. This lets you connect to ERP systems via mobile, web, voice, or radio technology.
Information Integration
This simply means that you can integrate information or data from different sources, into a single location. It lets you make sense of your data and make important decisions.
SAP NetWeaver offers Business Intelligence tools for developing interactive reports and apps. There are BI Content & BI Content Extensions that help this process. Moreover, SAP NetWeaver offers common access to unstructured data and documents. It offers data handling features such as
Search
Classification
Subscription
Versioning
All this makes text mining and data processing easy in the case of large data sets or complicated documents.
Application Platform
The SAP Web Application Server provides an architecture for developing, running, distributing business apps and Web services. You can develop your applications using ABAP on an interactive and browser-based platform. Software developers can manage the software development lifecycle with almost marginal downtime.
SAP NetWeaver also has ABAP code analysis tools. These help developers remove obsolete code. They can make changes according to database implementation. It also helps them enhance the performance of database queries.
Process Integration
SAP NetWeaver allows companies to coordinate and manage workflows across many departments. The software offers Usage types. These let different SAP and non-SAP systems to communicate with each other. Even if the systems run on different platforms, they can communicate with each other.
The SAP NetWeaver architecture offers various facilities. These include message exchange, configuration options for business process management, and message mapping.
Features of SAP NetWeaver
Some salient features of SAP NetWeaver are –
SAP NetWeaver lays the foundation for SAP Business Suite and SAP Business by Design. Custom-built apps and partner solutions are also supported
It uses open technological standards for integrating information from various sources. It also supports modern technologies such as Big Data analytics and IoT
Java servers and ABAP (Advanced Business Application Programming) is used for supporting applications
Allows IT teams and users to change, add, create, and control decision logic. Data models are also provided to encourage conceptual thinking
In-built functions enable you to integrate various processes across applications. This lets you enhance your programming model
A web-based platform which is also a foundation for Enterprise Service-Oriented Architecture
Installation Options for the SAP NetWeaver Application Server
There are two ways to install SAP NetWeaver Application Server. They are –
ABAP System– In this method, you can execute ABAP programs and some SAP Java apps
Java System– In this method, you only can run J2EE apps. No ABAP programs can be run this way
SAP NetWeaver Components
SAP NetWeaver has some important components that help businesses to execute business operations and solve issues. These include –
1) SAP Business Information Warehouse
This offers a business intelligence platform and some data warehousing functions. There are tools companies can use to analyze business data and make crucial decisions.
2) SAP Business Intelligence
With the help of analytics and reporting tools, businesses can analyze data and uncover hidden patterns. Using this, data can be integrated from different sources and understood. Then, it can be distributed to other departments and concerned staff.
3) SAP Enterprise Portal
This is used for creating role-based interfaces for users. It makes it easier to focus on the important tasks at hand. Moreover, businesses can create single access points for services, apps, and data within SAP environments.
4) SAP Exchange Infrastructure
This component facilitates the exchange of information between the SAP environment and external systems. It also offers a framework for building adapters. These adapters establish communication between two apps.
5) SAP Knowledge Warehouse
This assists companies to create and manage knowledge bases. These are used for storing data about training materials, documentation, and manuals.
6) SAP Master Data Management
This allows companies to collect and organize data from various heterogeneous sources. All this information is consolidated into a single location.
7) SAP Mobile Infrastructure
Using this infrastructure, you can create one interface which can communicate with any device. It acts as a universal translator for mobile devices.
8) SAP Web Application Server
This is the platform on which SAP NetWeaver is built. This works as an engine behind all the applications and tools.
9) SAP NetWeaver Process Integration
This allows companies to integrate business processes running across different systems.
Advantages of SAP NetWeaver
The primary advantages of using SAP NetWeaver are –
It can adapt to different technologies used in a business and enhance its efficiency
Applications designed using different languages can be shared among various vendors easily
As a lot of data can be handled and processes from a unified database, it saves IT and management costs
It is a heterogeneous platform that can change according to business needs and technology trends. The need for software customization is reduced
Reduces system complexity that allows employees to work with the software easily. Furthermore, the learning curve is not very steep for SAP NetWeaver
It increases the return on investment for any business within a short period
Web and mobile apps let companies implement business logic
Its Service-Oriented Architecture approach eases the process of system upgrades
Become a Certified SAP NetWeaver Consultant
To get a job as an SAP NetWeaver Consultant, you need to have a solid foundation in the NetWeaver platform. You also need to know its architecture, application development process, and navigation. The SAP Certified Technology Associate – System Administration (SAP HANA) with SAP NetWeaver 7.5 is a good certification course for this.
You can have a bright career after learning about the SAP NetWeaver platform. In India, the average base pay of an SAP NetWeaver Consultant is INR 913 K per year. After years of experience and skills under your belt, this salary can go up to INR 1330 K per year.
The major companies hiring SAP NetWeaver Consultants include IBM and CGI.
Conclusion
SAP NetWeaver can be considered an all-rounder software solution for organizations. It has affected their growth, sales, development, management, and revenue positively. The platform reduces complexity among systems. So, employees, administrators, developers, and managers can all focus on their business objectives.
Other Useful SAP Netweaver Resources