Definition - What is SAP NetWeaver?
SAP NetWeaver—a popular application computing platform that is responsible for the run time and development environment for SAP application, is basically a combine of SAP software tools for business applications and SAP Kernel (OS). This application builder from the world of SAP (Systems Applications and Products) is very useful for integrating business databases and processes from varied sources; along with exploiting contemporary web services technologies such as Microsoft's.NET, Sun's Java technologies and IBM's Web Sphere.
SAP NetWeaver is an interoperable internet based Application Platform that is fully compatible with third party platforms and other SAP components and applications. As it boasts of a common runtime environment, this SAP module is being increasingly used for various SAP Business Suites such as SAP CRM (Customer Relationship Management), SAP SRM and so forth. An integral part of the popular mySAP product group from the company, NetWeaver is receiving a lot of industry attention because it happens to be the first web-based cross-application, fully interoperable platform that can be used for developing not only SAP applications but numerous others as well.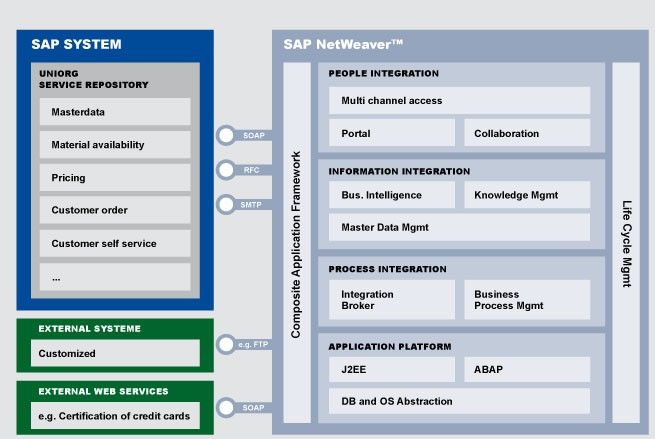 NetWeaver permits developers to integrate crucial information and processes from geographically dispersed locations via diverse technologies. It has been marked as a product that is fully equipped to spur the adoption of web services for various verticals. In the current scenario, even though Web Services are seen as future-oriented development models, their rate of implementation has not been high. This is attributed to the competition and incompatibility existing between enabling products. This makes it important for organizations to implement the SAP NetWeaver Gateway that facilitates better consumption of business logic, easier provisioning, streamlining of SAP backend systems designed for web, mobile based applications and more.
As SAP NetWeaver is a useful tool for all devices and developers, it aims to bring about a reduction in complexity and skill sets required for accessing SAP data. Going a long way in removing deployment barriers, its simplistic interfaces are quite helpful in shortening development times. NetWeaver Gateway exposes the SAP Business Suite functionality in the form of REST-based OData services (Open Data Protocol services) and allows SAP applications to integrate data with an exhaustive range of technologies, devices and platforms, in a manner that's easy to consume and understand.
The usage of REST services brings forth:
Easily comprehensible human readable results and helpful data that can be viewed using the browser.
Stateless apps.
Related and relevant pieces of information wherein one piece of data effectively relates to the other for better results.
Use of standard commands like PUT, POST, GET and DELETE which allows users to work on the same format and get access to customized results.
Capability of being used by a vast range of applications like Twilio, Amazon, Twitter, Face Book, YouTube, eBay and Yahoo!
Scope and Opportunity of a Career in SAP Net Weaver
There are many opportunities for SAP professionals who have the add-on advantage of SAP NetWeaver in their profiles. Because of its interoperability to work along with diverse technologies and applications, SAP NetWeaver developers, trainers and consultants are finding it easier to provide runtime computing platforms based on SAP Web Application Servers for diverse kinds of applications (including SAP components). This popular module is built using the ABAP programming language and supports C and JAVA as well. With all these features and a lot more in store, this course provides ample job opportunities and requires:
Familiarity with the fundamental concepts of computer applications and information technology.
A degree like BCA, MCA, B.Sc., B.Com, B.Tech (any branch), MBA or M.Tech (any Branch).
Sound knowledge of general business processes and internet based applications.
SAP NetWeaver training sessions are best suited for those familiar with the SAP environment and boasting of skills and experience in SA ABAP programming. Developers of SAP applications, SAP administrators, SAP consultants and project team members who have prior experience in SAP/software life cycles may also enroll themselves for enhancing their market worth.
Become a Certified SAP NetWeaver Consultant
Along with certified SAP NetWeaver consultants, this platform is an attractive proposition for NetWeaver trainers, administrators, developers and programmers. In this field, the salaries of administrators and developers vary in accordance to the experience levels of the candidates. With average salaries of about INR 55000 and a higher end of INR 1.2 lacs, the average number of available posts per month in this field is about 45.
A certification course in SAP NetWeaver provides good opportunity for fresh consultants to build up their career as junior candidates and then move on towards the job profiles of senior developers or consultants that fetch up to INR 900K per year.
The SAP Netweaver course is designed to give its audience a clear knowledge of SAP Netweaver Application Server architecture, its navigation and application development process in SAP.
The course can last from 3- 40 days as per the institute and as per the candidates performance and resources available. The cost of the course can vary from intitutes to institutes and can range in between 90,000/- to 3 lacs. Certification fee is extra of about 35K.
SAP NetWeaver Certification Cost and Duration
| | | |
| --- | --- | --- |
| Course Name and Code | Duration | Cost (Rs.) |
| SAPTEE-SAP NetWeaver Application Server - Fundamentals (E-learning) | 720 Min | 35,000 to 40,000 |
| SAPTEC-SAP NetWeaver Application Server – Fundamentals | 3 days | 1,500,00 to 2,00,000 |
| NW001 -SAP NetWeaver - Overview - Free with SAP Learning Hub Discovery Edition | 720 Min | 35,000 to 40,000 |
| TZBPM-Business Process Management on SAP NetWeaver CE 7.2 | 4 days | 1,500,00 to 2,00,000 |
| BIT100-SAP NetWeaver Integration Technology Overview | 3 days | 1,00,000 to 1,50,000 |
| JA340-SAP NetWeaver Development Infrastructure | 3 days | 50,000 to 55,000 |
| SAPBO-SAP Business Objects for SAP NetWeaver BW | 2 days | 45,000 to 50,000 |
| TBIT40-SAP NetWeaver Process Integration | 5 days | 2,00,000 to 2,50,000 |
| BIT400-SAP NetWeaver Process Integration | 5 days | 2,00,000 to 2,50,000 |
The contents taught in SAP NetWeaver course is
Introduction to SAP NetWeaver environment, its navigation, user interface, Installation.
SAP Netweaver Architecture, structure, work process, processing query, Administration
SAP netweaver application development environment, DB connectors
Integration and communication technologies
Portal runtime and applications.