Definition or Meaning - What is SAP PS?
Full form or SAP PS stands for (Project Systems), along with offering constant monitoring and effective solutions for covering the functional as well as technical aspects of various ongoing projects of an organization; serves as a useful tool for execution, management, budgeting, planning, services and other sales processes. For efficient working of an organization, it is important for a Project Manager to plan the many activities of an enterprise in an accurate manner. SAP PS is a time bound repository of structures linked to a project and is useful for tracking the functions of planning, collection and generation of costs and revenue.
Projects have to be executed within the specified budgets and in proper time - so that the company's the management can keep track of the resources, budgets and project milestones achieved. The automated components of SAP PS goes a long way in facilitating the management of an enterprise's project across its lifecycle - from devising detailed plans to setting the framework and executing plans for the completion of the project.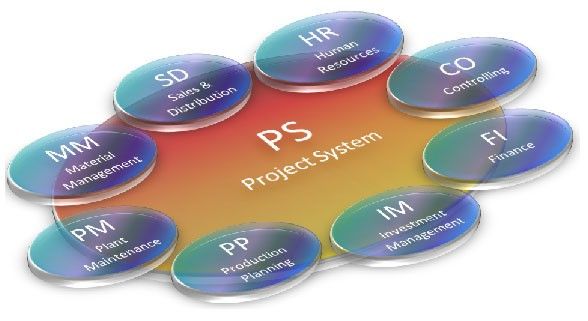 The SAP Project System is power packed with beneficial tools that keeps track of the various elements of a specific project and uses network and Work Breakdown Structures (WBS) for streamlining project hierarchies. In a nutshell, Project System is an important module of the SAP system that can be used for planning, executing and accounting for projects - as an integral part of business processes.
As projects tend to be unique, subject to quality control, complex, cost/ capacity intensive, have high degrees of risk, boast of precise goals and have to be completed within specified deadlines; they are of strategic importance to the organization carrying out the same. SAP PS integrates closely with the other modules of SAP and largely helps in streamlining the effective management of projects.
It integrates with the SAP modules of:
SAP Sales and Distribution (SD) : Revenues and milestone billing from projects.
SAP Material Management (MM) : Goods receipt for services/ materials and purchase orders, inventory management.
SAP Human Resources (HR): Entry of work for employees and posting of activity confirmation.
Finance (FI):Payments, down payments, settlement of assets.
Controlling (CO): Internal orders, internal activity allocation and settlement.
Customer (or after market) Service (CS) : Service orders.
Investment Management (IM) :SAP Investment and CAPEX projects.
SAP Production Planning (PP) : Production orders as well as Independent reservations/ requirements generated from project systems.
Document Management System (DMS) : Document Info Record (DIR) attachments to network activity and WBS Elements.
The SAP PS (Project Systems) course is intended to provide insight knowledge on the different structures of the project system and their customization methods. It helps the audience to be familiar with the SAP PS module thereby helping them to use the application easily for project structure, scheduling, planning , budget management, cost integration, billing and reporting based on the project.
The topics covered in the course are:
Introduction to ERP , SAP GUI , Navigations and Project system
Complete overview of project phases like budgeting, concept phase, execution phase, closing phase etc.
Project structuring including work break down structure and network elements.
Cost planning methods, budgeting, Milestones
Scheduling, material behavior methods
Resources in project systems, project stocks
Integration of project system process
SAP PS course duration varies from 5 days to 40 days from institutes to institutes and from a number of hours taught and trained. The fee varies from institutes to institutes and few of them include the certification fee along with the training fees. The courses fee can range from 50K to 1.80 lacs.
Scope and Opportunity of a Career in SAP Project System (PS)
SAP Project System (SAP PS) courses are modeled to provide skill sets for applying SAP PS as an effective tool for automating the diverse tasks of a Project Manager; thereby allowing a smoother execution of projects on hand.
This course is best suited for:
Freshers having a degree in any background like B.Sc., M.Sc., B.Tech, M.Tech, MBA from a recognized institution and desirous of becoming an entry-level SAP consultant.
Project managers having prior experience in planning, scheduling and budgeting.
Team members associated with an organization's Project Planning System and wanting to widen their scope of working with reputed organizations and getting good remunerations.
Business users, experienced SAP consultants and SAP ABAP users wishing to expand their skill sets in regards to the functional side of SAP.
Become a Certified SAP PS Consultant
A certification in SAP PS paves the way for better paid jobs in reputed organizations across the world. The roles, job profiles and responsibilities differ from one organization to another. In the current scenario, companies are seeking professionals with prior experience in implementing the complete SAP product lifecycle. The job profile of SAP PS consultants addresses this cause and helps in the performance tuning/ maintenance of SAP servers as well as databases. Typically, SAP functional consultants work towards customizing SAP applications as per customized business demands and are being sought after by companies of high repute, globally.
A SAP PS consultant should boast of effective communication skills and possess smart planning and scheduling capabilities. The salary bracket for fresh entrants, with at least 1 year of experience, ranges between INR 25-55K p.m.; while those for candidates with higher levels of experience may touch a high of 635K. In most cases huge bonuses in the range of INR 55K to 80K are meted out after the successful implementation projects. The average salaries for a SAP PS consultant with 2 years experience is reportedly 18.63 lacs p.a.
Sign up and explore the many opportunities available to a certified SAP PS consultant - today!