Definition or Meaning - What is SAP PS?
Full form or SAP PS stands for (Project Systems), along with offering constant monitoring and effective solutions for covering the functional as well as technical aspects of various ongoing projects of an organization; serves as a useful tool for execution, management, budgeting, planning, services and other sales processes. For efficient working of an organization, it is important for a Project Manager to plan the many activities of an enterprise in an accurate manner. SAP PS is a time bound repository of structures linked to a project and is useful for tracking the functions of planning, collection and generation of costs and revenue.
Projects have to be executed within the specified budgets and in proper time - so that the company's the management can keep track of the resources, budgets and project milestones achieved. The automated components of SAP PS goes a long way in facilitating the management of an enterprise's project across its lifecycle - from devising detailed plans to setting the framework and executing plans for the completion of the project.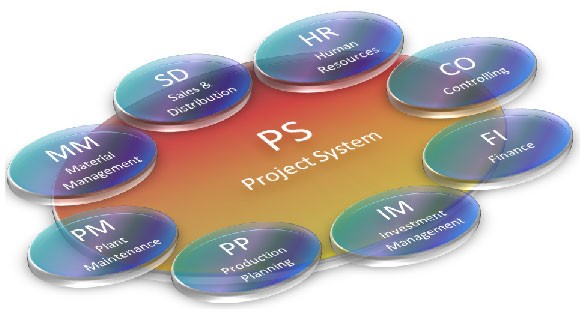 The SAP Project System is power packed with beneficial tools that keeps track of the various elements of a specific project and uses network and Work Breakdown Structures (WBS) for streamlining project hierarchies. In a nutshell, Project System is an important module of the SAP system that can be used for planning, executing and accounting for projects - as an integral part of business processes.
As projects tend to be unique, subject to quality control, complex, cost/ capacity intensive, have high degrees of risk, boast of precise goals and have to be completed within specified deadlines; they are of strategic importance to the organization carrying out the same. SAP PS integrates closely with the other modules of SAP and largely helps in streamlining the effective management of projects.
It integrates with the SAP modules of:
SAP Sales and Distribution (SD) : Revenues and milestone billing from projects.
SAP Material Management (MM) : Goods receipt for services/ materials and purchase orders, inventory management.
SAP Human Resources (HR): Entry of work for employees and posting of activity confirmation.
Finance (FI):Payments, down payments, settlement of assets.
Controlling (CO): Internal orders, internal activity allocation and settlement.
Customer (or after market) Service (CS) : Service orders.
Investment Management (IM) :SAP Investment and CAPEX projects.
SAP Production Planning (PP) : Production orders as well as Independent reservations/ requirements generated from project systems.
Document Management System (DMS) : Document Info Record (DIR) attachments to network activity and WBS Elements.
Read Next: