Home »
SEM (Strategic Enterprise Management Software)
SAP SEM (Strategic Enterprise Management Software)
Definition or Meaning - What is SAP SEM?
Full form or SAP SEM stands for (Strategic Enterprise Management Software), delivering the capabilities for supporting companies with a wide range of analytical solutions for their financial processes; SAP SEM serves as a valuable tool for effective planning, consolidated financial reporting, corporate performance management, budgeting, forecasting, scorecards and risk management. It goes a long way in equipping organizations with the skills of finding solutions for the efficient management of their financial processes and uses data accumulated by the tools of SAP Business Warehouse (BW) and other sources.
In the existing competitive scenario, organizations are looking towards innovative ways of fulfilling their organizational goals and policies. Large volumes of data and information are required for making effective strategies and result-oriented plans. SAP SEM goes a long way in hand holding such organizations in their strategy making processes and ensuring the proper implementation and management of their plans. It provides a vital platform for the visual presentation of key figures and values. These views help users gain quick and relevant information that is critical for their strategy building processes.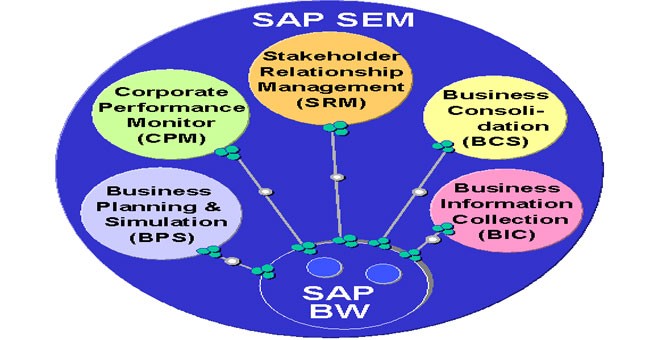 Strategic Enterprise Management helps in the dynamic adaptation of an organization's strategies and brings about positive changes in their profitability quotient. SAP SEM tools identify and implement value-building opportunities, as and when they arise.
The benefits and features of SAP SEM components are underlined below:
They measure business performance alongside targets, simulations and benchmarks - by using value drivers, management cockpits and a balanced scorecard.
Help in managing risks and automating Business Consolidation processes.
Control business with the help of value-based management principles.
Integrate operational planning with strategic planning.
Transform static operational planning into rolling forecasts.
Support management and legal consolidation of inter-units, investments, profit elimination and so forth.
Read Next:
Get solutions from our experts!
All the site contents are Copyright © www.stechies.com and the content authors. All rights reserved. All product names are trademarks of their respective companies. The site www.stechies.com is in no way affiliated with SAP AG. Every effort is made to ensure the content integrity. Information used on this site is at your own risk. The content on this site may not be reproduced or redistributed without the express written permission of www.stechies.com or the content authors.