Definition or Meaning - What is SAP SEM?
Full form or SAP SEM stands for (Strategic Enterprise Management Software), delivering the capabilities for supporting companies with a wide range of analytical solutions for their financial processes; SAP SEM serves as a valuable tool for effective planning, consolidated financial reporting, corporate performance management, budgeting, forecasting, scorecards and risk management. It goes a long way in equipping organizations with the skills of finding solutions for the efficient management of their financial processes and uses data accumulated by the tools of SAP Business Warehouse (BW) and other sources.
In the existing competitive scenario, organizations are looking towards innovative ways of fulfilling their organizational goals and policies. Large volumes of data and information are required for making effective strategies and result-oriented plans. SAP SEM goes a long way in hand holding such organizations in their strategy making processes and ensuring the proper implementation and management of their plans. It provides a vital platform for the visual presentation of key figures and values. These views help users gain quick and relevant information that is critical for their strategy building processes.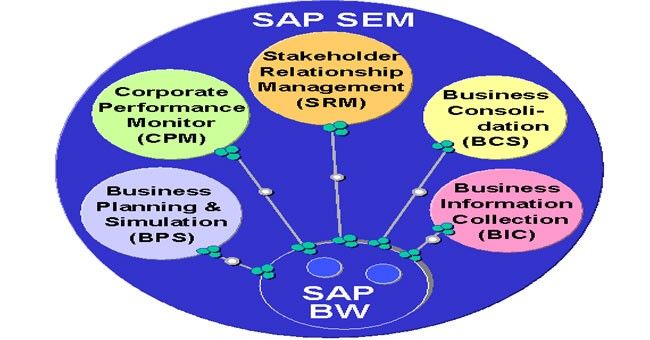 Strategic Enterprise Management helps in the dynamic adaptation of an organization's strategies and brings about positive changes in their profitability quotient. SAP SEM tools identify and implement value-building opportunities, as and when they arise.
The benefits and features of SAP SEM components are underlined below:
They measure business performance alongside targets, simulations and benchmarks - by using value drivers, management cockpits and a balanced scorecard.
Help in managing risks and automating Business Consolidation processes.
Control business with the help of value-based management principles.
Integrate operational planning with strategic planning.
Transform static operational planning into rolling forecasts.
Support management and legal consolidation of inter-units, investments, profit elimination and so forth.
SAP SEM courses are particularly suitable for project managers and/or team members who are already involved in making strategic plans and analyzing Business Processes. Further knowledge in SAP SEM helps them work easily on analyzed data and make plans for improvising their client's business processes.
It also helps company controllers, business analysts and those involved in strategic business management to perform their tasks in a more effective manner. Stakeholders and investors using Business Information Systems may also like to pursue this course and integrate the various benefits of SAP SEM (Strategic Enterprise Management Software) in their business processes.
Some of the pre-requisites of this course are:
Prior in-depth knowledge of business processes, ERP systems as well as enterprise management reporting.
A degree from any recognized university in specialized courses like B. Tech, M. Tech, MBA, MCA, M. Com, etc. - with most SAP SEM courses attracting MBAs and B. Tech candidates.
The SAP SEM course is suitable for project managers or team members who are involved in analysis and making strategical plans. It helps them to work easily on analyzed data and make plans that improvise the business process.
People with prior experience in management, sales and administration may take up this course for widening their career options. Prior experience in SAP skills and basic computer applications prove to be beneficial and help candidates get absorbed in reputed companies that promise higher pay packages.
This course can help business analysts and company controllers or persons involved in strategic enterprise management to efficiently carry out their tasks and make plans in a manner to revolutionize the business growth. Even the investors and stakeholders or persons involved in business information center can pursue this course to exploit the benefits of this course in their business process.
The course requires that the audience has thorough understanding of ERP system, business process and enterprise and management reporting. Thus this course can be pursued by any graduate with degrees in B.com, B.sc, MBA, MCA, BE, MTech etc. though the major work percentage of SAP SEM comprises of MBA and BTech candidates.
A certification in SAP SEM offers plenty of opportunities for working with the top names in the industry. In this field, the main job profiles are those of Functional Consultants and of SAP SEM consultants. Though there is a high demand for professionals with experience, freshers are also getting their hands on good opportunities, with the average salaries of INR 3 lacs for those with 0-3 years of experience.
SAP SEM consultants may expect an increment of 16 percent in their pay package with every additional year of experience. With companies offering a salary of 7 lacs p. a. to those with 3-7 years and up to12 lacs p.a. with 7+ years of experience. Accenture Pvt. Ltd., IBM India Pvt. Ltd. and TCS are some of the top paying companies in the field of SAP SEM.
Promed Exports, with a package of 48 lacs p.a. attracts professionals with 7+ years of experience and is the highest paying company in India. SAP Labs comes a close second with 27 lacs p.a. Gurgaon, Delhi, and Mumbai are some lucrative destinations that attract SAP SEM professionals with highly paid jobs.
SAP SEM courses are specifically designed for candidates wishing to get in-depth knowledge in regards to SEM functionalities and the ways of integrating SAP BW data. Along with equipping candidates with the skills of using SAP SEM (Strategic Enterprise Management Software) applications, the course strives to help them implement strategies for the improvisation of business processes.
The topics included in the course:
Overview of SAP ERP System and SEM.
Introduction to management reports, consolidated financial reporting, and monitoring of financial performance.
Cost Center Planning, operational planning, sales planning and building of statistics for forecasting and budgeting.
Activity-based costing and preparation of corporate performance scorecards.
Integration and reporting with other modules.