Definition or Meaning- What is SAP BW?
Full form or SAP BW stands for (Business Warehousing), a highly robust and scalable real-time data warehousing platform that captures, stores and consolidates vital information, is the first choice for organizations looking for accelerated operations. SAP Business Warehouse, super charged by SAP HANA, offers decision-ready intelligence for businesses and powers the data warehouse environment with simplified administration tasks, reduced IT workloads and a lower TCO. With real-time access to credible information, this widely used SAP module is used as an ERP tool and was earlier known as Business Information Warehouse.
It is an integral part of the SAP Net Weaver technology platform and enables Online Analytical Processing (OLAP) of varied data warehouse processes –in accordance to the business perspective of clients. Going a long way in providing solutions for data analysis, warehousing and reporting; it serves as an effective tool for extracting relevant information from large quantities of historical and operative data. The information views so generated are based on the specific business views of the organization.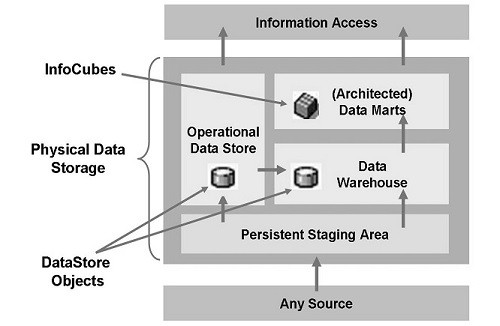 Scope and Opportunity of a Career in SAP BW/ BI
SAP BW is basically a Net Weaver technical course and so it is important to have preliminary knowledge about SAP and the SAP Net Weaver platform before going ahead with this module. Further education in SAP BW/BI is in the interest of:
SAP BW developers and system administrators responsible for maintaining SAP BW applications.
End users with varying levels of interest in SAP business intelligence.
Personnel with basic knowledge in SAP BW knowledge and requiring advanced data analysis and reporting skills.
Business decision makers and analysts needing more out of SAP data and looking for better ways of improvising data productivity.
In general, along with those in the field of development, other candidates can also pursue this course, provided they are:
Degree holders in B.Tech, BCA, or M.Tech (in any branch).
MCAs with a familiarity of the concepts of ERP systems, databases and enterprise warehousing.
Skilled in data warehousing, using spreadsheets and system administration.
Professionals or students with certification in system administration courses or a DBA course.
Some institutes prefer to offer certification courses in SAP BW to only those who are experienced in SAP data warehousing.SAP professionals with appropriate knowledge of data dictionary, data warehousing and SAP Net weaver form the best audience for this course.
Become a Certified SAP BW Consultant
Certification in SAP BW offers ample opportunities for growth and opens the doors of leading technology and business consulting firms for eligible candidates. As SAP BW forms an important part of the Net Weaver course, it attracts a lot of attention and is linked to some of the most lucrative openings. The job profiles are of support analysts, SAP BW consultants and other specialized sectors in the field of data warehousing. These job profiles are custom designed to cater to customer requirements and offer support to end user queries and change requests in regards to the SAP BW Module.
In today's scenario, companies are looking for experienced candidates with strong training experiences, good knowledge of business information processing and advanced skills in SAP business data warehousing. A certified SAP BW consultant can expect a salary in the range of 25K to as high as 750K; the amount being dependent on his/ her years of experience and skills imparted.
Re-Invent your dreams of delivering real time data warehousing services and in-context business decisions to client organizations. Join up today.
Read Next
SAP BW (Business Warehousing) Certification Cost and Course Duration in India