SAP ERP helps in integrating the multiple processes and functions of a business into one comprehensive system and provides non-duplicate and accurate support to the functional areas of:
Operations
Human Capital Management
Financials
Corporate Services
Along with offering powerful functionality, global orientation and flexible enhancement, which helps in putting an organization in an advantageous position for profitable growth, this software also helps in daily observations that leads to cost reductions, increase in revenue, profit maximization and improvements in customer services.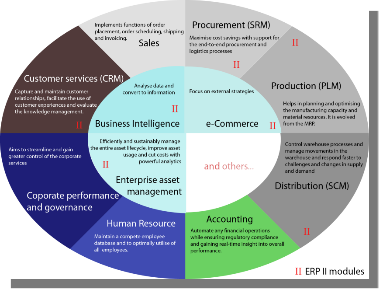 SAP ERP Financials
SAP ERP Financials is the most efficient tool for accounting, financial reporting, performance management and corporate governance. It is widely used by various industries as it provides a complete financial management solution. This software helps in transforming finance form an administrative department into a strategic business partner. It also helps in providing clear operational insights and better strategic actions. With this sub-module in place, all financial results can be measured with ease.
Asset Accounting
The SAP centric Asset Accounting functionality has been specifically designed for the supervision, usage and management of a company's fixed assets; it is a GL sub ledger. The main elements that require careful consideration include:
The link that exists between diverse organizational elements related to Asset Accounting.
Configuration and management of asset master records.
Configuration of various depreciation methods and the postings to GL in sync with all statutory requirements.
Asset transfers, acquisitions, and retirement transactions processing.
Processing of asset depreciation.
Validations and substitutions in asset master records.
Current asset valuation
Overview of Asset Accounting
Asset accounting, as understood in the SAP ERP Financials package, covers the entire lifecycle of a company's asset. Typically, this lifecycle starts with the creation of a purchase order or the capitalization of an asset, to its retirement which takes place at the completion of its useful life. This system calculates interest amounts; appropriate depreciation values, and presents the information in various formats and reports.
Implementation Considerations
Like with all other sub-modules in SAP ERP Financials, the different functionality aspects that need to be implemented are clearly defined before system configuration. As the asset accounting sub-module is designed for being used internationally, these considerations are all the more prominent in their case. Along with compliance to different statutory requirements across countries, the features and functionality involved with it have to be flexible enough for industry-specific requirements and those that relate to individual environments.
Integration
Asset accounting is fully integrated with all other SAP ERP components; which in turn mean that the value of assets is correctly reflected in the balance sheet.
Building Blocks
Asset accounting is based on an individualistic mini-organizational structure that is influenced by tailor made organizational designs and statutory reporting requirements.
Chart of Depreciation
In general terms, the chart of depreciation happens to be an organizational element that is used as an important tool in the SAP ERP (Enterprise Resource Planning) environment for managing various legal requirements connected with the valuation/depreciation of assets. These charts are usually country-specific like company codes but are not required to fall in alignment with other organizational units.
Integration with GL
SAP asset accounting solutions should readily provide these pieces of information:
Accurate financial positions in term of the gross book value (current) of assets;
An analysis of assets owned by an organization. In addition to their net book value and original cost.
Depending on the different kinds of asset classes managed and owned by a company, the configuration, accounting concepts and regulatory compliances will obviously vary. Get ready to be on top with this SAP asset accounting module in place, and say "hello" to better profitability figures - today.