Home »
ERP (Enterprise Resource Planning)
ERP (Enterprise Resource Planning)
Definition- What is ERP ?
ERP or Enterprise Resource Planning is smart business management software that allows an organization to manage and automate several business processes and backend functions. Various departments of an organization, such as finance, operations, human resources, sales and marketing, can gain benefits from the implementation of ERP. This can be incorporated in all kinds of businesses, regardless of their size and nature.
ERP consists of several modules and combines data from different sub-modules to provide strategies that go a long way in helping business development. Its implementation is extremely easy and fast. One of the main goals of ERP (Enterprise Resource Planning) is to allow information flow in such a manner that business decisions can be completely data driven.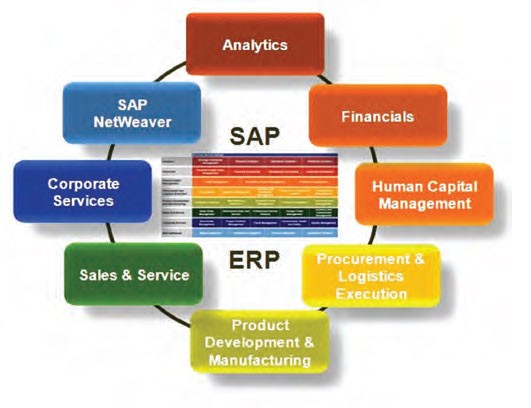 ERP (Enterprise Resource Planning) Improves Efficiency
ERP is responsible for driving improvements in the efficiency levels of an organization. This software:
Helps an organization define its business processes clearly and ensures that all goals are adhered to the hilt. It provides insights that would help the management deal with any kind of deviation from pre-defined goals too. All processes that form an integral part of the supply chain need to be considered, thereby maintaining a consistency in efficiency levels throughout.
Provides an organization with all those tools that can be utilized for maintaining higher levels of client services.
Helps in analyzing existing orders and delivers better insights for planning the work load. This ensures that work progresses smoothly and responds well to existing working conditions. With strong ERP techniques in place, plans can be based on the insights/ forecasts predicted by the ERP software.
Translates all the accumulated data into reliable formation from which conclusive decisions can be made. The size of the data does not bother ERP and it helps in making accurate decisions that reflect positively on business results.
Provides stringent security to the business data. It makes sure that all the confidential data is safe and accessible only to authorized people.
Read Next:
Get solutions from our experts!
All the site contents are Copyright © www.stechies.com and the content authors. All rights reserved. All product names are trademarks of their respective companies. The site www.stechies.com is in no way affiliated with SAP AG. Every effort is made to ensure the content integrity. Information used on this site is at your own risk. The content on this site may not be reproduced or redistributed without the express written permission of www.stechies.com or the content authors.