Definition - What is SAP Business ByDesign?
SAP Business ByDesign is a cloud based software solution that is ideally suited for subsidiaries of corporations and upper mid-size business concerns. It is complete and integrated tool that is capable of running most parts of an organization such as human resources, financials, sales, procurement, supply chain, customer services and so on.
In other words, this SAP module provides solutions with a potential of accelerating growth of business enterprises in terms of costing of products, aggressive manufacturing and marketing processes, and finally reliable means of shipping the product. The application of SAP Business ByDesign leads to higher levels of productivity and huge gains.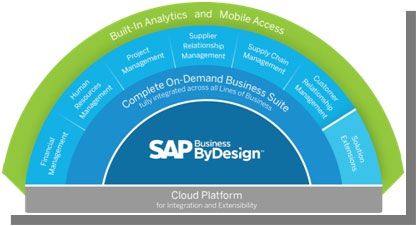 Read Next:
SAP Business ByDesign is the most complete on-demand business solution for midsize companies. It is a complete 360 degree business solution which includes: Executive Management Support Financial Management (FIN), Customer Relationship Management (CRM), Supplier Relationship Management (SRM), Supply Chain Management (SCM), Human Resources Management (HRM), Project Management (PRO), Compliance Management & Business Intelligence