Definition or Meaning - What is SAP DSiM (Demand Signal Management)?
Full form or SAP DSiM stands for (SAP Demand Signal Management), powered by SAP HANA, is a suite of consistent and centralized in-memory database that stores huge volumes of data such as internal master and transactional data, external Point-of-Sale (POS) data, market research data, etc. This is incorporated with a system that ensures the integration, cleansing, validation and harmonization of data during upload; so as to accomplish elevated quality results and a common data base for reporting and advanced processing.
The further one goes upstream in the supply chain from the end consumer; cognizance of consumer demand and trend variations reduces. The existing approach in contemporary distribution networks is such that multiple layers lead to latency in data and multiple aggregations lead to loss of granularity. SAP Demand Signal Management (DSiM), with its novel approach, aids manufacturers in realizing a holistic view of the way customer demand trends and sales are materializing downstream, and in real time.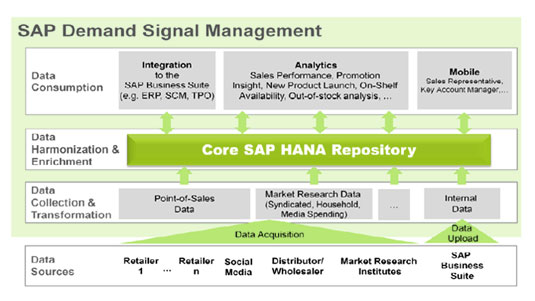 Read Next: