Definition or Meaning- What is SAP EWM?
Full form or SAP EWM stands for (Extended Warehouse Management), Logistics is an extremely difficult field of work. This business area has now become more gruelling as there are more products involved and a lot of money riding on the same. High-end logistical operations are critical in nature and need to be handled with extra care. In addition, warehouses have evolved from being simple storage boxes and have now become state of the art high-flow distribution centres for various logistical operations. Fast business cycles and frequently shifting priorities in business holdings have made way for such arrangements.
This is where the SAP EWM comes into play. It is a component of the SAP Supply Chain Management (SCM) business package, but is not necessarily a part of this suite. It is also available without the SCM as it contains standard warehouse management applications and provides users with malleable and smooth support for processing the movement of products in their warehouses and managing the stocks present therein.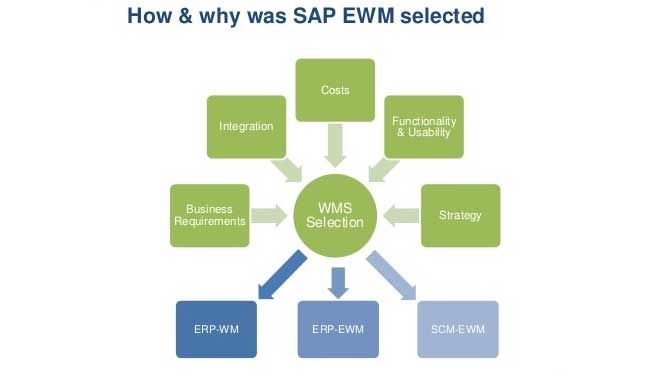 SAP Extended Warehouse Management
To get the full benefit of SAP Extended Warehouse Management tools and techniques, one needs to map out the warehouse and define its physical structure. Identification of the bulk storage, racking facilities, and bin locations form integral parts of this module. This is because a logical grouping together of a large number of storage bins is essential for the proper placement of stock. SAP EWM monitors all the activities in a warehouse such as storage bins and handling units; along with utilizing all the available resources and maintaining them at a healthy rate. It also helps warehouse managers assign tasks and maintain warehouse orders by integrating the processes of:
Slotting
de-consolidation
Cross-docking
Yard management
Complex internal routing
Kitting
VAS
Courses related to this popular SAP module provide aspirants with all requisite information for understanding the basics of SAP EWM solutions (including the functions supported by them), the right ways of setting up those functions, and ways of getting started with projects that utilize those functions for supporting warehouse operations.
Some important parts of a course in SAP Extended Warehouse Management are:
Background/ history of SAPs warehousing applications
Evolution of SAP EWM
Variations of SAP EWM brand
EWM implementation and tools
Troubleshooting warehousing problems and so forth.
With the extended warehouse management solution from SAP, any organization can effectively gain an edge over its competitors with enhanced warehouse efficiency. This, in turn, leads to many positive opportunities for candidates pursuing a career in SAP EWM.
The course helps in dealing with the situations where there are multiple clients--an extremely common situation nowadays.
It helps SAP warehouse managers design a highly ductile warehouse via easy processes.
It helps in creating a proper inventory with a higher level of transparency and there are no shady smokescreens regarding logistics and supply chains.
It optimizes the entire planning process of the warehouse and makes process execution easier.
SAP EWM supports all modern amenities within the warehouse and integrates modern technology like RFID and RF.
After gaining a certification in SAP EWM, aspirants with adequate experience in the field of SAP EWM, and having good communication skills, can opt for the role of an Extended Warehouse manager of the consultant. Usually, companies are on the lookout for SAP professionals who have done at least one E2E implementation. SAP organizations are ready to offer excellent pay structures to those meeting their custom criteria.
Prominent SAP Training institutes with certified training modules on offer for SAP EWM aspirants require them to have a degree from a recognized college/ university. Prior experience of working with SAP basics and a warehouse environment is also desirable.