SAP Runs SAP is a scheme within SAP IT. With this in place, SAP has become an orientated consumer of its own applications, solutions and products. It is a scheme with which SAP first runs and uses its own applications before making them available in the market.
Five Categorical advantages of SAP Runs SAP:
Cloud: Universal IT will nurture in four areas with SAP Cloud: HR, FI, CRM, SRM;
Mobility: This equips employees to remain connected on the move;
Database: With SAP HANA, employees are able to access the novel features of its database, at anytime and from anywhere;
Applications: It favors lower TCO, advanced performance and additional plasticity;
Analytics: With the available synchronized information, employees can deliver advanced results;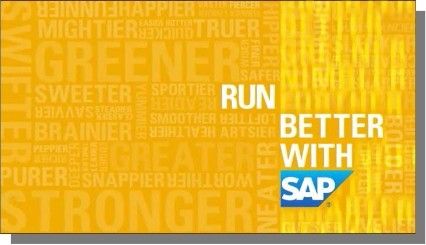 Every new technology developed at SAP is first experienced, tried and tested by SAP employees and only after its triumph among internal users, is the same made available in the consumer market. This is the core ideology of SAP runs SAP. Even after the software is made available to customers in the market, employees use it to improve and develop it further. This enables developers to get valuable feedback about the app, suite or other allied software and helps them solve potential issues with the application and improve it further, so as to provide the best services to all customers.
How does 'SAP Runs SAP' Function?
Employee Driven Development – SAP's IT team deals directly with varied kinds of businesses to dynamically invent ground-breaking technologies. Before launching their codes for global use, it initiates a domestic authentication process. For example, if SAP wants to launch a 'Cloud Mobile App' it will launch it only after SAP employees use and verify the same by storing, accessing, and sharing the files that contain domestic information on their mobile devices, and without any errors.
SAP Runs SAP HANA - SAP HANA was originally a "side-by-side" implementation process, in which data was duplicated from an existing database onto the SAP HANA database, wherein it was stored in the main memory. This arrangement considerably reduced the time taken to scrutinize and generate reports on gigantic volumes of data. For each of the SAP HANA implementations, SAP employees first used the application, tested its productivity in actuality, and identified flaws to suggest techniques for improved results.
One ERP for thousands of users - Enterprise resource planning (ERP) is well known and accepted business supervision software, characteristically a suite of integrated applications that enables an enterprise to congregate, store, administer and construe data from various business proceedings. SAP provides a platform where single integrated ERP software is available for thousands of users universally. This ensures that all areas, businesses, and acquired companies within SAP, use a single version of the software.
Benefits of having one version of software:
Availability of one version of data, within any specific application, is the most influential argument for single instance installations.
It promotes precision and clarity in financial reports, eliminates replicated information and impediments, aids in spotting latest returns opportunities, and facilitates faster implementation of new technologies.
In a nutshell, SAP Runs SAP is not merely a check-point or a marketing gimmick; but much more than that.