Hello SAP Experts,
While processing invoice (Transaction code: MIRO) I noticed that there is no 'Service for Object'.
Please follow the steps below in order to regenerate this issue:
First please enter transaction code MIRO under the command field.

When you enter corresponding company code.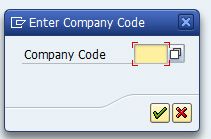 You will notice 'Services for Object' missing tab.