Definition or Meaning - What is SAP QA?
Full form or SAP QA stands for (Quality Assurance).
SAP , an advanced software technology, enables R/3 to handle all types of business management activities, across all sectors of a business organization. SAP technology is easily adopted with all kinds of firm computers. That means that the hardware can be expanded as per the requirements of the business firm. This technology also handles the structure of an organization. SAP is also associated with other types of modules such as sales and distribution, known as SAP SD (Sales and Distribution), which deals with tasks related to billing, sales and shipping. Likewise, quality management modules are used for handling and to supporting all the processes that are related to the QA - quality assurance - of items or products.
In other words, quality assurance tools and techniques related to SAP impact all the areas of a business concern and are important for its smooth functioning.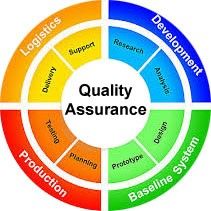 Quality Assurance (QA) on International SAP Roll-outs
With SAP roll-outs linked to QA in place, business organizations are finding themselves in a better position with regards to tackling the challenges resulting from the scope and overall time duration of their projects. Nowadays, in the dynamic business environment, there are a lot of changes in business objectives and the inclusion of high quality assurance metrics is becoming a standard requirement for any project. In order to lead these potential changes and also implement the priorities in project scope, SAP consultants are using critical resources for catering to their business initiatives, preservation of key business and IT resources, and so forth.
QA is a critical part of the SAP roll-out project and its related teams regularly estimate whether required business objectives are accomplished within deadline and budget, or not. SAP Quality Assurance (QA) tools should be initiated within a project, with a review on the assessing stage. While QA team members should be aware of issues, it is very difficult to merge communications and formulate the corrective processes related to project phases. This makes it important for SAP professionals to take up comprehensive courses for bringing about enhancements in their QA skills.
Read Next:
SAP Quality Assurance (QA) Certification Cost and Course Duration in India