Most companies offer some kind of service or product to their customers. Either way, sales, and distribution are the aspects that run their business. These companies need to constantly assess their sales strategies and procedures. This is important for reaching out to more customers and markets.
In this tech-driven era, companies choose ERP software for handling their sales and distribution activities. For this, the SAP Sales and Distribution module are one of the best in the market. This is an ERP module developed by SAP that can handle all customer and distribution data in organizations. It can also work with other useful modules such as SAP Financial Accounting, Materials Management, and Production Planning.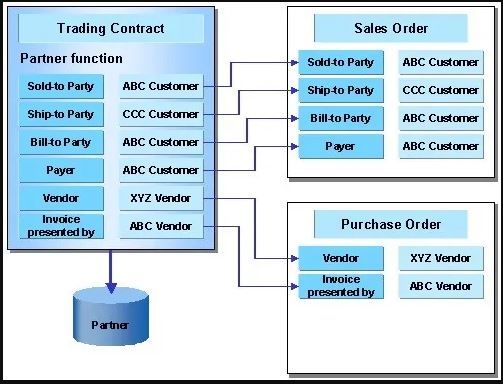 Furthermore, SAP SD automates tasks such as packing, delivery, order processing, and shipping of products. In this post, we will discuss all the interesting features of SAP SD.
What is SAP SD?
Full form or SAP SD stands for (Sales and Distribution), is a core module in SAP ERP Central Component (ECC). This software solution handles all the tasks in the sales and distribution cycle. Right from raising a quotation, purchase, and billing the sale – SAP SD oversees it all. First, SAP SD generates a sales quote. Then, the customers place an order for a product or service. The goods will be picked up from a warehouse and will be sent to the customer. An invoice is prepared and the payment is received from the customer.
All these steps generate a lot of transaction data. The SAP SD module stores and processes all this data.
SAP SD is designed to carry out these important functions in any company –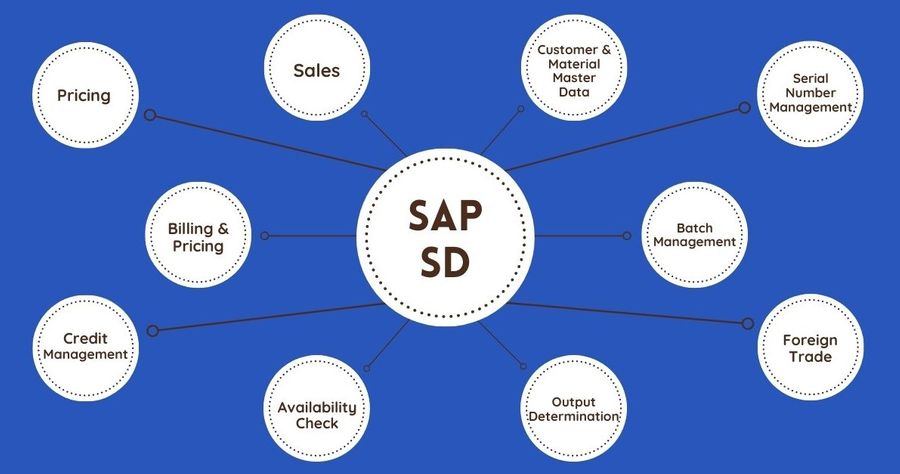 Customer Master and Material Master Data– It collects and maintains databases of client products, orders, shipping details, addresses, and preferences. The software handles all related data about the sales and distribution department.
Sales– Aspects such as making sales forecasts, developing marketing strategies, and creating ads, are handled by SAP SD.
Pricing– It maintains pricing information, price lists, product pricing, and associated data.
Billing and Invoice– SAP SD generates invoices, bills, statements for product deliveries and orders.
Credit Management– It manages the credit issues of the customers and settles credit limits.
Availability Check– It keeps track of the company's inventory of products. Moreover, it handles the placement of orders when goods run out of stock.
Shipping and transportation– SD even takes care of order delivery processing, shipping, and transportation.
Output Determination– It handles all the communicative documents such as printouts, emails, telexes, faxes, or EDI that is exchanged between two companies.
Batch and serial number management– This software manages and issues all product serial numbers.
Foreign Trade– Tackles all the information related to trading. This includes imported and exported products.
Component of SAP SD
These core components of SAP SD are –
SAP-SD-MD: Master Data
SAP-SD-BF: Basic Functions
SAP-SD-SLS: Sales
SAP-SD-SHP: Shipping
SAP-SD-TBA: Transportation
SAP-SD-FTT: Foreign Trade
SAP-SD-BIL: Billing
SAP-SD-CAS: Sales Support
SAP-SD-MD (Master Data)
This data tracks all the information about each transaction taking place. The sales and distribution master data includes the following –
Material master data
Customer master data
Output records
Pricing conditions record
It also handles credit management and order processing data.
SAP-SD-BF (Basic Functions)
This component takes care of all the basic functions in sales and distribution. It calculates and processes the pricing amount required for a specific sale. SAP SD BF also processes the resultant output of the sale.
SAP-SD-SLS (Sales)
This component handles all the particulars of the sales that take place in the company. Storing product details, customer information, pricing data, customer feedback, and other related sales processes are tackled by SAP SD SLS.
SAP-SD-TBA (Transportation)
SAP SD TBA is a component that works along with the SAP shipping module. A company can manually deliver a product or use a courier to ship it. No matter what the mode of transportation is, the information is tracked and processed here.
SAP-SD-SHP (Shipping)
Creating high-quality products and services for the customers is a job half done. It has to be delivered to them properly. For the various forms of delivery and shipping, the SAP SD SHP component tracks all the associated data. It tracks every delivery. The complete process, from shipping to product delivery or return, is recorded by the component.
SAP-SD-FTT (Foreign Trade)
This component stores and processes data about the company's foreign trade. All product imports and exports are tracked by them. The component is great for organizations that conduct business worldwide.
SAP-SD-BIL (Billing)
Perhaps the most important part of any transaction is billing. A customer can pay for the products in cash, credit card, or via PayPal. So, this billing information is important for future reference. Thus, this component is used to track every billing detail.
SAP-SD-CAS (Sales Support)
A customer will interact with the sales team during the purchase of a product. During this process, a lot of data will be generated. The SAP SD CAS component is used for storing the sales support data between the company and the customers.
SAP SD Enterprise Structure
SAP SD enterprise structure displays the structure of an organization in the SAP R/3 system. The sales and distribution module represents consist of the following organizational units –
i) CLIENT
A client is an independent organizational or legal unit. It is also considered a self-contained technical unit. These are used in storing generic tables and data for various organizational structures. When it comes to the enterprise structure, the client sits right at the top.
You can assign unique company codes to a particular client.
ii) COMPANY CODE
This is an organizational unit that is created in the SAP FI module. It represents an independent organization. This being a legal entity, all balance sheets and profit/loss statements are stored at the Company Code level. Moreover, different company codes can be assigned to a client.
Various Company Code under the same client can have the same account charts. So, at the company code level, many companies maintain their books of accounts.
iii) SALES ORGANIZATION
Sales Organization in the SAP SD module is at the top level of the organizational structure. This is used for developing and monitoring sales strategies. If the company's customers have any complaints or queries about their products/ services, it is handled at the sales organization level. All the sales reporting is also done at this level.
Furthermore, the sales and distribution documents are assigned at this level.
iv) DISTRIBUTION CHANNEL
This is a strategy for entering a particular market where you want to sell products or services. A distribution channel will help you to reach out and connect to your target users. Within a sales organization, a customer can be served via one or more distribution channels.
Developing master data, important sales documents, billing documents, and business lists are done through the Distribution channel.
v) DIVISION
A division consists of a group of products or services having similar characteristics. This also represents the product line of any business. Different divisions can share the same master data. Also, this master data can vary from one division to another.
A division can be used for creating a delivery worklist and also as a selection criterion.
vi) SALES OFFICE
Companies set up different sales offices apart from their headquarters for carrying out sales operations. These offices act as a bridge between the head office, sales department, and the end-user.
All sales reporting is carried out within the sales offices for analyzing sales performance.
vii) SALES GROUP
A sales group consists of employees under the sales office. Being a subset of the sales offices, this group carries out all the internal sales tasks.
One sales group can be assigned to more than one sales office.
viii) PLANT
You can consider a plant as a distribution center. This is the place from where goods and services are dispatched. All the stocks are kept here.
ix) STORAGE LOCATION
This is a location where the company's stock is kept. It is assigned to a particular plant and falls under the logistics unit.
x) SHIPPING POINT
A shipping point is assigned to a plant. The place is used for shipping goods to the customer. Based on the dispatching activities, a plant may have multiple shipping points.
Characteristics of SAP SD
The important characteristics of SAP SD are –
Helps in determining the prices of goods and services. Conditions such as discounts and rebates are also offered to the customer
Determines customer details as per conditions
Helps in generating bills, transactions, and records of sales
Assists companies in developing business processes for billing and selling of products
SD's real-time currency rate database helps in converting various international currencies
Handle complex pricing schemes and rebate processing for customers
The Sales Information System enables simple sales reporting by sorting and storing data
Any user can enter basic order details into the software. They can find out information regarding levels of the order and schedule line information
Makes batch processing of orders, shipments, and sales documents easier
You can use this software to check the availability of goods in the company's inventory
Offers automatic credit check and simple credit check. This helps in managing the credit limits of customers
Conclusion
SAP SD has been a boon for many companies who wanted to enhance their sales and distribution. As the software offers real-time data on customers and inventories, organizations can assess their sales performance. The software assists in determining key performance indicators. This, in turn, helps them measure their return on investment. It also helps in analyzing the performances of the sales teams.
Overall, SAP SD is a comprehensive solution for any company's sales department.