Definition or Meaning - What is SAP TR?
Full form or SAP TR stands for (Treasury), a popular SAP application that succeeds in offering organizations with the much needed competitive edge by ensuring competent management and control of treasury processes; is used for automating tasks and strengthening the SAP SCM (Supply Chain Management) system (financial). This module provides tools for cash and liquidity management, audit controls, accurate forecasts, efficient use of cash and an overall reduction in operational risks.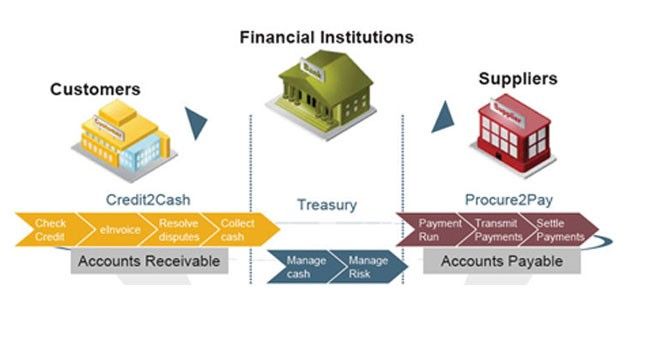 Equipped to handle financial risks by integrating smart strategies for the mitigation of risks, SAP TR (Treasury) is a powerful tool in the hand of cash managers wanting to gain,
A comprehensive view of all the transactions taking place in their organization.
Cash allocations by for and by the organization - locally as well as globally.
Financial and treasury allocation processes.
It enables cash managers to determine cash liquidity by using forecast liquidity and bank balances and make payment advices accordingly. Some of the important tasks performed by SAP Treasury applications are:
SAP Cash and Liquidity Management.
SAP Bank Communication Management.
SAP In-House Cash Management.
SAP Treasury and Risk Management and so forth
Sub Modules of SAP Treasury:
CM (Cash Management): This is the most important component of SAP TR and is used for monitoring payment flows (both cash inflows and outflows) and safeguarding liquidity. Helping organizations meet their payment commitments, TR-CM determines the cash position in accounts and cash concentration. It also forecasts the liquidity situation and predicts the future inflows/ outflows for better planning purposes.
CFM (Corporate Finance Management): ECC 5.0 is a separate module in the FI Accounting component while ECC 6.0 CFM forms an integral part of the Treasury (FSCM). CFM is basically a group of solutions which is focused towards the analysis and optimization of business processes (financial) of a company. CFM deals with fixed-deposits, managing loans, securities, derivatives, foreign exchange and so forth. It is an effective tool for monitoring, planning as well as analyzing the financial position of an organization.
Risk Management
Some Important tasks covered in SAP Treasury applications are:
SAP Cash and Liquidity Management
SAP In-House Cash Management
SAP Treasury and Risk Management
SAP Bank Communication Management.
Module Scope and Career Opportunity
The SAP Treasury (TR) module course is modeled in a manner to provide competitive edge to its audience by helping them to impart technical and business skills which is recognized globally.
The course provides functionalities that allow managing Cash flow cycle efficiently and effectively during the course an real time scenario training is also provides that gives clear practical implementation experience to its audience.
SAP Treasury (TR) Certification Cost and Course Duration in India
The main topics covered in the course are:
Basic SAP navigations, business and fianace overview, cash and liquidity concepts, credit management, Collections management, dispute management, bank communication management, in-house cash management, cash and liquidity management, loan management, trading in stocks, and treasury , reporting and risk management.
The course can last from 15- 40 days based on the type of institute preferred and the duration spent for training process. The course fee can be of the range from 15K to 2lacs.
Offering in-depth knowledge of the Cash flow Cycle management and varied functions of the treasury, certification courses in SAP TR enable cash managers automate their tasks and get hands on information about all the financial transactions taking place within the organization - thus helping them take preventive actions in case of risk; manage communication processes smoothly; and generate accurate payment advices.
SAP TR is best suited for aspirants with a financial background and/or boasting of a degree in the field of finance or accounting; such as B. Com, M.Com, MBA and so forth. It can also be pursued by MCAs, B.Techs or M.Techs, who have a fair knowledge of banking and finance, along with basic knowledge of IT processes.
Recommended for cash managers, accountants, SAP consultants, project managers and team members handling cash flow/ risk management, this course enhances the scope of job opportunities in various functional modules.
Become a Certified SAP Treasury (TR) Consultant
Candidates with hands on experience in the field of finance/ treasury and proper certification in SAP Treasury have a better chance of getting lucrative job offers with reputed companies. Companies are on the lookout for job applicants who have the ability to work independently, manage multiple priorities in fast-paced environments and cater to pre-established deadlines.
Though experienced consultants and SAP TR professionals stand a better chance in the job profile of a treasury manager, companies are more comfortable in hiring those with prior experience of implementing at least two end-to-end SAP ERP (Enterprise Resource Planning) projects. However, the requirements vary from one company to the other and the job requirements are dependent on their set standards and norms.
The highly paid jobs in this field are those of SAP functional consultants and SAP treasury managers. Freshers with a certification in SAP Treasury have to gain experience in real world scenarios to attract higher paying jobs their way. While the salary of freshers' falls between INR 18K to 40K, that of an experienced treasury manager can be in the range of INR 18K to 40K.