Definition or Meaning - What is SAP TR?
Full form or SAP TR stands for (Treasury), a popular SAP application that succeeds in offering organizations with the much needed competitive edge by ensuring competent management and control of treasury processes; is used for automating tasks and strengthening the SAP SCM (Supply Chain Management) system (financial). This module provides tools for cash and liquidity management, audit controls, accurate forecasts, efficient use of cash and an overall reduction in operational risks.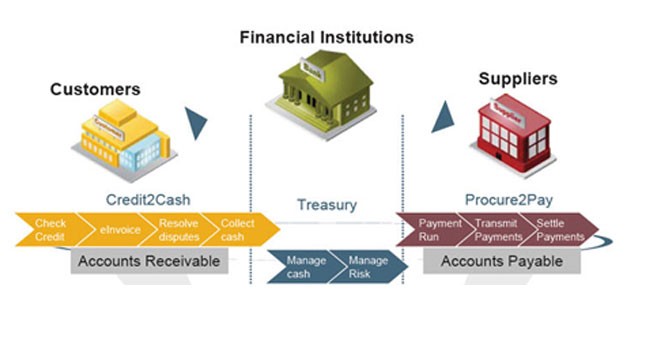 Equipped to handle financial risks by integrating smart strategies for the mitigation of risks, SAP TR (Treasury) is a powerful tool in the hand of cash managers wanting to gain,
A comprehensive view of all the transactions taking place in their organization.
Cash allocations by for and by the organization - locally as well as globally.
Financial and treasury allocation processes.
It enables cash managers to determine cash liquidity by using forecast liquidity and bank balances and make payment advices accordingly. Some of the important tasks performed by SAP Treasury applications are:
SAP Cash and Liquidity Management.
SAP Bank Communication Management.
SAP In-House Cash Management.
SAP Treasury and Risk Management and so forth
Sub Modules of SAP Treasury:
CM (Cash Management): This is the most important component of SAP TR and is used for monitoring payment flows (both cash inflows and outflows) and safeguarding liquidity. Helping organizations meet their payment commitments, TR-CM determines the cash position in accounts and cash concentration. It also forecasts the liquidity situation and predicts the future inflows/ outflows for better planning purposes.
CFM (Corporate Finance Management): ECC 5.0 is a separate module in the FI Accounting component while ECC 6.0 CFM forms an integral part of the Treasury (FSCM). CFM is basically a group of solutions which is focused towards the analysis and optimization of business processes (financial) of a company. CFM deals with fixed-deposits, managing loans, securities, derivatives, foreign exchange and so forth. It is an effective tool for monitoring, planning as well as analyzing the financial position of an organization.
Risk Management
Some Important tasks covered in SAP Treasury applications are:
SAP Cash and Liquidity Management
SAP In-House Cash Management
SAP Treasury and Risk Management
SAP Bank Communication Management.
Read Next