Definition -What is SAP LT (SLT) Replication Server?
Full form or SAP LT stands for (SAP Landscape Transformation)
SAP LT Replication Server (aka 'SLT') is the software which is considered as the standard way of moving data within the varied systems within the same network, might be Local Area Network, Wide Area Network or into the Cloud so as to retrieve an information in the correct point of time and at the right place.
This software also helps in feeding analytical terms with the latest business information, from the landscape of the productive business entity. This software also supports the driving of transactions in large volume which are executed in SAP HANA. The software also enables reporting in the real-time and lessens the volume of the transfer of SAP BW and makes possible the synchronization between different systems.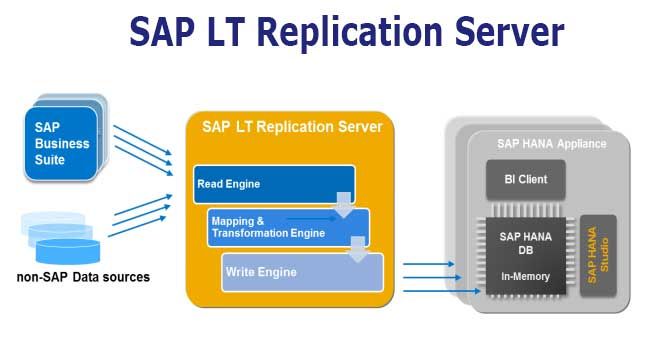 1.Replication:
Scheduled or real time.
Minimizing the volume of transfer and capturing of Delta.
2.Transformation:
Tabular adjustment.
Use of selective criteria by proper filtering.
Data Conversion-e.g-making data sensitive secretly.
3.Operation and Installation.
Deeply integrated within landscapes of SAP for reusing of the monitoring capabilities and installation which are already existing.
With the use of Solution manager of SAP SP5 and onwards, it helps in monitoring,
SAP Landscape Transformation of Replication Server is otherwise known as the enabler for technique practices in provisioning of huge data.
The use of SAP LT Replication Server is described here in a brief manner:
The SAP LT Replication Server is used for the loading and replication of huge volume or low data in real-time or scheduled mode from a Non-ABAP or SAP ABAP based source system into SAP HANA, SAP BW, SAP Data Service or various ABAP based systems.
Here pointed out the supported databases for the SAP LT Replication Server:
Oracle Enterprise Edition
MSFT SQL Server Enterprise Edition
IBM DB/2 zSeries
IBM DB2 LUW/UDB (DB6)
IBM DB2 iseries (former AS/400)
IBM Informix
SAP MaxDB
Sybase ASE
SAP HANA
SAP LT Replication Server is infused as the middleware in the landscape which you are using and can be made use of without making any disturbances in your operations which presently exists. The software is used to feed the several targeted systems with adequate information that depends on the scenarios and requirements of your business.
Benchmark Figures (SAP Landscape Transformation Replication Server)
Installed Base- There are 2874 landscapes of customers running with SAP Landscape Transformation Replication Server DMIS 2011.
Highest Load Initially - 26 bn records table (89 hrs.)
Most Tables Replicated – 12000 tables in one landscape, in one configuration, is 500 tables.
Most connected systems of SAP – SAP connected 70 systems and there is only 1 SAP LT Replication Server for all the systems.
Most connected systems of Non-SAP – Non-SAP connected 40 systems and 1 SAP LT Replication Server for the purpose.
Highest Rate of Change – More than 20 Mio records per table in 1 hour.
Moreover SAP LT Replication Server is an asset of SAP and moreover, it has its own importance in the Software industry as discussed above.