What is SAP ABAP?
SAP ABAP by definition is a programming language for developing applications for the SAP R/3 system.
SAP ABAP Full Form or stands for Advanced Business Application Programming (English), Allgemeiner Berichts-Aufbereitungs-Prozessor in German, It is typically a high-level programming language used for developing business applications for the SAP NetWeaver platform and SAP application server. SAP ABAP has a wide range of applications in an enterprise and is a reliable language for the development, testing and debugging of SAP based solutions.
Its runs in SAP ABAP runtime environment and use to develop application programs like
Reports
Module Pool Programming
Interfaces
Forms
Data conversions
User Exits & BADI
To begin in an effective manner with ABAP, programmers need to have basic knowledge of integrated software logistics, the ABAP development environment and ways of developing SAP applications on a central server. Occupying a pride of position alongside JAVA, the more recently introduced programming language; SAP ABAP has syntax somewhat similar to COBOL. It is the preferred language for SAP's Web Application Server and is used on the Net Weaver platform for generating smarter business applications.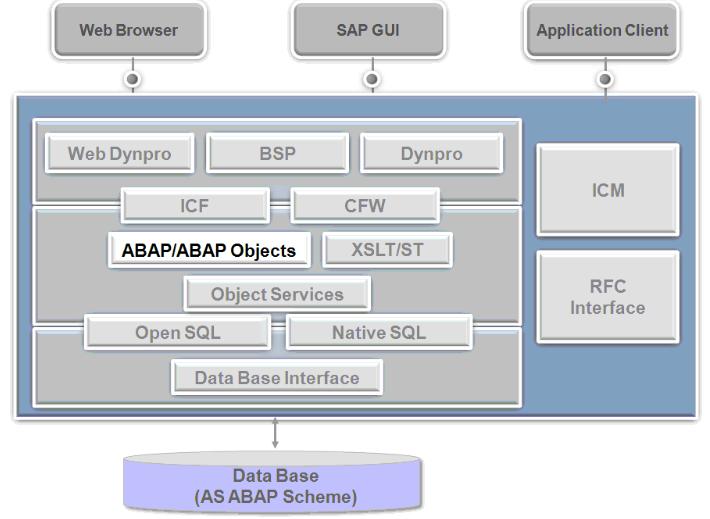 Also used for creating applications and high-end programs for the client-server R/3 system released by SAP in 1992, more and more SAP related systems (basic and advanced both) are now relying on the features and functionalities of ABAP. In the year 1999, SAP had released an object-oriented extension of ABAP; it was known as ABAP Objects and was introduced alongside R/3 release 4.6.
A developer proficient in ABAP's development environment and programming language goes a long way in developing and enhancing the attributes of various functionalities; along with implementing the technical architecture that surrounds the package. This fourth-generation language (4GL) was developed by SAP and is:
Utilized for the creation of thousands of tiny embedded programs known as transactions (these are the components of an application).
An application specific language that boasts of built-in knowledge about application domains.
Event-driven, well structured, top-down, and powerful.
Training Tutorials
SAP ABAP Data Types and Data Objects
SAP ABAP Data Dictionary
SAP ABAP Subroutines
SAP ABAP Open SQL and Native SQL
SAP ABAP Internal Table: Create, Read, Populate, Copy & Delete
SAP ABAP Table Control
SAP ABAP Reports
SAP ABAP Dialog Programming Tutorial
SAP ABAP ALV: ABAP List Viewer
READ NEXT