The cloud has a significant role in today's competitive market. Almost every cloud customer feels comfortable with this versatile technology. Among some effective Customer Relationship Management (CRM) modules, the SAP C4C is the most prominent marketing strategy. When we execute CRM into the cloud, it is well-known as the Sap C4C, and when performing the marketing into the cloud, it is known as the Sap Hybris Marketing. In this tutorial, the Cloud users will comprehend ideas about the SAP C4C, features, and other criteria; how to implement SAP C4C.
Let us learn about Customer Relationship Management (CRM) for a clear vision of SAP C4C.
Customer Relationship Management (CRM):
Worldwide companies; use this technique called CRM to enhance their evolution, development, possessing, and gaining customers. Customer Relationship Management is a technology for managing a company's connections and dealings with customers with its potential clients. Its goal is easy to understand, enhance business relationships. A CRM system enables companies to stay affiliated with clients, enrich profitability and streamline processes.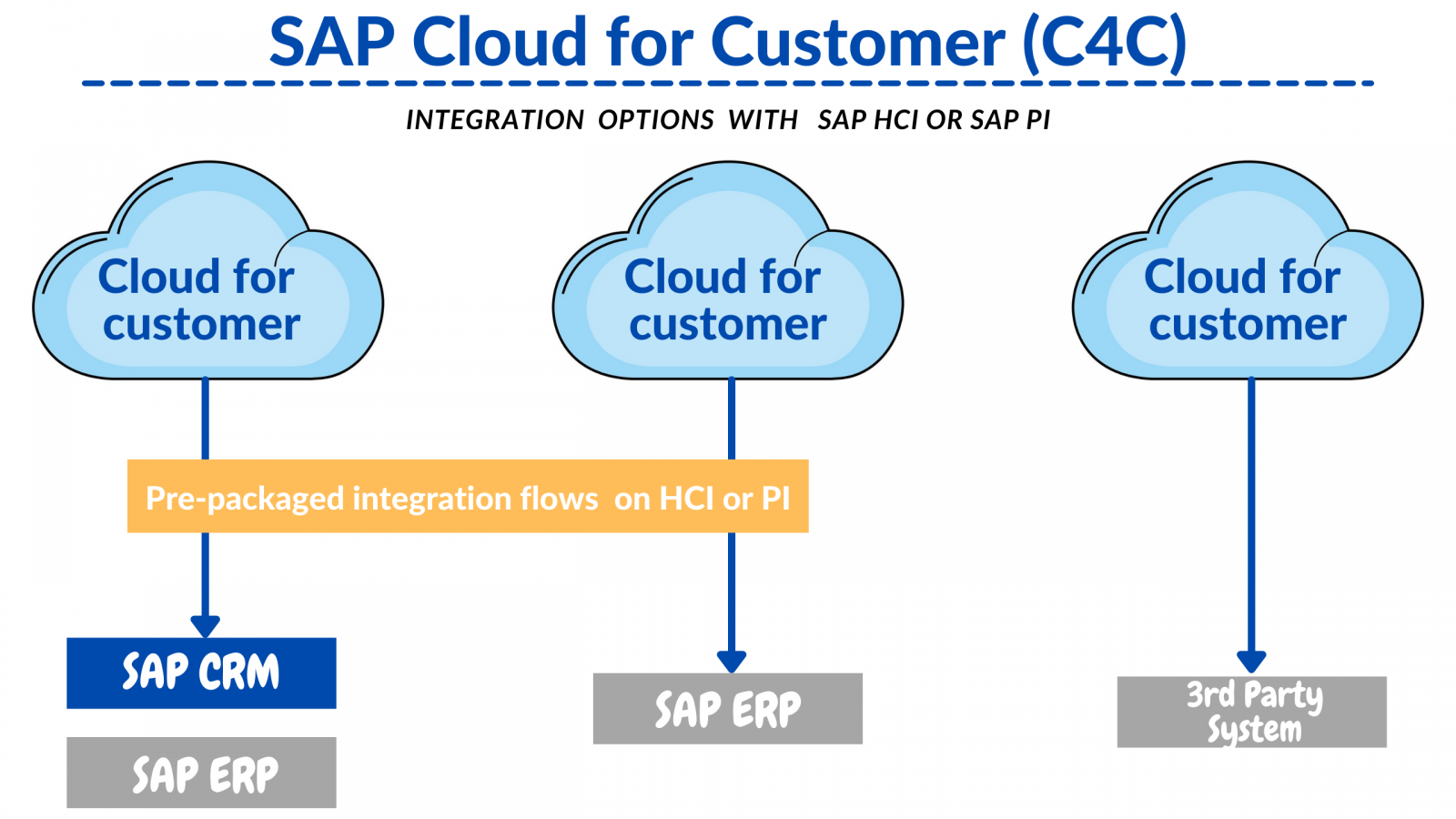 What is conveyed by the term SAP C4C?
A cloud solution that handles customer deals, customer service, and marketing actions efficiently and is one of the primary SAP solutions to manipulate the customer relationships is called the SAP Cloud for Customer (SAP C4C). In this competitive market, it is essential to fulfilling all the customer needs; and align our sales, commerce, and service business. These can line to furnish more heightened customer fulfillment. Thus, SAP C4C, in simple words, is the cloud CRM system; that can line to deliver more heightened customer fulfillment.
Features of SAP C4C:
Methodical presentation of 1152 features; that organized into a standard Customer Relationship Management (CRM) setup, with clear modules and sub-modules.
SAP C4C offers every feature that figures out a level of support, full support to partner add-on, third-party, customization, and others.
Sap Cloud for Customer delivers built-in integration of SAP CRM, SAP JAM, SAP ERP, and other third-party entities.
It is uncomplicated and easy to use, created to keep in mind users' demands.
It permits its users to host multiple clients on the same approach. The Client is in an aborning environment.
SAP Cloud for Customers made it effortless to access customers' data anywhere, anytime, and on any appliance, as it sustains mobile access like iPhone, iPad, and Android.
Interesting Points about SAP C4C:
Given below are a few interesting facts about SAP C4C:
The SAP Cloud for Customer solution became public to the users by 2011, June 20.
SAP C4C exists in 19 different languages by the time May 2015.
A user can efficiently merge C4C solution to SAP Enterprise Resource Planning Central Component (SAP ERPCC), Customer Relationship Management, and Outlook utilizing the SAP NW Process Integration or SAP HANA Cloud Integration (HCI) for classic procedures.
The SAP C4C is a unique product of SAP founded on Software as a Service (SaaS), Platform as a Service (PaaS), and Infrastructure as a Service (IaaS).
The SAP C4C connectors are well-known for widespread middleware like Informatica, Dell Boomi for cloud integration, MuleSoft, etc.
Objectives of SAP C4C:
Manages relationships of the customers
Handles collaboration
Directs insight of the customers
Business Strategies
Advantages of SAP C4C:
Using SAP C4C can be much advantageous to the SAP C4C customers. These are as follows:
Consume less time and money for its development – Using the SAP C4C can save the users time as it is a standard integration content, executing all the hard work for its users. It includes converging all messages, mappings, and interfaces to different adapters for distinct scenarios. A minimal portion of configuration is all a user ever needs to identify adapters' connection in detail, like permitting their current landscape to sustain the integration, providing a way to essential firewalls, and organizing proxies or reverse proxies whenever required.
Classic SAP C/4 HANA integrations as a template – Marketers can lessen the development duration while integrating a third-party system with the company landscape employing a template C/4 HANA reporting, HR, and marketing means.
Content gets automatically updated in line with each C/4 HANA release – SAP delivers new versions of C/4 HANA in a 3-month intermission. It is a significant advantage for consultants and developers when new content gets released regularly, as it trims project timelines, thus lowering the workload.
SAP C/4 HANA also averts its users from retaining to rebuilding all their interfaces from scratch – This same standard integration content, SAP C4C, can efficiently be extended, is its users need additional fields.
The architecture of SAP C4C:
SAP C4C exists as a multitenant architecture where it shares solutions and elements between multiple customers.
It comes with an additional option, i.e., to go for a single-tenant by paying an extra cost. In a multiple-tenant scenario, developers built all the updates and launches on C4C custom solutions for multiple tenants.
SAP C4C equips prepacked integration for CRM, SAP ECC. It comprises HTML5 UI, Silverlight UI, and mobile apps for iOS, Android, and HANA for HANA Cloud Integration (HCI).
Users can easily integrate SAP C4C solutions with SAP ERP and CRM on-premise solutions.
There exist two ways of integration in SAP C4C:
SAP Process Integration PI/PO integration comes in execution when the user; already using process integration for on-premise systems.
SAP HANA Cloud Integration (HCI), the integration comes into execution when the user has to perform a cloud-to-cloud integration.
What are the steps to access SAP C4C applications?
For accessing the SAP C4C applications, below are some steps to follow:
To access the C4C, we have an URL, https://myXXXXXX.crm.ondemand.com, with a user name and password.
Every tenant purchase from SAP comes with a unique tenant ID of six digits - XXXXXX. If a client purchases three tenants, there will be three unique tenant IDs for that buyer.
The above-cited URL link to log in C4C App is - http://my125863.crm.ondemand.com.
The six-digit number is the ID that designates the tenant space guideline by the buyer from SAP.
What is the role of the SAP C4C consultant?
The SAP C4C Technology Consultant promotes the performance and consent of the SAP Cloud solution to improve the clients' business modules and overall performance; while preserving a high degree of customer satisfaction.
Perform thorough investigation of complicated business process essentials, providing relevant system solutions; interpret, essence, validate and document customer essentials.
Promote workshops to pile business essentials.
Map client business essentials, processes, and objectives evolve necessary product adaptations to meet clients' needs.
SAP C4C consultant configure, formats, customize, and testing of C4C.
Determine gaps, problems, and workaround solutions.
Act as liaison with SAP C4C customers for troubleshooting like investigating, analyzing, and solving software problems.
They also manage changes or emergency conveyances as required for high-priority issues.
Document operational plans, test matters, and results.
Proactively recognize and offer business strategy and system enhancements.
SAP C4C consultant further furnishes consulting benefits on both new executions and existing support projects.
They act as a liaison between the business procedures and the technical crew.
Provides ad-hoc internship and user consent as needed.
The senior consultants work self-directed and independently. They may act as topic matter mentors to more junior fellows.
Conclusion:
Cloud has become a boon for almost all businesses and customers. Everyone wants to leverage the benefit of cloud to full extension. Due to the flexibility and minimal cost, public cloud has become very popular in the technology market. The public cloud services (PCS) market comprising the infrastructure-as-a-service (IaaS), platform-as-a-service (PaaS) solutions, and software-as-a-service (SaaS) is predicted to grow 10.8 billion USD by 2025. According to the International Data Corporation (IDC), this will bring a cumulative growth rate of CAGR 24.1 percent for 2020 to 25. SAP is also taking massive contribution in the public cloud market through cloud for customer (C4C) solution.