SAP Lumira
Definition - What is SAP Lumira?
SAP Lumira is a data visualization application for developing better and more refined user interfaces. With this module in place, end users are basically entertained with the enhanced capability and absolute functionality of user-friendly interfaces. The application enables users to visualize, access, customize data of any size and number, as many times as they want in the system. Here, users can visualize the components of interactive data without making much effort of scripting the same. They can analyze the data for their use very swiftly, with the help of existing and other devices that are compatible with the advantageous features of SAP Lumira.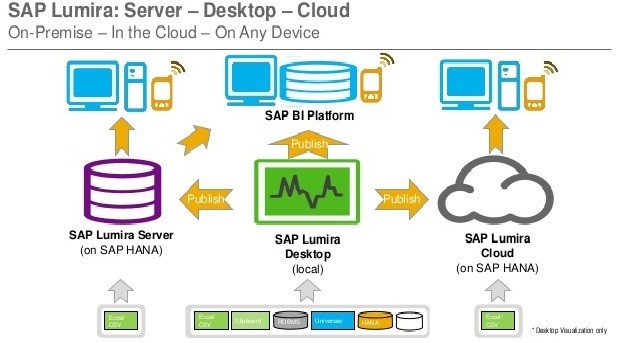 This SAP module makes professionals self dependent in the areas of data customizations and enables them to manage all the functions on their own, with an easy to use interface. The SAP Lumira desktop features multiple source data resources that have to be integrated at a point. Thereafter, they can compose stories from the visualizations that are capable of being shared with other users/ decision makers, with the help of SAP Lumira and other cloud servers. The visual intelligence tool is the most superior tool of SAP Lumira and boasts of a drag and drop interface, which is suitable for use by even the most naïve users of Lumira technology.
SAP Lumira has certain embedded feature that is useful for organizing data systematically and adequately. With the help of this module, users can enhance data using semantic configurations and ways of automating the transmission of data. There is no any requirement of pre-defined or custom queries and reports. The data being transformed is security sanctioned by the application software.
Read Next
Get solutions from our experts!
All the site contents are Copyright © www.stechies.com and the content authors. All rights reserved. All product names are trademarks of their respective companies. The site www.stechies.com is in no way affiliated with SAP AG. Every effort is made to ensure the content integrity. Information used on this site is at your own risk. The content on this site may not be reproduced or redistributed without the express written permission of www.stechies.com or the content authors.