What is Catalog Profile?
A Catalog Profile in SAP is a master data object used in the Plant Maintenance (PM) module to group a set of catalog items. Catalog items are materials, spare parts, or services that are used in maintenance activities like repairs or replacements. The Catalog Profile helps to organize these catalog items and makes them easier to search and find.
In a Catalog Profile, you can define filters to narrow down the search results for specific catalog items. The filters can be based on various criteria, such as material group, vendor, manufacturer, or equipment type. Catalog Profiles can be assigned to catalogs to control access to specific catalogs by users or user groups.
Advantages of Catalog Profile
The Catalog Profile feature in SAP PM offers several advantages that can help organizations in managing their maintenance processes more efficiently. Here are some of the advantages of using Catalog Profiles in SAP PM:
i) Simplified item selection: With Catalog Profiles, you can group similar catalog items together and apply filters to narrow down search results. This simplifies the item selection process and makes it easier to find the appropriate item for a specific maintenance task.
ii) Increased efficiency: Catalog Profiles enable quicker and more efficient maintenance order processing by simplifying the selection of catalog items. This reduces the time and effort required for maintenance technicians to locate and select the appropriate items for a task, which can help to increase productivity and reduce costs.
iii) Improved accuracy: Catalog Profiles can improve the accuracy of maintenance processes by providing more specific and detailed information about catalog items. With filters based on the material group, manufacturer, or other criteria, you can ensure that only the correct and relevant items are used for maintenance tasks.
iv) Enhanced visibility: Catalog Profiles provide greater visibility into catalog items and their use, enabling better tracking and monitoring of inventory levels, usage patterns, and costs. This can help organizations to better manage their maintenance budgets and optimize their inventory levels.
v) Access control: Catalog Profiles allow for access control to specific catalogs based on user or user group. This helps to ensure that only authorized users have access to certain catalogs, which can help to prevent errors and reduce the risk of unauthorized access to sensitive information.
Catalog Profiles are used to define the catalog structure that is used to search for products or services in a catalog. Catalog profiles can be used in various SAP modules like Materials Management (MM), Sales and Distribution (SD), and Plant Maintenance (PM) to help users find and select items more easily.
Use of Catalog Profile in SAP
Catalog Profiles in SAP can be used for several purposes, including:
Procurement: Catalog profiles can be used in the MM module to facilitate the procurement process by allowing users to search and select items from a catalog. This makes the procurement process more efficient by reducing the time required to search for items and improving the accuracy of item selection.
Sales: Catalog profiles can be used in the SD module to provide a catalog of products or services to customers. This helps to improve the customer experience by making it easier for customers to find and purchase items.
Maintenance: Catalog profiles can be used in the PM module to provide a catalog of spare parts or maintenance items that can be used for repairs and maintenance activities. This helps to ensure that the correct parts are selected for repairs, reducing the likelihood of errors and improving the overall efficiency of the maintenance process.
How to Create a Catalog Profile?
Please follow the steps below to create a catalog profile:
Enter t-code SPRO in the SAP command field and press Enter key to execute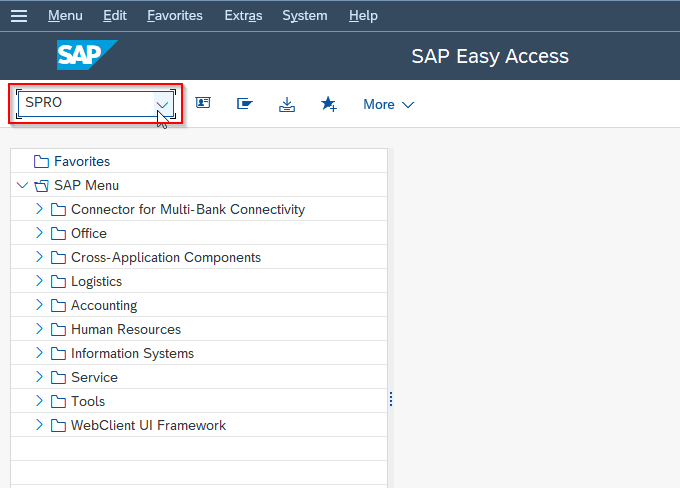 Click on the SAP Reference IMG button to proceed to the next screen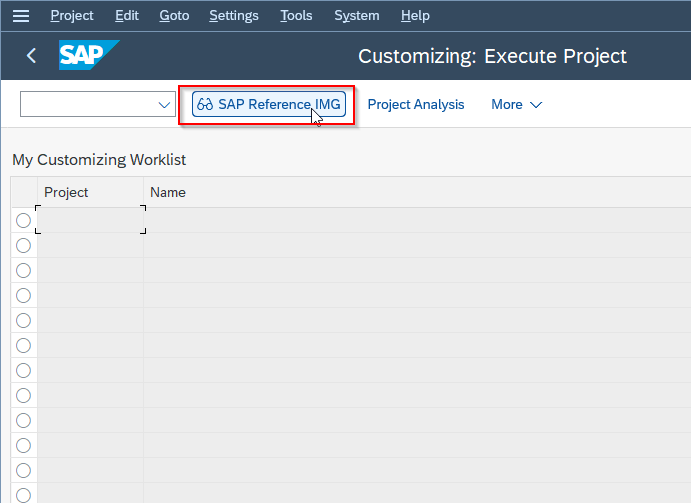 Next, navigate to the following IMG path:

Plant Maintenance and Customer Service → Maintenance and Service Processing → TMaintenance and Service Notification → Notification Creation → Notification Content → Define Catalog Profile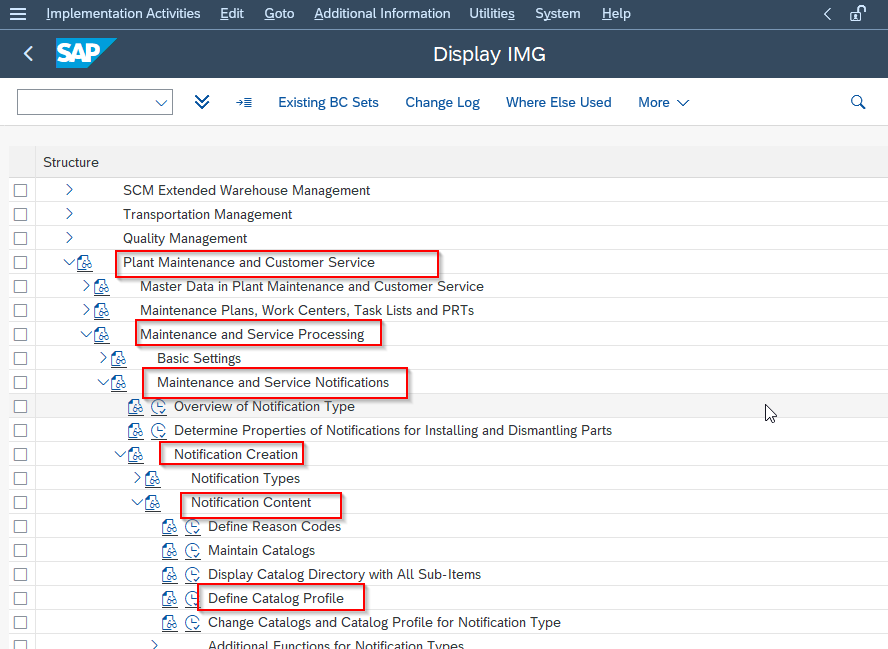 Now on Change View "Catalog profiles": Overview screen you will see the list of previously defined catalog profiles.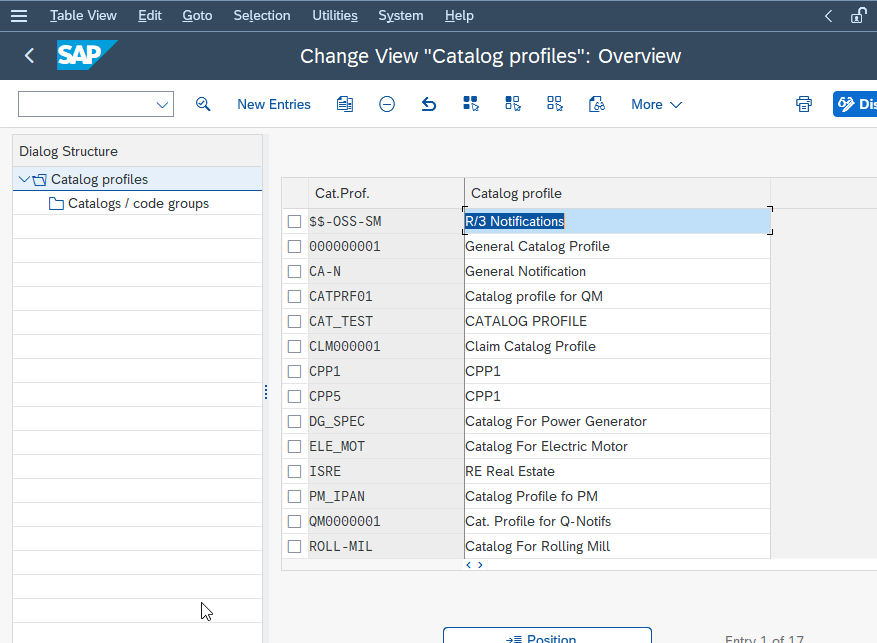 Next click on the New Entries button to create a new catalog profile.
Now enter all the details for the new catalog profile according to your requirements.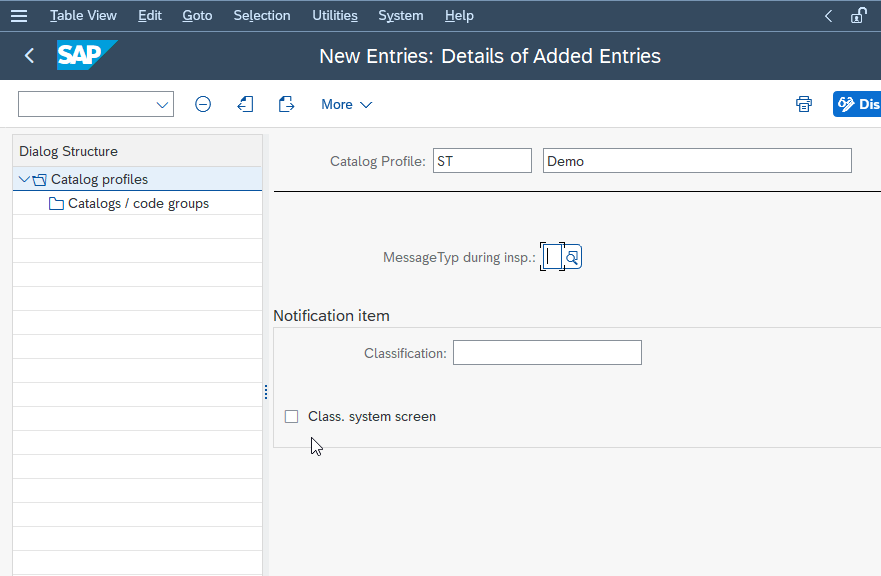 Next click on the Save button to save the new catalog profile.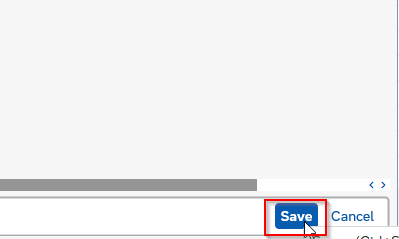 Next, select your Customization Request id and press enter to proceed

A message Data was saved will appear on the bottom of your screen.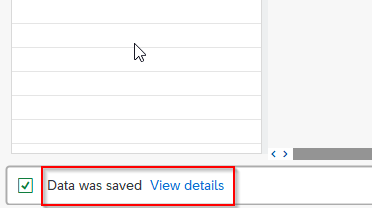 You have successfully created a new catalog profile in SAP Plant Maintenance (PM).