Definition or Meaning - What is SAP SRM?
Full form or SAP SRM stands for (Supplier Relationship Management), used along with SAP Product Lifecycle Management (PLM), Enterprise Resource Planning (ERP) and Supply Chain Management (SCM) to enable effective integration and implementation of cross-application business modules; is highly efficient and has the capability of lowering costs and ensuring higher quality.
SAP SRM offers one of the best means of planning and managing the various aspects and interactions of an organization with the key suppliers of raw materials, goods and services. This SAP module helps in better coordination of diverse Business Processes with vendors and other external parties, thus establishing stronger tie ups and creating the right grounds for maintaining long term relationships with the primary suppliers of the enterprise. Having its roots in B2B solutions, SAP SRM appropriately defines the various SAP components, explains the ways of building strategic supplier relationships and streamlines the relevant procure-to-pay processes.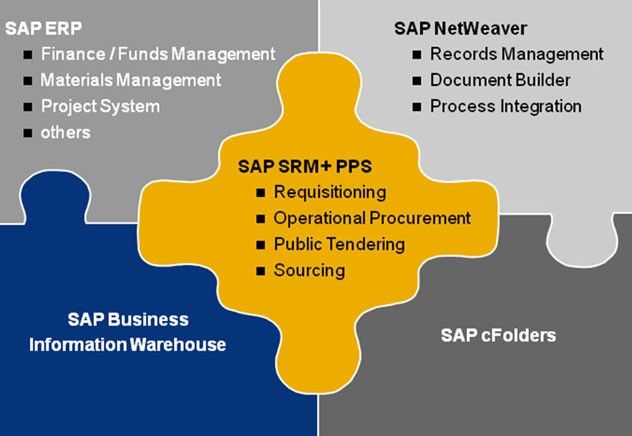 The Benefits and Features of SAP SRM include:
It enables an organization to negotiate on contracts, interact with suppliers, streamline the tasks of Purchasing, manage inventory/delivery and facilitate product designs.
The SRM software is also helpful in automating and systematizing the tasks of acquiring goods and designs, reducing the errors in purchases and thereby increasing the overall efficiency of the functionalities of the inventory and supply chain systems.
SAP SRM offers innovative and creative methods that go a long way in helping better coordination of all business processes linked with the supplies of services and goods. SRM tools are being increasingly used for automating the tasks on hand and smoothening out the processes of acquisition of product designs, goods and other materials - thus paving the path for long term beneficial relationships with all suppliers.
The Steps of a SAP SRM Integrated System:
General planning in SAP APO (Advanced Planner and Optimizer)/ MRP in ERP systems help in planning out the materials and their required quantity with ease. These requirements are then transferred to the EBP system. Requisitions from the Project System and SAP Plant Maintenance are some of the other possible requirements.
If the requisitions passed to EBP (Enterprise Buyer professional) have data that is unique and complete, purchase orders are created in an automatic manner. However, if any data is missing, the organization purchasing the materials completes the missing information through Process Purchase Orders or Sourcing. The purchaser then completes the orders; designates the source of supply; and add or deletes items in his selected list.
After the order is completed, it is automatically issued to the SAP R/3 Environment. XML serves as an upcoming medium as the data is automatically integrated in multiple supplier systems. In certain cases, the orders may be sent by e-mail, fax or in the form of hard copies.
The goods receipts are either done in the EBP by suppliers via XML confirmations; by the employees who had requested the items; via general goods recipients; or with the help of a well conceived backend system. Thereafter, Inventory is updated at the backend.
The invoice is then processed manually in EBP by an accountant or the supplier via an XML invoice. In most cases, this task takes place from the SAP SRM SUS or the backend system.
SAP SRM, one of the most important modules of SRM products, has been giving good performance over time. Some of the primary tasks performed by SAP SRM are:
Forecasting and analysis of purchasing behaviour.
Working hand-in-hand with partners and that too in real time.
Cutting down of acquisition time and overall expenses.
Increasing employee efficiency and producing high-quality products.
Scope and Opportunity for Career in SAP SRM (Supplier Relationship Management)
Specifically designed for qualified project participants, an advanced course in SAP SRM requires a thorough understanding of the SAP ERP Systems. A minimum experience of at least one year in handling the SAP environment is a must and candidates desirous of enrolling themselves should have a profile equivalent to SAP consultants.
An effective module for employees and project members handling the SRM solutions of a company, SRM team members, members of material management, MM Consultants, inventory managers, operational purchasers, project managers, buyers, end users and procurement managers; SAP SRM is a much-favored choice by organizations across the world.
Become a Certified SAP SRM Consultant
With a SAP SRM certification in hands, professionals can look forward to highly paid jobs in reputed companies worldwide. This certification enhances the portfolio of existing SAP professionals, project members and/ or consultants - in many more ways than one. The job profiles available to SAP SRM aspirants range from those of consultants to super users, trainers, SAP managers and beyond.
SRM Consultant Job Profile & Salary Package
SAP SRM certification provides opportunities for highly paid jobs worldwide. This certification opens a gateway for enhancing the portfolio of existing personnel or project members or consultants.
The Job profile varies from SAP SRM consultant, senior SAP SRM consultants, SAP Super user etc.
These job profiles vary on the basis of the skills and levels of experience of job applicants and boast of lucrative salary packages. Here, the pay packages may go as high as INR 900 K and are dependent on the nature of the job on hand and the implemented processes.
SAP SRM (Supplier Relationship Management) Courses
SAP SRM courses offer inc - depth knowledge and the skills required for the proper handling of SRM automation.
The topics included in the course:
Introduction to ERP, SAP environment, basic SAP GUI navigation, Supply Chain Maintenance (SCM) and SRM architecture.
Overview of Procurement Process.
Introduction to Master Data and the organization structure, procurement Catalogue Content Management and data acquisition.
Supplier Contracts and Management procedures.
In - depth knowledge of the 'procure to pay' cycle.
Overview of Server Customization and Management.
Delivery control, supplier services, inventory monitoring, purchase forecasting and analysis, etc.
SAP SRM Certification Cost and Duration
| | | |
| --- | --- | --- |
| Course Name and Code | Duration | Cost (Rs.) |
| SAPSRM- Overview of the SAP SRM solution | 3 days | 1,40,000 to 1,60,000 |
| SRM210- SRM Server Configuration | 5 days | 2,10,000 to 2,60,000 |
| SR210E- SRM Server Configuration (E-learning) | 1200 Min | 65,000 to 70,000 |
| SAPSRE- Overview of the SAP SRM solution - Free with SAP Learning Hub Discovery edition | 720 Min | 30,000 to 40,000 |
NIIT, Accenture, IBM and other SAP certified institutes offer SAP SRM courses that promise to increase the skill sets of candidates and open more doors for their career in SAP. The duration of these courses vary in accordance to the levels of skills imparted and may range from 5 to 45 days. The course fee also varies from one institute to the other and ranges between INR 40,000 to 3.5 lacs. After getting the requisite training and hands on experience of SAP SRM, candidates may like to invest an extra INR 30 - 45K to get the SAP SRM certification.
This course is best suited for:
Project team members and consultants implementing SAP Supplier Relationship Management (SAP SRM) solutions.
Interested parties like junior consultants, team leaders, project members, managers, suppliers and other parties wanting to have an overview of SAP SRM components.