Definition - What is SAP SCM (Supply Chain Management)?
SAP SCM - an important part of the group of SAP customized solutions, boasts of the distinction of being one of the most impactful SCM software applications in the market. It is specifically designed to maintain organization relationships with customers and suppliers; streamline the processes of planning, distribution, inventory and transportation; and effectively control and manage the entire supply chain to address customer expectations and perform to the optimum levels.
SAP SCM (Supply Chain Management) plays an important role in enabling an organization coordinate its entire supply chain process in accordance to the dynamism in the environment - thus helping customers, suppliers, manufactures, retailers, business partners and other global connections to stay connected and generate result-oriented solutions.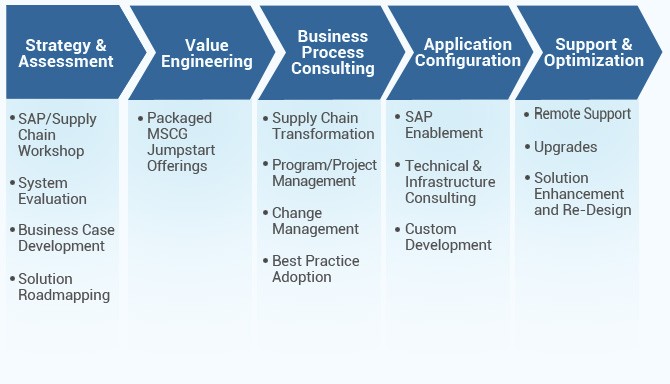 The components of SAP SCM are:
SAP SCM primary applications are segregated as:
Supply chain management
SAP supply network collaboration
Across the world, organizations are facing enormous pressures for reducing costs while improving customer services and increasing innovation as well as responsiveness. SAP SCM enables the planning, collaboration, execution and coordination of the supply network, and empowers them to adopt smarter supply chain processes and deal with their ever-changing competitive environment.
The benefits of integrating this module include:
Smarter planning and execution of SAP supply chain solutions for meeting customer demands.
Effective streamlining of internal departments with their external partners, total control of Business Processes and smoother operations for more efficient and profitable running or organizations.
Competent forecasting and handling of sudden changes in demand and supply.
Provision of vital business information to all key stakeholders located across the network.
Improved collaboration and better management of multiple lines of business.
Real - time decision making for early execution across the supply chain.
Central management and optimization of Inventory, order fulfillment and shipping.
Proper handling of supply chain disruptions and maintenance of the supply chain's integrity and so forth.
SAP SCM courses are modeled to extend the advantage of power packed SAP solutions to their audience and enhance their abilities for handling the tasks related to planning, logistics, manufacturing and so forth. Helping candidates derive the maximum market value, these courses provide in - depth knowledge of SAP functionalities and their integration with supply chain systems.
Topics covered by the course include:
An overview of SAP ERP and SAP navigation tools.
Elements of SCM and insights into the views and concepts of SCM, SCM tools offered by SAP and the basics of SAP SCM architecture.
Business Information Warehouse (BW), Sales Force Automation (SFA), Demand Planning, Advanced Planning and Optimization (APO), PP-DS, Supply Network Planning and so forth.
Supply chain methodologies, projects and bench marking,
The duration of this course is dependent on the levels of the proficiency of students and the selection of SAP SCM functionalities. The structure and fees of some popular training modules are:
Supply Chain Management - Order Fulfillment: The course from BPCL Mumbai extends for 5 to 25 days with fees in the range of INR 25K to 275000/- .
Supply Chain Management - Procurement: The course from BPCL Mumbai extends for 15 to 25 days with fees in the range of INR 20K to 275000/- .
Supply Chain Management - Planning Advanced Planner and Optimizer(APO): The course from BPCL Mumbai extends for 15 to 25 days with fees in the range of 35K to 374000.
The SAP SCM is most suitable for:
Project leaders, project team members, SAP consultants, super users, sales consultant, and those related to the departments of planning and material management (with prior experience and knowledge of the domain of supply chain management).
IT professionals who serve the task of supporting business processes in organizations.
Customers and consultants with expertise in ERP products.
Fresher from any disciple like B. Sc., M. Sc., B. Tech, M.Tech and MBA. They should be familiar with the SAP (Systems, Applications, Products) environment and possess knowledge of SCM.
The basic requirement of the course varies from one institute to the other. However, fundamental knowledge of IT, awareness of basic computer applications and SAP tools, as well as practical experience of varied business processes is welcome.
SAP SCM is a customized module that is especially beneficial for handling the functionalities of supply chain systems and their procurement, advanced planning, coordination and optimization. Certified SAP SCM professionals may look forward to highly paid jobs in reputed companies that utilize SAP as a valuable ERP tool for improvising their business processes.
With a certification in SAP SCM, candidates can aspire for the job positions of SCM trainers, consultants, senior consultants, analysts, managers and so forth. SCM professionals rank high on the list of highly paid professionals in any organization and the salaries vary in accordance to their skills, experience levels and the working methods of specific organizations.
The average salary of a SAP SCM professional can range from INR 15 to 25 lacs p.a. in India and can touch a high of 1.8 M in global companies; after the requisite skills and experiences have been acquired. At TCS, the average salary for SCM professionals is of about 15.5 lacs p.a. while Dabur India Ltd. pays in the range of 23 lacs p.a. Some of the other Indian top paying companies are Bharat Petroleum Corporation Ltd and Nokia Siemens Network Pvt. Ltd.
So, are you ready to explore the world of SAP SCM and touch a new high in your career graph? Sign up today!