Definition - What is SAP E-Recruitment?
Power packed with recruitment as well as succession planning instruments that go a long way in helping organizations reach out to new employees, find appropriate positions to suit their capabilities, retain them for a long –term basis and promote the areas of their professional development, the SAP E-Recruiting sub module is certainly the right way to go. Along with handling the applicant tracking activities of a company, it ensures up-to-date HR management, maintenance of continuous contact with potential candidates and applicants, and the streamlining of all employee specific data and information.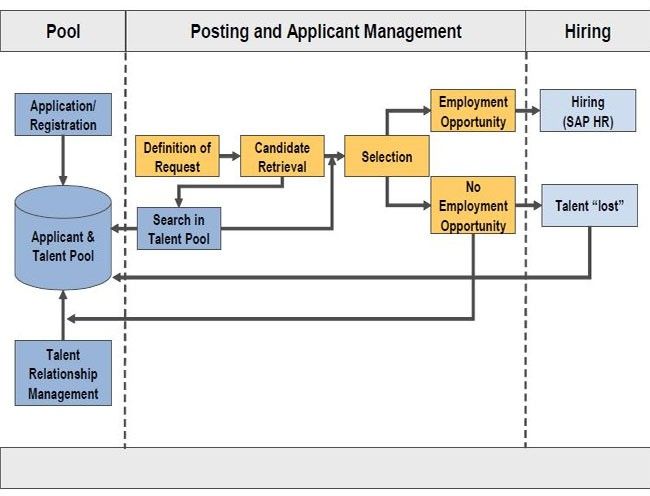 SAP e-recruiting also facilitates the setting up of a large-sized talent pool; helps in the identification of possible candidates for a position and staff critical key posts; handles most tasks of scrutinizing applications, planning and budgeting, hiring and retaining employees; and so forth. From electronic screening to the processes of filtering, sorting, aggregating, ranking and so on, it greatly optimizes the work of succession planners, management and recruiters alike.
Benefits of SAP E-Recruiting
Presenting a diversity of functions and sophisticated technical mechanisms, SAP e-recruiting tools help in controlling costs / profitability across the entire process.
Some of the important benefits of integrating this feature packed sub module include:
Introduction of smarter workflows for the automation of multiple processes and information flow;
Proper monitoring of approval processes or e-mail dispatches;
Acceleration and better control of diverse HR (Human Resource) Management processes;
Innovative and much easier access to the techniques of Talent Relationship Management and promotion of companywide collaboration;
Implementation of internet-based user interfaces that can be smartly configured for suiting specific roles, branches, countries and so forth.
From line managers and recruiters to succession planners and candidates alike, this SAP component adds a lot of value to the recruitment process and paves the way for better HR productivity and bottom line figures.
SAP E-Recruitment - a Closer Look
Effective in mapping automated and web-centric recruitment processes, the system gives support to the following activities:
Stores and manages requisitions, handles job descriptions and the specific requirements that are required to be met by candidates/ potential applicants for the job;
Streamlines all the processes for recruitment;
Specifies the support team that can collectively search for good candidates;
Publishes job postings for requisitions in internal / external posting channels;
Creates a talent pool of potential candidates, both internal and external. This pool helps in finding and recruiting potential candidates for a job;
Maintains contact with applicants/ candidates for future vacancies;
Evaluates recruitment processes to the hilt; and so forth.
Implementation Considerations
In the current scenario, succession planning and e-recruitment tasks can be fully integrated on a singular machine. The SAP Business Partner enables the making and handling of organizational data and HR master data that's' available to most applications. The proper distribution of SAP (Systems, Applications, Products in Data Processing.) modules allows users to make the enterprise structure available for e-recruiting purposes. Additionally, SAP e-recruiting components also put to use the diverse objects, info-types, and roles related to succession planning.
Succession Planning
The SAP system also provides support for mapping different succession planning processes:
It describes the needs of key jobs/ positions for which a good successor is required;
Creates processes that allow succession planners to make their efforts result-oriented and more valuable;
Determines the candidates who tend to be potential successors and their willingness to take up key positions;
Triggers individual development measures and evaluation metrics for potential successors.
So, use SAP e-recruiting to automate and streamline all talent management processes and effectively reach/ recruit the best candidates - today!