Definition or Meaning - What is SAP CS?
Full form or SAP CS stands for (Customer Services), a popular SAP ERP tool that offers the basic functionalities to a vast range of customer specific tasks, is considered to be an important extension of the SAP Sales and Distribution (SD) module. In the present competitive scenario, customers like to purchase from organizations/ service providers that have a higher customer satisfaction quotient. Under the circumstances, it becomes essential to offer better after sale and customer services in every industrial vertical or commercial sector.
Along with offering the best services for warranties (for the goods purchased by customers) to taking the right steps for maintaining customer loyalty, providing the right help desk services, and placing an organization far ahead of its competition by increasing the levels of sales; the SAP CS module goes a long way in offering the highest levels of customer satisfaction too. Excellent customer services are vital for the growth and development of an organization and can be easily achieved via the integration of effective functionalities and SAP client services applications.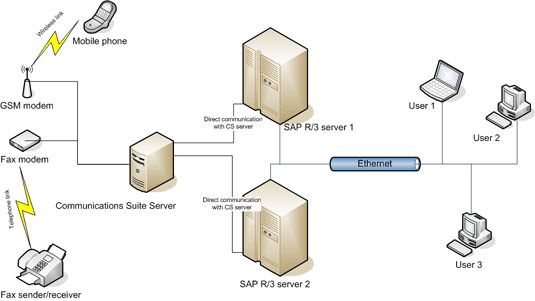 The processes linked with SAP CS functionality are directly linked to the services offered to customers. They may range from minor repairs to product warranties and beyond. The provision of services to customers for these reasons goes a long way in developing customer loyalty. With more and more organizations coming into the fray, the demand for unique services is definitely o the rise. So, to attain higher levels of competitiveness and be ahead in the race, companies are looking towards providing the best in customer services and keeping their customers totally satisfied. SAP CS tools offer a range of benefits in return and repair processes and call for better control, easier tracking of grievances and management of diverse work centers, functional locations and equipments.
For best results, these SAP CS components require a well conceived integration with other modules like SAP CO and SAP MM (Materials Management).
Certification Fee and Course Duration in India
SAP CS courses lay a lot of emphasis on providing in-depth knowledge of the diverse features and functionalities of the customer service domain. It encompasses training sessions on service agreements, technical objectives, customer interactions and the management of issues that are directly related to customer services.
A course in this module can be effectively pursued from any recognized SAP Authorized Training Center . The course fees and duration vary in accordance to the teaching methodology and business policies of these institutes. On an average, the module costs INR 15K to 2 lacs; with the duration of the course ranging from 5 to 25 days, as per the proficiency of the student and institute policies.
Topics included in a SAP CS course:
An overview of SAP navigation and tools, SAP ERP Systems and basics of SAP SC.
Introduction to customer services.
Master data generation/ maintenance of customer services.
Analysis and reporting.
Work center, warranty and types and cost center.
Serial Number Management and in house repair processes.
Integration with SD, FI CO, PP, PM, QM, and MM modules.
Scope and Career Opportunity
Certified SAP CS professionals have the hands on experience for running this module effectively. They possess the skills to maintain product information and enable high-quality, consistent services. Modeled to benefit one and all - from the senior management to everyday users, this course requires the following skills in those aspiring to pursue the same.
A university degree in one of the specialized fields: M. Sc, MCA, BE, B.Sc, ME,CA, M.Tech, B.Tech, MBA, etc.
Familiarity with the basics of SAP HR (Human Resource), sales domain.
Basic knowledge of computer applications and information technology.
Awareness of SAP ERP Systems and varied business processes.
Patience, team spirit and good communication skills.
An undying thirst to excel.
In a nutshell, it is an excellent course for the advancement of customer service skills in project members, business analysts and customer care executives. After completing the course, students may apply for a SAP certification by enrolling for the SAP certification exam that is tested and evaluated by the SAP Group.
Become a Certified SAP CS Consultant
With every passing day, a career in customer services and care is gaining greater importance in all business sectors. Serving as a credibility endorsement for companies worldwide, after sales services are increasingly moving towards the advantages of using the SAP CS module. In India alone, SAP (System Application and Products) has a market share of over 50 percent and boasts of more than 3000 satisfied customers. With a gradual increase in the demand for SAP based applications, the demand for SAP CS professionals is steadily on the rise too.
On an average, 6 out of 10,000 SAP professionals are expert in the SAP CS module. The higher paying companies in this sector are Wipro InfoTech, Oil and Natural Gas Corporation, JSW Ispat and so forth. The salary bracket for experienced SAP SC consultants' ranges from INR 17.03 lacs to 40 lacs p.a.; with ONGC paying up to 40.3 lacs p.a. for professionals with 7+ years of experience.
After gaining a certification in this module, candidates may apply for the positions of SAP CS trainers, junior consultants, senior consultants, project managers, vice presidents and so forth. Freshers with 0-3 years of experience and a SAP CS certification also attract good pay packages. While the average salary of a fresher is 3.5 lacs p.a., others may look forward to an escalation at an average rate of 15 percent, per additional year of experience.
The most attractive destinations for these positions in India are Gurgaon, Bengaluru and Noida. Wipro InfoTech, Infosys and Mahindra Satyam Computers are some of the companies that take in freshers in this sector. Known for paying huge bonuses to the employees who are equipped with a SAP CS certification, these companies offer higher salaries to the professionals with more years of experience.