Introduction to SAP Hybris
SAP Hybris was launched in 1997 by a German firm called Hybris. It was acquired by SAP and is formally called SAP Commerce Cloud. SAP Hybris is a group of products which help companies to enhance the customer experience. It is a comprehensive e-commerce solution. Over the years, it has become one of the best omnichannel e-commerce solutions in the market.
Companies have used SAP Hybris products to cut down costs, save time and increase revenue. In this article, we learn more about SAP Hybris, its components and business benefits. We will also look at the career prospects of learning SAP Hybris.
Let's get started.;
What is SAP Hybris
SAP Hybris is one of the most loved customer engagement and e-commerce platform. It supports B2B and B2C companies. These belong to sectors such as telecommunication, retailing, manufacturing and media. You can buy it as a software package offering on-premise, on-device and cloud deployment.
The software suite focuses on the customer experience. So, companies use SAP Hybris to target and attract customers across different channels. Apart from marketing, SAP Hybris is also used in billing, sales, engagement and micro-services. The outstanding software design allows it to easily work with the company's enterprise architecture.
Some of its useful features include –
Omni-channel B2B and B2C
Product and catalogue management
Sales Performance Management
Document management
Powerful SEO optimization tools that are built-in
Components of SAP Hybris
SAP Hybris product family consists of the following components –
SAP Hybris Product for E-commerce - This makes B2B and B2C communication easy. Helps in merchandising, understanding customer behaviour and converting them into loyal customers.
SAP Hybris Product for Marketing - This enables companies to understand their customers in real-time.
SAP Hybris Product for Sales - SAP Hybris helps analyze customer details, sales data, handle back-office information and target customer groups.
SAP Hybris Product for Services - This product enhances customer engagement. It also lets companies deploy strategies for increasing customer retention.
SAP Hybris Product for Revenue or Billing - SAP Hybris helps customers to prepare invoices easily. Managing bills and ordering is also smoother with this product. It also handles billing charge types such as periodic and one time.
SAP Hybris Product for Cross-Functional Services - SAP Hybris has many cross-functional solutions for handling user interactions. Companies use it for signing-in and working on documents online. Handling sales commissions and incentive plans is also possible with this feature.
You can integrate SAP Hybris products with SAP CRM and SAP ERP. This will let you enhance your customer engagement experiences.
We have mentioned 6 products above. But only 5 products are available for sale, and 1 product for service.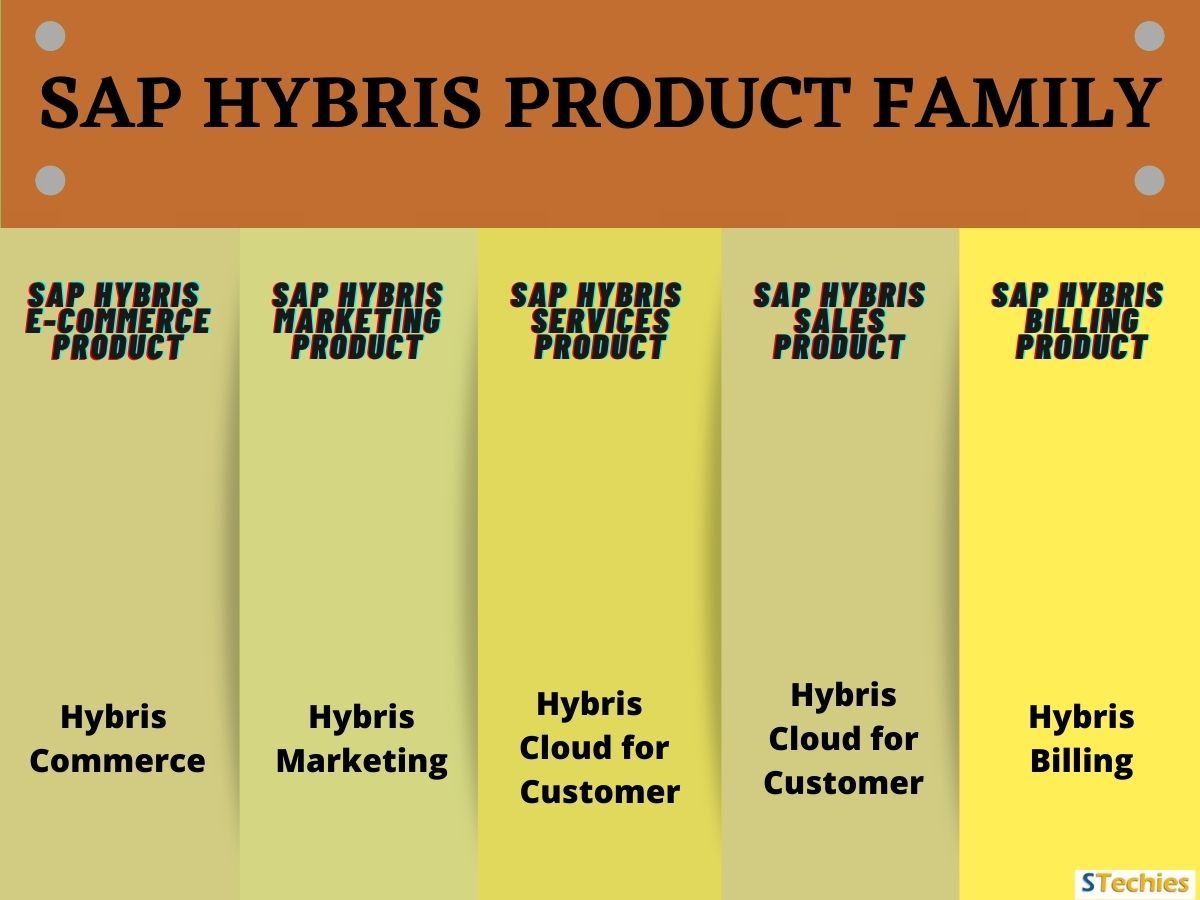 SAP Hybris Products for E-Commerce
SAP Hybris Commerce Cloud enables companies to meet customer expectations. They use this to deliver fantastic customer experiences that increase customer loyalty. SAP Hybris Commerce Cloud lets companies engage and transact with their customers. Companies can now handle their customer service processes across multiple channels. All the customer and product data is managed on this platform.
Using this tool, companies can focus more on their customers and changing market conditions. This is because SAP Hybris reduces the complexity of handling e-commerce tasks. Using SAP Hybris Customer Experience, companies can now deliver personalized experiences. Other features of this component include –
B2B Commerce
B2C Commerce
Simple catalog and product management
Simple order information handling across different channels
SAP Hybris Product for Revenue/Billing
This allows customers to automate their invoices. Handling bills and orders from the cloud is also simple. It offers multiple billing streams. You can consolidate bills to a single invoice. This automated system offers subscription billing, order management, quote-to-cash functionality and order orchestration.
The salient features of SAP Hybris Cloud for Revenue are –
Document Management
Completely cloud-based revenue system
Responsive Quality Control
Subscription Order Management
Agile Charging
Managing customer finances
User-friendly interface to handle customer and product data
SAP Hybris Cloud Product for Sales
This SAP Hybris solution allows companies to pull data from their back-end system to the sales team at the front-end. Members of the sales team can easily access this data on their mobile devices. This helps them in identifying their customers better. They can target specific customer groups and tackle sales issues better. The SAP Hybris Sales cloud maximizes the conversion of leads into prospective clients.
Some important features of the SAP C4C Sales solution –
Sales performance management
Complete cloud deployment
Simple unified view for each customer
Insights, analytics and recommendations for enhancing sales processes
SAP Hybris Cloud Product for Service
This solution allows companies to offer great customer service to their customers. Companies define service levels using this tool. Service levels are used for analyzing customer service quality and current objectives.
The product allows companies to save time on daily tasks with its AI-driven platform. It comes with an SAP Conversational AI, a chatbot. This lets customers interact with companies in multiple languages. These conversations can be sent to the sales agents for attending to the user's needs.
Important features include –
Comprehensive self-service
Proactive field service
Omni-channel call centre
SAP Hybris Product for Marketing
SAP Hybris Marketing allows companies to get in touch with their customers in real-time. They can combine operational and experiential data to create customer views. This in turn lets companies get a deeper insight into customer behaviour. They can also predict their future behaviour. Moreover, advanced analytics can be used to create better marketing strategies. Identifying hidden trends and buyer patterns is also possible.
Capabilities of the SAP C4C Marketing solution include –
Commerce Marketing
Dynamic Customer Profiling
Marketing Resource Management
Loyalty Management
Segmentation and Campaign Management
Architecture and Technology
Customer Attribution
Marketing Analysis
Marketing Lead Management
How is SAP Commerce different from SAP Hybris?
SAP Commerce and SAP Hybris are the same platforms. SAP acquired Hybris way back in 2013. They wanted Hybris to be their primary e-commerce platform. It was launched as SAP Hybris Commerce. Later on, it was renamed as SAP Commerce.
The SAP Commerce Cloud is built on top of Hybris and is SAP's only supported e-commerce software. It offers solutions for B2B, B2C and B2B2C use cases. There is an on-premise version that allows users to manage their software stack.
You can now easily integrate SAP Commerce with the following –
SAP Customer Data Cloud
SAP Marketing Cloud
SAP Service Cloud
SAP Sales Cloud
SAP Hybris Architecture
The SAP Hybris architecture is based on Spring, an open-source Java framework. Hybris uses a Java EE Servlet container for its execution environment. It uses Apache Tomcat by default. Wiring and configuration of each component of Hybris are easy. This is due to the Spring environment.
A web server such as Apache or Nginx is used for handling static content and dynamic requests. A database server such as Microsoft SQL Server is used for storing purchase, user and product information. A caching system such as Redis might be used optionally for session caching. Optionally, Apache Solr might be used for product search.
This is the layer via which users and companies interact with the platform. You can use a Java-based web framework to work with the business logic APIs. Or you can execute your web app on another system. This remote system can be integrated along with Hybris.
If you want to offer the user a web store, you can use an SAP Commerce template for developing it. Or, you can use Spring MVC, HTML5 or JavaScript. Users will use a web browser to interact with the application on their mobile or desktop.
Business and Persistence Layer
The ServiceLayer API is used by an extension to access all services offered by this layer. This API has SAP Hybris Commerce business logic and a set of services. The extension and the platform may add services to this API. Other extensions can utilize these services in this case.
In the persistence layer, the business objects and database tables are mapped. This is performed by an Object-Relational-Mapping framework. This flexible setup can support custom business models developed by other business partners.
The clear separation between ServiceLayer API and PersistenceLayer API helps in testing. Companies can test each layer separately. This reduces cost and saves time.
Database & Application Server
The Hybris platform comes with a preconfigured Tomcat server. This allows companies to set up new systems quickly. The Enterprise Application Archive (EAR) can be developed using by the SAP Hybris build process.
For DBMS systems, SAP Hybris supports MySQL, SAP HANA DB or Microsoft SQL Server. But stored procedures or triggers are not used by the persistence layer. This helps a client when the need for switching from one database to another arises.
Scope and Opportunity of a Career in SAP Hybris
As SAP Hybris is so popular in the e-commerce domain, candidates having Hybris knowledge are in demand. 3 posts relating to SAP Hybris have become over the years. They are SAP Hybris Developer, System Administrator and Business Analyst. Out of the 3, SAP Hybris Developer is the most popular job role. For this, you need to have expertise in Java and Spring.
Aspiring candidates can get lucrative jobs if they have sound knowledge about SAP CRM and SAP ERP. The average salary of an SAP Hybris Developer in India is ₹7,79,282 per year. With experience and upgraded skillset, this salary can go up to 16 LPA.
Become a Certified SAP Hybris Consultant
A certified SAP Hybris Consultant is can have a bright career in the international e-commerce industry. If you are already an SAP consultant developing billing and marketing solutions, then upskilling to SAP Hybris will be a great idea. For this, you need experience in handling SAP CRM. Java J2EEE knowledge is also important.
Then, you need to be through with the different Hybris modules such as Marketing, Billing and Marketing. Furthermore, consultants can later shift to other e-commerce platforms. They can also apply for Senior Consultant positions in major firms.
Companies Using SAP Hybris
Today, SAP Hybris is one of the most preferred e-commerce software. The major sectors using SAP Hybris are –
Retail
Wholesale
Health and Fitness
Information technology
Fashion
Hospitality
Gartner and Forrester, one of the best research firms, both consider SAP Hybris as the best digital commerce platform.
The top companies that use SAP Hybris are –
General Electric
Bridgestone
Epson
The Chamberlain Group Inc.
Nike
Gulfstream
Krones
Taco Bell
Levi Strauss
Nestlé
Papa Murphy's
Samsung
Ted Baker
Volkswagen
Conclusion
SAP Hybris is becoming a frontrunner in the e-commerce industry. Many companies are investing in this tool and are benefiting from it. SAP Hybris solutions are flexible, so it fits the development processes of business solutions. As it supports multiple languages and currencies, Hybris is accepted across the globe. It can be predicted that its usage and success will increase rapidly in the future.
Other Important Resources for SAP Hybris