STAT
STAT SAP R/3 Statistics record
Fields:User, Transactions, Program, Task type, Work process, Start date, Start time, End Date, End Time, Number of records, etc
Will give u the Stats of

When was a program, transaction last used?
How to know which users are using which transaction or executing which program?
Which are the most frequently used programs or transaction?

U can change the size of STAT file through ST03

The default size of stat file is 100 MB

To change the 100 MB limit, ST03 -> Goto -> Parameters -> Performance Database.

ST01 System Trace

SM19: Create System Audit

SM20: View the System audit report
Our System Information
SAP Version 4.6c
Oracle 8i
SUN OS 5.7
1- Landscape of Sukhmani Inc.
DEV >> QAC >> PRD
DE1 200 >> QA1 300 >> PRD 400
Define Transport Router,
define Transport layers
Integration, Consolidation, Delivery System
Can we do transports or imports n number of times?
Yes Process please ?
PFCG
SM53
Landscape of Sukhmani.
DEV: KPG R/3 Development system
QAS: KPG R/3 Quality Assurance System 300
PRD: KPG R/3 Production System 400
DE1: Development system for Japan
QA1: Quality Assurance for Japan
And we have 3 Application server in PRD
Sbysap07_PRD_01
Sbysap08_PRD_02
Sbyvci01_PRD_00 (Central Instance)
Configuration status ?
Single System ?
Transport layer ?
Target Group ?
Transport Routes?
Critical errors in System Logs SM21
If work Process is in Reconnect state for more then 1 minute
Paging size overflow
Spool Queue full
Printer out of reach for more then 1 Hours
Any Database error.
Backup Strategies
DB12 Backup Log Overview
Database backup
Last Successful backup : Will give u the details of lst Successful backup details
Overview of database backup: will give u the overview of all the backup taken
Backup function Start of backup End of backup RC Log
Redo Log Backup
Archive directory structure
Overview of redo log files: will give u the redo log history
Overview of redo log backup: will give Logs of Redo log backup
Backup function Start of backup End of backup RC Log
DB13 DBA Planning Calendar: maintain
Heir we can schedule the backup.
(Add notes for the DB13 file)
Backup strategies of our company
We take Online full Backup daily at midnight it takes around 3 hour to finish
Offile Backup on every Sundays at midnight it takes 4 hours of finish.
AnalyzeTab 03:00 hours and CheckDB 06:00 hours Monday to Friday
CleanupLogs on Saturday 02:00 Hours
On very Sunday NextExtent time 00:00 hours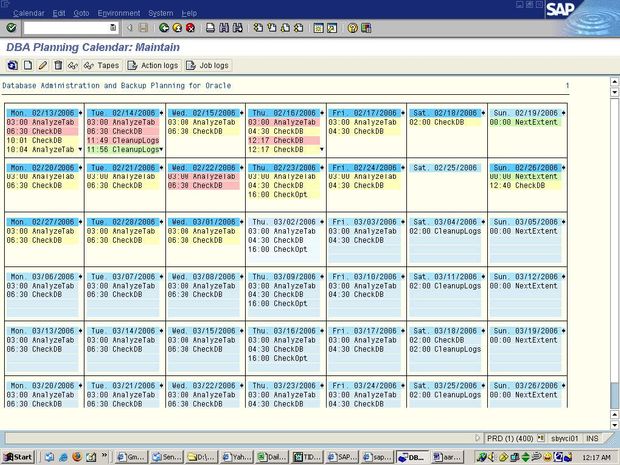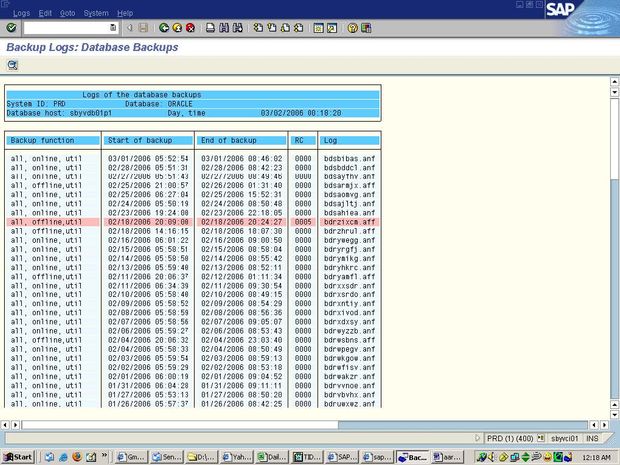 Operation Modes Steps to configure.
LUW
Number of LUW entries in SMQ1 will show the number of display entry and Display Queues
Configuration of CCMS ?
What is Client Copy and what are the precautions keep in mind while taking client copy
Difference Between SM50 SM51 Sm66
SM50 will display the work Process Overview of the current application server
SM51 will display the SAP servers and u can select the particular server and check the work process running on that application server on clicking on any work process it will take u to that application server
SM66 Global work Process Overview
Difference Between Al08 SM04
AL08: Display the user List
SM04: Display the current login user list
Client, Login Client 400
User Name: Display user name
Terminal: Login on which terminal (Computer name)
Transaction: at present working on which transaction
Time: Current time
Sess: How many sessions are open or window
Type: Type of user (GUI, RFC)
From heir we can kill the session of any user
Check User info
User -> User info
To activate the user Trace:
Go to User -> Trace -> Activate
Go to User -> Trace -> Deactivate
Display the User Activity
Go to User -> Trace -> Display
Reset the files
Go to User -> Trace -> Reset files
Log off User
Go to User -> Logoff
OS07 Operating System Activities
Operating system Monitor
Select the application server of which u want to monitor
Sbysap07_PRD_01
Overview window for that application server will come with Tabs
1. Refresh Display 2. Detail Menu analysis 3. Operating System Collector
Detail Menu Analysis
Analyze Operating System
Snapshot analysis
CPU: Give CPU SnapShot
CPU User in % System in % Idle in %
We have 4 CPU
Memory: Will give memory Snapshot ( we have 8388 Kb)
Physical Memory Pages in Pages out paged in paged out
Swap Swap SnapShot (14000000 Kb)
Config. Free space Act. size
Disk Give Local Sisk SnapShot
Lan: Lan Interface SnapShot
Filesys: File system SnapShot( directory structure)
Top CPU: Top CPU user
Previous Hour
CPU: will give present day Hourly details
Memory: will give present day Hourly details
Swap will give present day Hourly details
Disk: will give present day Hourly details
LAN: Give 24 Hour status of LAN Connection
FileSys: Give 24 Hour status or Root Dir Used by the users
OS Log: Will give u OS logs
H/W Info: Will give u the hardware Information
Performance Database
compare recent days: compare recent days of server
Date, Usr Sys, Idl, Pages in/h, Pages out/h, Swap space, LAN packets/h Lan errors/h.
Compare all Servers: Compare all Servers for Particular date
Server, Usr, Sys, Idl, Pages in/h, Pages out/h, Swap space, LAN packets/h
Additional functions
System configuration : Can check the server different parameter values
Parameter Value defined Value used
Parameter Changes: Can change the server parameter values
LAN check by Ping: Check LAN Connections through Ping check
OSS How to Post a request ?