SAP Process Integration (PI) Courses
The SAP NetWeaver Process Integration course is a program consisting of virtual classrooms that cover different scenarios of Process Integration in SAP System integrators can enhance their knowledge by understanding the keys of core processing and the integration of different systems in varied categories.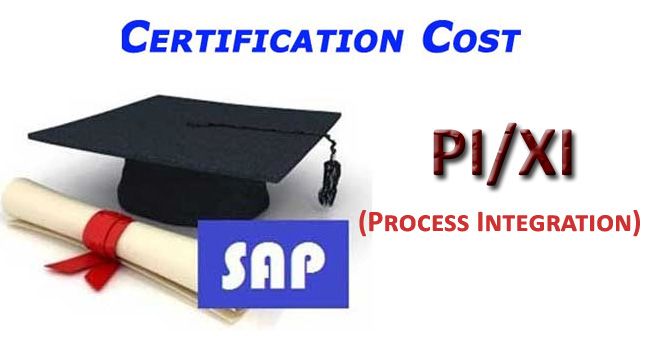 SAP PI courses cover the following:
Core architecture of the SAP Net Weaver Process Integration.
Mapping of objects in Enterprise Service Repository (ESR) and maintaining their connection.
Working operations of the SAP NetWeaver PI.
Brief description of System Landscape Directory (SLD)
Interfacing of objects in the ESR.
Configuration of the integration directory objects with each other and other programming languages such as SAP ABAP, Java etc.
Networking and connections between the SAP PI (Process Integration).
Building HTTP Connections.
Configuration of file adapters and SAP BAPI connectivity while safeguarding all crucial information.
Connectivity options for IDOC.
SAP PI Certification Cost and Duration
| | | |
| --- | --- | --- |
| Course Name and Code | Duration | Cost (Rs.) |
| BIT40E - SAP Process Integration (E-learning) | 1200 Min | 65,000 to 70,000 |
| TBIT50 - PI (Technical Implementation) (E-learning) | 360 Min | 10,000 to 15,000 |
| BIT402 - PI Adapter Concepts (Adapter Overview, Advanced Adapter Engine, File, JDBC, JMS, Mail) (E-learning) | 360 Min | 10,000 to 15,000 |
| TBIT44- PI Message Mapping and ccBPM | 5 days | 2,10,000 to 2,60,000 |
| TBIT40 - SAP NetWeaver Process Integration | 5 days | 1,500,00 to 2,60,000 |
Basic qualifications required for the course
The candidate must be a graduate and have basic knowledge of applying SAP NetWeaver functionalities, along with possessing basic XML skills, as well as the fundamentals of other programming languages such as ABAP and Java.
All the best!