Definition - What is SAP QM (Quality Management)?
SAP Quality Management (QM) –a consistent and comprehensive component that helps organizations implement corrective and preventive actions (CAPA) ; brings about reductions in supply network expenses; streamlines the processes of "quality issue management; (QIM) and lays down the right platform for reaching claims against warranty costs and the brand; is an important SAP module. SAP QM components are responsible for actively decreasing the costs of poor quality (COPQ) and positively influencing the reputation and overall revenue of a company.
In the present commercial scenario, just the act of offering goods and services is not enough –especially if they fail to be of good standards. As a company's performance quotient and repute is marked by the quality of services and products that reaches the end consumer, it is essential to integrate the right modules and applications for maintaining the necessary quality guidelines. SAP QM (Quality Management) provides effective solutions for eliminating quality related issues and offers functions and services which ideally support the company processes –from development and design to implementation, supply chain, product life cycle and more.
If automated in the right manner, QM applications ensure that products and services comply with necessary regulatory standards; products are uniform and safe; and company product specifications are met in totality. It ensures that the quality of services and products are in accordance to the specifications laid down by ISO 9000 for maintaining quality standards. Along with the above mentioned processes, SAP QM components and sub modules also enable continuous process improvement for bringing about enhancements in quality standards.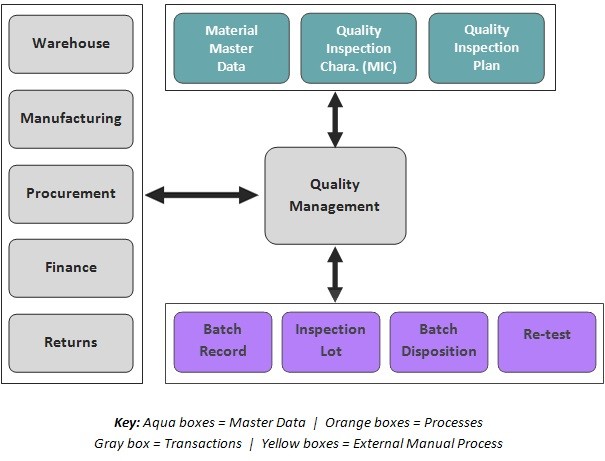 Segregated applications for quality activities and issues.
Restricted usability with no "old fashioned" applications.
Absence of role-based screens.
Capabilities for cost analysis and cost assignments.
Greater focus on compliance related issues.
Disparate application landscapes –MES* , ERP, LIMS*
Collaboration with diverse range of partners
Flexible deployment and management of SW solutions and more.
The comprehensive SAP QM task imparts training sessions for covering the concepts of quality management and an introduction to various tools that allow the integration of this module in various business processes.
SAP QM courses provide adequate training for user transactions and competent customization of quality management techniques; along with imparting basic knowledge on real time scenarios for dealing with day-to-day problems in organizations. The course fees vary from one institution to another and are in the range of INR 37K to 4 lacs; for a period of 3 to 20 days.
The topics included in this course are:
Introduction to ERP and SAP and an overview of QM and its regulatory standards.
The importance of Supply Chain Processes in QM.
Quality inspection and planning.
Quality certificates and notifications.
Quality control and Audit Management.
Management of test equipments.
Management of QM data.
Formatting of analysis and reports on the basis of Inspection lots.
The SAP QM course introduces candidates to the basic concepts of business processes and quality management. Providing in-depth understanding and skills for using the customized SAP QM module and helping candidates grasp the various concepts of QM; this tool helps in mapping the overall SAP System in an effective way. It integrates with and efficiently manages the functionalities of an organization's quality management system. By enrolling for the course, students learn how to use data in different plans and observe the ways in which the available data influences inspection plans.
Best suited for team members and project managers linked with the quality management department of an organization, it helps in easing their tasks of inspection, checking other functionalities, finishing their task within specified deadlines and availing good career options.
The SAP QM Course is also suitable for:
Candidates with an MBA, B.Tech or M.Tech degree, provided they are aware of prevailing quality standards and have the basic knowledge of computer skills like ERP systems, internet tools and Excel sheets.
SAP consultants desirous of moving towards functional areas and looking at new career paths. With prior knowledge in SAP , they can enhance their scope of getting smart QM jobs that pay higher salaries
SAP QM certification is a valuable tool in the hands of professionals from different backgrounds. The coveted job profiles are those of SAP QM consultants, SAP QM senior consultants and SAP QM managers.
While freshers with a certification in the SAP QM module can expect average salaries of INR 2.21 lacs p.a .with a reputed organization; the bonuses and salary packages for more experienced candidates can go up to 2.3 lacs p.a. for SAP QM professionals having one year of experience and up to 9.64 lacs p.a for those with 3 years of experience.
Companies like Accenture Service Pvt. Ltd., Kennametal India Ltd with a salary package of 41.4 lacs p .a, and JSW Ispat (Ispat Industries) with 22 lacs p.a. are the top paying organizations for professionals focusing on a career in SAP QM.
Most SAP QM consultants are those with a B.Tech or BE background (getting an average salary of 6.96 lacs p. a); SAP CRMs comprising of 2.6 percent of the work force (10 lac p. a. average salaries) and MBAs or M.Techs with a background in SAP QM ( average salaries of 9.4 lacs p.a.) and so forth.
With so much and a lot more in store, this module paves the way to a flourishing career in the field of Quality Management. Go for it.