Definition or Meaning - What is SAP QM?
Full form or SAP QM stands for (Quality Management), a consistent and comprehensive component that helps organizations implement 'corrective and preventive actions (CAPA)' ; brings about reductions in supply network expenses; streamlines the processes of "quality issue management (QIM)" and lays down the right platform for reaching claims against warranty costs and the brand; is an important SAP module. SAP QM components are responsible for actively decreasing the 'costs of poor quality (COPQ)' and positively influencing the reputation and overall revenue of a company.
In the present commercial scenario, just the act of offering goods and services is not enough –especially if they fail to be of good standards. As a company's performance quotient and repute is marked by the quality of services and products that reaches the end consumer, it is essential to integrate the right modules and applications for maintaining the necessary quality guidelines. SAP QM provides effective solutions for eliminating quality related issues and offers functions and services which ideally support the company processes –from development and design to implementation, supply chain, product life cycle and more.
If automated in the right manner, QM applications ensure that products and services comply with necessary regulatory standards; products are uniform and safe; and company product specifications are met in totality. It ensures that the quality of services and products are in accordance to the specifications laid down by ISO 9000 for maintaining quality standards. Along with the above mentioned processes, SAP QM components and sub modules also enable continuous process improvement for bringing about enhancements in quality standards.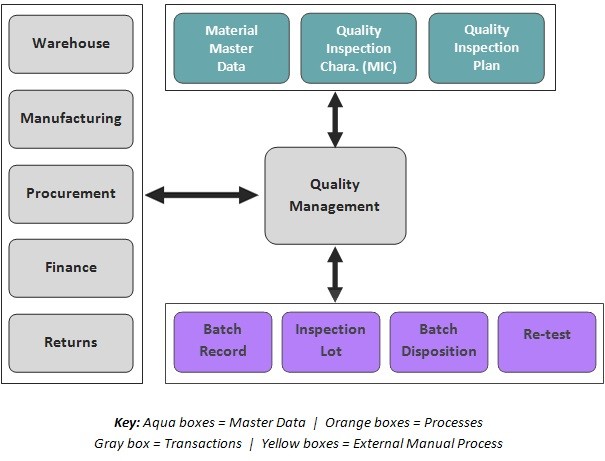 Quality Management focuses on the market requirements for quality management procedures, the business processes in a company, as well as data processing support for integrating quality management functions in the logistics supply chain.
The main task of a quality management system is to ensure that at every stage of the logistics supply chain, business processes and the resulting products fulfill the quality requirements that have been laid down for them.
The integration of the QM application component in the R/3 System allows quality management tasks to be combined with those in other applications (such as materials management, production, sales and distribution and cost accounting) and supports tasks associated with quality planning, quality inspection and quality control. In addition, it controls the creation of quality certificates and manages problems with the help of quality notifications.
Features and benefits of including SAP QM modes in an organization
Segregated applications for quality activities and issues.
Restricted usability with no "old fashioned" applications.
Absence of role-based screens.
Capabilities for cost analysis and cost assignments.
Greater focus on compliance related issues.
Disparate application landscapes –MES* , ERP, LIMS*
Collaboration with diverse range of partners
Flexible deployment and management of SW solutions and more.
Tasks covered in SAP Quality Management (QM) include
The comprehensive SAP QM task imparts training sessions for covering the concepts of quality management and an introduction to various tools that allow the integration of this module in various business processes.
Quality Planning :The development and management of master data which is required for planning and completing inspections.
Quality Inspection: Tasks related to the identification of factors which readily conveys whether an inspection unit meets/ does not meet specified criteria.
Quality Certificates : These are essential documents that are used for certifying the materials used and contain values, texts and inspection results.
Quality Notifications: The task of processing and recording internal/ external problems that arise from poor quality.
Quality Control: A combination of results from quality inspections, specifications related to inspection planning and quality notifications from the point of view of quality control.
Test Equipment Management: This part of the course relates to the management of test equipments and tools in the form of master data records, through SAP components.
Read Next: