Home »
QM (Quality Management)
SAP QM (Quality Management)
Definition -What is SAP QM (Quality Management)?
SAP Quality Management (QM) –a consistent and comprehensive component that helps organizations implement corrective and preventive actions (CAPA) ; brings about reductions in supply network expenses; streamlines the processes of "quality issue management; (QIM) and lays down the right platform for reaching claims against warranty costs and the brand; is an important SAP module. SAP QM components are responsible for actively decreasing the costs of poor quality (COPQ) and positively influencing the reputation and overall revenue of a company.
In the present commercial scenario, just the act of offering goods and services is not enough –especially if they fail to be of good standards. As a company's performance quotient and repute is marked by the quality of services and products that reaches the end consumer, it is essential to integrate the right modules and applications for maintaining the necessary quality guidelines. SAP QM (Quality Management) provides effective solutions for eliminating quality related issues and offers functions and services which ideally support the company processes –from development and design to implementation, supply chain, product life cycle and more.
If automated in the right manner, QM applications ensure that products and services comply with necessary regulatory standards; products are uniform and safe; and company product specifications are met in totality. It ensures that the quality of services and products are in accordance to the specifications laid down by ISO 9000 for maintaining quality standards. Along with the above mentioned processes, SAP QM components and sub modules also enable continuous process improvement for bringing about enhancements in quality standards.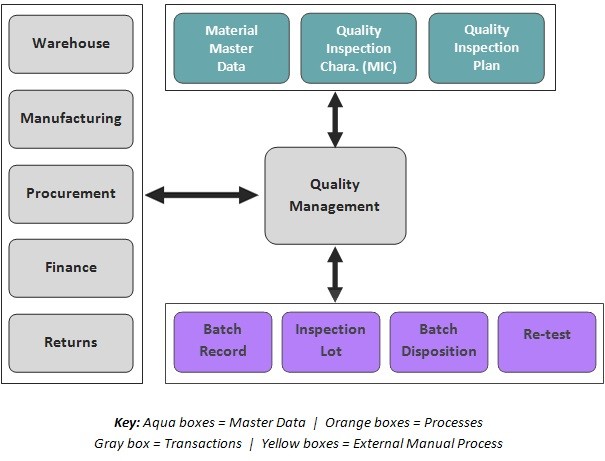 Features and benefits of including SAP QM modes in an organization
Segregated applications for quality activities and issues.
Restricted usability with no "old fashioned" applications.
Absence of role-based screens.
Capabilities for cost analysis and cost assignments.
Greater focus on compliance related issues.
Disparate application landscapes –MES* , ERP, LIMS*
Collaboration with diverse range of partners
Flexible deployment and management of SW solutions and more.
Tasks covered in SAP Quality Management (QM) include
The comprehensive SAP QM task imparts training sessions for covering the concepts of quality management and an introduction to various tools that allow the integration of this module in various business processes.
Read Next:
Get solutions from our experts!
All the site contents are Copyright © www.stechies.com and the content authors. All rights reserved. All product names are trademarks of their respective companies. The site www.stechies.com is in no way affiliated with SAP AG. Every effort is made to ensure the content integrity. Information used on this site is at your own risk. The content on this site may not be reproduced or redistributed without the express written permission of www.stechies.com or the content authors.