Definition - What is SAP Business One?
SAP Business One a very popular tool for organizations looking towards effective solutions for managing their business functions across the departments of finance, customer relationships, sales, distribution, human resources and inventory; is a user friendly SAP ERP Application for small, mid and large sized enterprises alike.
It supports 26 languages and is delivered with 41 different country localization. In most cases, the smaller and medium sized organizations find it difficult to install and maintain SAP components on their information systems. In the given scenario, SAP Business One ERP solutions help in implementing the necessary package specific to their needs and provide additional support for various areas of management.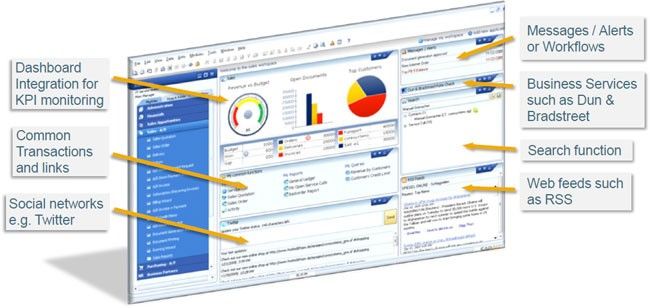 Some of the essential business functions of SAP Business One include:
Financial management: Automation of financial/ accounting processes and support for budgeting, multiple currencies and bank reconciliation.
Production and warehouse management: Effective monitoring and control of inventory across many warehouses; tracking of stock; management of production orders on the basis of material requirements planning; and so forth.
Customer Relationship Management: Timely after-sales support as well as proper sales and opportunity management.
Purchasing: Automation of the procurement process from the stage of making purchase orders through receipt of vendor invoices.
Mobility: Provision of free apps for Android and iOS, which are based on the ones released by SAP via respective marketplaces.
They come free of cost along with the User License and have the potential of interacting with SAP Business One components operating in the backend.
Reporting and Business Intelligence : Easy access to data for creating new reports and customizing the existing ones. This is facilitated via a strong integration with reliable Crystal Reports.
Analytics Powered by SAP HANA: SAP HANA databases offer instant access to real-time views and insights by integrating their in-memory computing technology with that of SAP Business One components.
SAP Business One is an easy-to-implement, affordable, business management application that is specifically designed for meeting the urgent needs of dynamically growing and emerging small companies. The solutions offered by this power-packed package goes a long way in giving on-demand access to sensitive real-time information and helping managers retrieve the same for strategic business decision making purposes.
This single system SAP tool showcases the highest levels of customer relationship management. It also offers financial, manufacturing as well as management control capabilities that pave the way for rapid employee productivity and better empowerment. It allows the management to make more informed and reliable business decisions and place the organization far ahead of all competition.
Most industry verticals have their own unique requirements, business processes and challenges. This is the reason Why SAP and its partners offer over 550 fully integrated, prepackaged, industry-specific solutions, for making SAP Business One a customized solution for a wide range of clients. Regardless of whether organizations are in the field of manufacturing, sales or services, this package offers the correct small business software for all industries.
With SAP Business One, users can,
Address their Business Processes with preconfigured, tested solutions.
Partner with industry experts who understand their specific requirements.
Reduce costs and risk factors by implementing solutions that have proven track-records.
Deploy built-in implementation as well as best practices and methodologies that are pre-built into the system.
Scope and Opportunity of a Career in SAP Business One
To handle SAP Business One competently, aspiring candidates should ,
Be familiar with the business processes of small scale and mid-sized enterprises.
Have a basic understanding of SAP Business One processes, SAP navigation tools and other standard topics.
Possess hands on experience in various software development processes.
A certification course in SAP Business One requires prior expertise of the Microsoft Visual Basic. Net package. The candidate must have experience in developing a software using .NET.
This course is best suited for students with an IT background or pursuing courses like B.Sc., BCA, MCA, B.Tech or M.Tech in Computer Science / Information technology. Additional knowledge of SQL and XML is also beneficial. The SAP Business One course strives to improve upon the skills of SAP ABAP programmers, SAP development consultants and other professionals; and boosts up their career.
Become a Certified SAP Business One Consultant
After getting certified in the skills of SAP Business One, candidates can apply for many different openings globally. The salary packages differ from one company to another and are in strict accordance to the policies laid down by their management. There exists a huge market for SAP Business One professionals and they can look forward to highly paid jobs. Most of these jobs require a degree from any recognized university or a certification in SAP BO; along with a keen interest in the implementation of projects, strong customer service skills and prior experience in SAP modules.
While certain companies are on the lookout for experienced candidates only, others provide lucrative job opportunities for freshers as well. The average salaries of candidates with expertise in SAP.Net and SAP BO Core add-on development module is in the range of INR 2,50,000 - 5,00,000 p.a. Those experienced in SAP business concepts and successful implementation of products can look forward to higher salaries and huge bonuses too. With additional years of experience, professionals in this field may look towards salaries that touch a high of INR 850K in India and a lot more abroad.
Read Next
SAP Business One Certification Cost and Course Duration in India