Whether you are a veteran graphic designer or a budding digital artist, you will have heard about GIMP and Photoshop. Both are popular image editing tools and offer multiple features for image editing. While GIMP is a free tool that offers interesting features, Photoshop is a subscription-based model offering a wide range of functionalities.
In this post, we are going to settle a popular debate – GIMP vs Photoshop, which must you choose?
Lets first start with a comparison chart between Gimp and Adobe Photoshop:
Photoshop vs. GIMP: Head-to-head Comparison
| Basis of Comparison | Adobe Photoshop CC | GIMP |
| --- | --- | --- |
| Intro | Adobe Photoshop is an image/design manipulation platform that is comparatively difficult to use. | GIMP has quick and easy-to-handle features that are useful for beginners and professionals alike. |
| Price | For single users, you can buy Adobe Creative Cloud with Photoshop for $21/ month. The complete Adobe App bundle comes for $52.99/ month | GIMP is freely available and can be used without the payment of any subscription fees. |
| Learning curve | It takes a little time to learn the basics and is best for professional graphic designers and digital artists | This is easy to use for newbie photo editors and the can be learnt fast |
| Batch processing | Batch processing is a little slow here. | Batch processing of images is great. You can perform repeatable actions easily and fast |
| OS Support | Adobe Photoshop supports Windows, Linux, Android, iPhone/iPad, Mac, and Cloud/ web-based platforms. | GNU/Linux, Microsoft Windows (XP SP3, Vista, 7, 8), Mac OS X (10.6 and newer), Sun Open Solaris and FreeBSD are some platforms that provide support to GIMP. |
| Storage space | This takes up a minimum of 1 GB of your storage to perform well. | This takes just about 25 MB of space to perform. |
| Styles | There are hundreds of in-built styles and thousands of free Styles available online. You can also create your own Styles and use them | The Styles for texts and filters for Objects are almost same. The effects are not very significant, and you can see them only after you apply the filter |
| Software standards | This runs on industry standards and is frequently evaluated by professionals | Being open-source, it does not run on classified standards |
| RAM requirement | Photoshop requires higher RAM capacity and other hardware resources. | GIMP requires Lower RAM capacity and hardware resources for appropriate performance. |
| Update | Being proprietary, Adobe Photoshop can be updated only through the Adobe platform. | As it is open-source software, GIMP can be updated by any user who is equipped to develop and contribute to open-source platforms. |
| | Photoshop provides Pantone colors. It is non-supportive to the native XCF file format used by GIMP. | Photoshop files can be opened and edited in GIMP as it supports PSD files. |
GIMP Introduction, Review & Cost
GIMP (GNU Image Manipulation Program) is a free image editing software and is open source. This raster graphics editor was developed by Spencer Kimball and Peter Mattis in 1995. This cross-platform software is great for image retouching, image composition and can also be used as a simple paint program.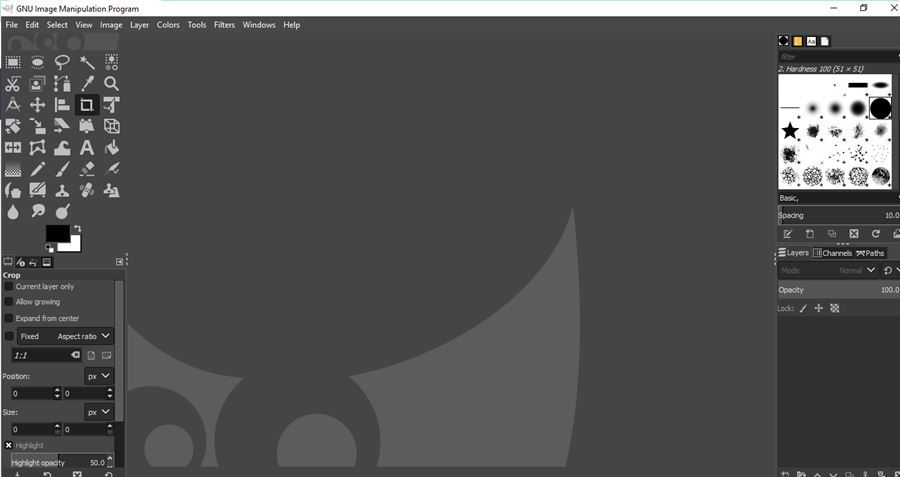 As per regular users of GIMP, it provides benchmarked features to make it an excellent free alternative to commercial-grade tools such as Adobe Photoshop. Overall, GIMP offers sophisticated tools that are designed to be helpful for graphic designers, photographers, and illustrators to get their job done in the most convenient ways.
You can also create cool animated GIFs using filters!
Tools & Features of GIMP
It supports platforms such as Windows, Mac OS X (10.6 and above), Sun OpenSolaris and Linux
You can easily scale images and paint using the in-built paintbrush
Images can be converted into different files types such as jpeg, png, pdf, bmp, pcx, svg, psd, gif etc.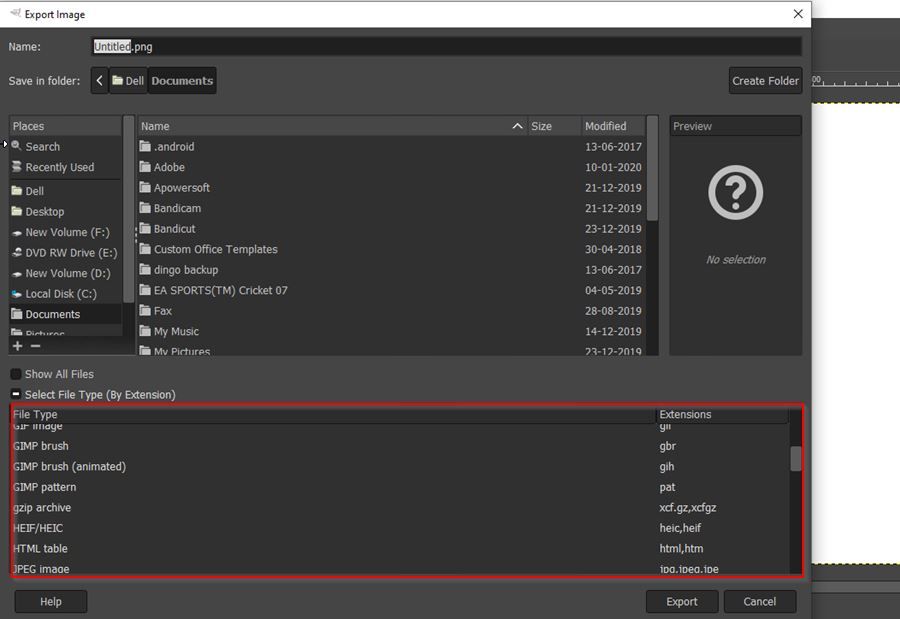 Supports custom patterns and brushes. Comes with a powerful blend tool and gradient editor
The interface is customizable where you can edit widgets, themes, colours, custom toolsets and a fullscreen mode to edit images
GIMP provides an easily customizable interface to help users navigate the various buttons of the software with ease.
It is possible to write or modify the source code for fitting in user needs or creating new plugins with the help of this innovative photo editing software.
GIMP tools have the capability of reading and editing PSD files.
Users can access different graphic design elements to give shape to their creative instincts.
Smart retouching tools provided by GIMP aid digital photo editing efforts to a large extent.
The hardware support provided by GIMP permits users to gain prompt help to add to their digital photo editing efforts.
GIMP offers Scribus, which is an open-source layout program page that helps in publishing printed and digital materials.
Inkscape is a free/ open-source feature-rich vector graphics editor that is packaged with GIMP.
Swatchbooker is a free application designed for Linux and Windows. It provides the best editing color palettes that support gradients and patterns.
Advantages
Being open-source, you can modify its features and edit the source code to enhance it
It has a strong online community where you can get help
It is very memory efficient consuming fewer resources and thus works well even in slow or old PCs
Being primarily targeted at digital photography, GIMP is fast as it does not have unnecessary tools that you might never use
It is very portable and you can easily take it with you on a USB drive
Why we use GIMP?
The following points will explain why you should be using the many features and benefits of GIMP:
Use GIMP if you are a Linux fan
GIMP has proven to be the undisputed champion when it comes to high performance on the Linux system. Unlike Wine that requires several workarounds, GIMP is easy to use and delivers the best results for Linux users. Similarly, it is far superior to Photoshop that can be hassle-some and unreliable for those who prefer working on Linux.
In case you have set up your own Linux machine, then you would be well-equipped to handle the nuances of open source software and various open-source forums. GIMP is a decent, free, open-source alternative that will give you the best returns for your efforts.
Use GIMP to Get a Budget-friendly Software
Photoshop and Lightroom would bring you down by about $10 a month when you choose to pay for their regular usage. Though this is not a very high or expensive price tag, the payment for Photoshop serves to be an ongoing commitment. Occasional usage of Photoshop fails to justify this expense. The gimp vs. photoshop differences is enough to prove that GIMP fits the bill for those looking for an inexpensive option to go about their photo editing tasks.
Use GIMP for Infrequent Use
GIMP is a powerful tool that has left other free photo-editing applications behind. In case you require powerful tools once in a while, then GIMP will serve as a good app for you. Unlike other free photo toolkits, along with cropping images, add brightness or contrast, etc. you can make some real edits with GIMP. You cannot go wrong with the tools of GIMP if you want to go the extra mile with your editing software.
Use GIMP if you are not happy with Adobe
While Adobe belongs to the niche category, there are plenty of users who are unhappy with the features of Adobe Flash. If you are among them, then you would certainly like to use GIMP instead of other free photo editing software.
Adobe Photoshop Software Introduction, Review & Cost
Photoshop is the most popular image editing and graphics designing software in the market. It was developed by Thomas and John Knoll in 1988. It has a ton of powerful features and is used by professional photographers, graphic designers and digital painters all over the world. To obtain this tool, you have to purchase the Adobe Creative Cloud. Then, you can download Photoshop CC on your system.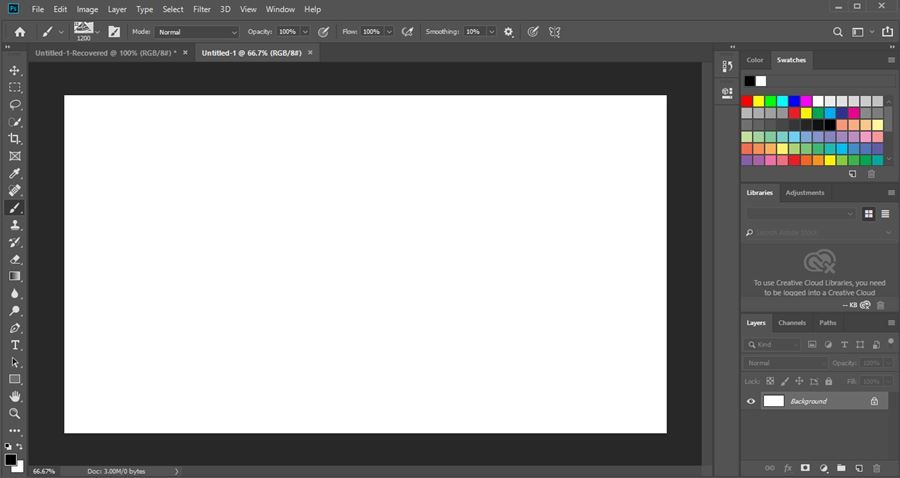 As per users, the professional photography tools provided by Adobe Photoshop create, enhance, and transform pictures into impressive works of art. Adobe Photoshop CC may be yours in the form of a single app for individuals/teams at a cost. It can also be used as Adobe Creative Cloud application.
The purchase prices of these software versions are:
Single App (Individual)
$19.99/mo. Annual Plan (Payable Monthly)
$239.88/yr. Yearly Plan (Prepaid)
$29.99/mo. Monthly Plan
When you select any specific and latest of the app, you get 100 GB of secure cloud storage, premium fonts, your portfolio website, and smartly-designed social media tools.
Single App (Business/Teams)
$359.88/year/Annual license Plan (Prepaid)
$29.99/month/Annual license Plan (Paid Monthly)
Note: If you don't need all of the Photoshop CC features, you can buy Photoshop Elements instead.
Tools & Features of Photoshop
You can use the Object Selection tool to select an area within an image using a rectangle or a lasso
Neural filters can be used for changing a person's gaze, pose; zoom in certain image areas or colorize an area within seconds
The Sky Replacement tool allows you to detect and replace the sky in a picture. You can adjust the scenery to match the new sky
You can find new tools, Photoshop articles, tutorials and tips from the Discover panel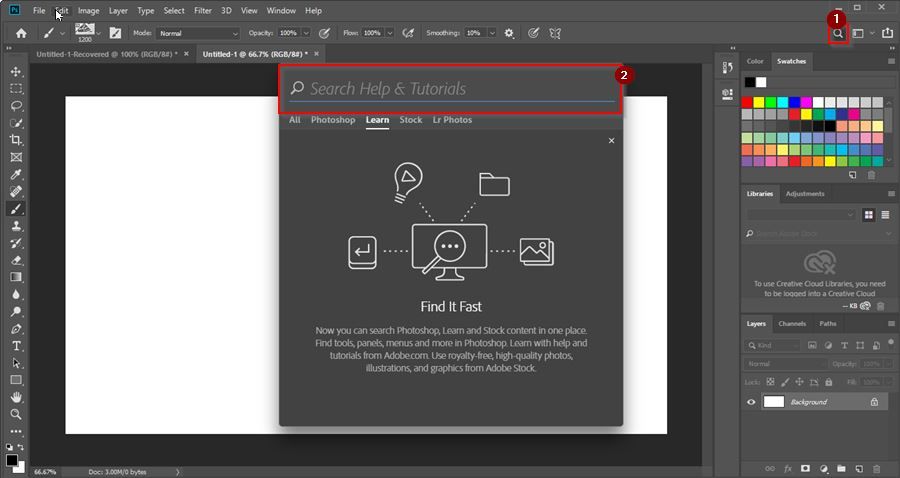 If you were working on a Photoshop cloud document recently, you can edit it offline too without an internet connection
There are four healing tools provided by Adobe Photoshop for the cause of editing and transforming pictures.
The color & luminance range masking tools of the software comprising of a full palate.
The stroke smoothing, brushes from Kyle T. Webster, and better brush organization features help to create and customize different types of digital masterpieces.
Adobe Photoshop is oft-purchased for its Paint Symmetry, collaboration tools, and cross-platform compatibility with Lightroom, Adobe Stock, and so forth.
The other noteworthy features of this photo editing software are it's custom path and width, the presence of multiple copy-paste layers, CMYK mode, and curvature pen tool.
It offers non-destructive editing features wherein the original layer remains unchanged.
Users can quickly share their creations with the help of Adobe Photoshop.
Quick Share Menu, Tooltips, 360 Panorama Workflow, and Properties Panel Allow for easy navigation of the tools and features of the software.
Depth Map Import from High-Efficiency Image File (HEIF) is the file format for saving individual image files.
Advantages
Photoshop Express is the perfect tool for editing images on your smartphone
Along with RGB, Photoshop also supports a CYMK color pattern, which is required for printing images
Simple edits like invert, crop, skin tone modification, teeth whitening and red-eye removal can be done easily with a simple click!
Lightroom can save the original image document safely in case you want to roll back the changes while editing
It has one of the best development teams in the world, so new upgrades and tweaks are just a download away. Plus, new AI-powered features are also being added to the software bundle
Why use Adobe Photoshop Software?
The pointers given below will help you understand why you should be opting for Adobe Photoshop Software as the preferred photo editing software.
Recently, Adobe has developed several tools for smartphone users. Though the earlier versions of the software were not forceful or phone-friendly, the updated and new versions are being lapped up by users like never before. Lightroom Mobile, Photoshop Fix, Photoshop Mix, etc. are some of the most coveted Photoshop tools on the racks.
Use Adobe in case you are a Professional
Adobe's tools are handy for professionals. If you are provided with a PSD or any other kind of Adobe proprietary format by the client, then you will need this software to complete the task on hand.
Designers like Using Adobe Photoshop
GIMP does not serve as a perfect option for designers, even though it may be capable of replacing Photoshop in certain areas. Like Illustrator or InDesign, Photoshop provides an exhaustive range of tools to perform as a deal-breaker. So, even though GIMP may be helpful for quick logo mockups, the complete range of Photoshop features will be needed along with the necessary companion apps to deliver the best results.
Use Photoshop for Editing your Photographs
Editing is a part of your job if you are a professional photographer, and Photoshop helps you go the extra mile with the same. Lightroom is a companion app of Photoshop that allows you to sort the proper images and pull them out from the rest. Photoshop Adobe also offers a powerful RAW processor that is not available with GIMP.
Other Free Photo-Editing Softwares
The other free alternatives to Gimp as photo editing software are:
1) Photo Pos Pro
A well-designed alternative to Photoshop with certain restrictions, Photo Pos Pro, offers advanced and novice interfaces alike. Its features include an intuitive design, supporting masks and layers, the limited size of exported files, etc.
2) Paint.NET
Though it has lesser features in comparison to GIMP, Paint.NET is easily mastered. Its essential features include one-click tools, manual options, support for layers, fast and convenient-to-use tools, and lower customization features than GIMP.
3) Pixlr Editor
This browser-based tool is a more powerful photo editing than the desktop app in terms of digital painting gimp vs. photoshop. It provides support for masks and layers along with various Photoshop-style tools.
4) Adobe Photoshop Express
Photoshop's best tools can be found in this touchscreen-friendly package. It offers good-looking filters and one-tap adjustments. However, it has no plugin support or layers to its credit.
The Final Verdict - GIMP vs Photoshop
If you are a beginner in the field of graphic designing or photo editing, GIMP is the best way to get started. Being free, it fits your pocket and also provides free upgrades constantly. Moreover, if you don't want to worry about storage space and focus on work, this portable software is the best fit.
But if you are a professional photographer or designer looking to edit your pictures, Photoshop is hands down the best in the market. With loads of features, backed by Adobe Sensei (Adobe's AI platform), a plethora of downloadable styles, tutorials and tools - Photoshop will make your work stand out from the rest.