Definition or Meaning - What is SAP EC?
Full form or SAP EC stands for (Enterprise Controlling), an effective SAP ERP tool that provides automated applications for carrying out the tasks of controlling the going-ons in a commercial organization; is an important module in the SAP Business Suite. It is responsible for assessing whether all the tasks are being performed in accordance to plans and with the intent of achieving company goals. SAP EC components integrate efficient controlling techniques for making an organization work as a single unit and are fast becoming indispensible tools in the hands of enterprises globally.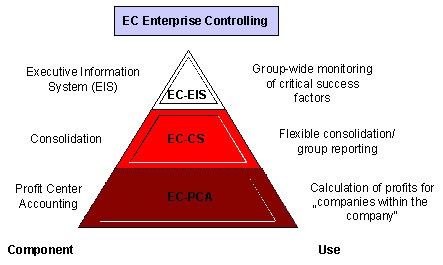 SEP EC is typically a module in which consolidations as well as eliminations occur for a pre-defined management area (or Profit Center) and legal entity (or Company Code). Consolidation offers reconciled views of the group's financial data and allows users to generate reports that are required by corporate law. It also develops documented results that reflect the company's internal management and hierarchical structure (by region or profit center). All this and a lot more are possible because of these powerful consolidation functions developed with flexible structures as a base.
The raw data so generated is transferred via the easily manageable interfaces of:
FI-AA (Asset Accounting)
SD (Sales and Distribution) and
EC-PCA
FI-GL (General Ledger)
The results presented by the consolidation can also be realized in EC-EIS data types.
The SAP EC application is being increasingly used for automating the tasks linked with enterprise controlling. It provides accurate and reliable data that is utilized by the management and corporate controllers as a robust reporting system. It supports both structured management specific reporting for handling problem analysis as well as corporate external reporting. SAP EC is subdivided into four sub modules; which provide the functionalities needed for supporting the different aspects of enterprise controlling. These are:
Consolidation (EC - CS)
Business Planning and Budgeting
Executive Information System (EC-EIS)
Profit Center Accounting (EC - PCA)
Consolidation (EC- CS): This sub module uses financial data to generate reports with views that support the local corporate laws as well as the management structure. Its functionalities include:
Consolidation of multiple company codes.
Importing of data from General Ledgers to the Consolidating Units.
Eliminations within consolidating units.
Reclassifications.
Business Planning (EC-BP): It helps in consolidating and viewing data that is related to plans, along with creating stimulations on the basis of planned data as well as the actual data - thereby helping companies to finalize their performance targets.
Executive Information System (EC-EIS): SAP-EIS is power packed with features and functionalities that allow users to define company-specific data structures and offers multidimensional evaluation views. The data so accumulated is processed in accordance to the required views. A graphical interface then creates a presentation for all the information that is useful for the management and help executives take strategic decisions.
Profit Center Accounting (EC-PCA): The tools of this sub module are largely responsible for creating and controlling an organization that is based on Master data developed from the perspective of the management. It determines the key figures of accounting, profit and losses and so forth.
Some of the other sub modules of SAP EC are:
EC-CS-INT-OUT-BIW: Forwarding to SAP BW
EC-EIS-DCM :Data Collection
EC-EIS-DD: Interactive Drilldown Reporting
EC-PCA-BS: Basic Settings
EC-PCA-TL-ALE: Distribution (ALE)
Read Next: