Definition- What is SAP HANA?
SAP HANA stands for SAP High-Performance Analytic Appliance is an In-Memory Database. It is the advanced ERP Solution from SAP, and can be installed cloud or on premises. It is a blend of both hardware and software due to which it incorporates various components such as
SAP SLT or System Landscape Transformation
SAP HANA Database
SAP HANA Direct Extractor connection
Replication server
Sybase replication technology
SAP HANA Database is classified into two types such as:
SAP HANA edition is classified into three types such as:
SAP HANA Platform Edition
SAP HANA Enterprise Edition
SAP HANA Extended Edition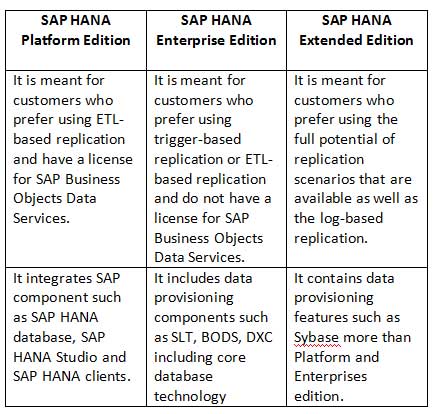 SAP HANA - Advanced Capabilities for Real-time Business
SAP HANA are - imagined platform that combines data processing, database and in-memory processing, provides libraries for planning, text processing, predictive, spatial and business analytics. It is virtually a package of software and hardware that processes real time data and applies the benefits of in-memory computing.
It showcases advanced capabilities like data virtualization, spatial processing, predictive text analytics, etc.; simplifies the process of application development; and facilitates the tasks of processing across large structures and data sources. This module also boasts of a multiengine query processing platform that is designed to support relational, graphical and text data, in the same system.
SAP HANA accelerates client business processes and goes a long way in conceptualizing new and improvised business models, speeding data transactions and creating solutions for better business performances. With significant processing speed, smarter text mining capabilities, features to deal with huge data sizes and a lot more, SAP HANA is the most appropriate platform for the deployment of real time, next-generation applications/analytics.
Advantages of SAP HANA:
With the help of Real-Time Data Provisioning and Real time Reporting, decisions can be taken in no time.
Due to the presence of In-Memory Technology, SAP HANA delivers high speeds processing on massive data and allows the user to discover and analyze all transactional and analytical data.
SAP HANA reduces the total cost of ownership (TCO) as it requires fewer testing, hardware, and maintenance and it also reduces Total IT cost of a company.
By leveraging innovative solutions, SAP HANA makes new business processes and business models.
Data can be collected from several applications and data sources without disturbing the on-going business transactions.
It helps in simplification of prevailing models, of modeling and re-modeling.
SAP HANA can visit several data source as well as the Un-Structured and Structured data from Non-SAP or SAP data source.
SAP HANA decreases the complication of data management and data manipulation.
SAP HANA helps in increasing the revenue of an organization as it makes it so easy to identify the profitable sales opportunities through the entire sales related data accurately.
The four components of SAP HANA:
SAP HANA DB- Database Technology
SAP HANA Appliance
SAP HANA Application Cloud- based infrastructure
SAP HANA Studio- A compilation of tools for modeling SAP applications
Modeled to cultivate skills to help its audience adapt to the ever-changing competitive market dynamics and deliver substantial revenue opportunities, SAP HANA courses include:
An introduction to SAP HANA
SAP in-memory strategy
SAP HANA Studio—administration/ navigation view
Architecture overview, HANA reporting, data modeling, SAP HANA DB
Replication server and Replication Process
User authorization and management
Attribute view and Analytics view and so forth.
SAP HANA is a rapidly growing field and is expected to create more lucrative career opportunities in the coming years. Reputed organizations are upgrading to the various advantages and features of this module are offering good jobs that require highly trained professionals and freshers with certification in SAP HANA. A large percentage of these professionals have a strong knowledge base of SAP BW and SAP BI or are qualified M.Techs and B.Techs.
With an average salary of 8 lacs p.a, HANA professionals can look forward to an average growth rate in salary of about 28% each year.
The average salary of professionals having 0-3years of experience is approximately 3.81 lacs p.a, while those with 3-7 years may expect 6.18 lacs p.a.
The top paying companies in this field are SAP Labs, Voltas, Genpact, etc. with Mumbai, Noida, Chennai and New Delhi being the most coveted locations for SAP HANA professionals.
Please use this link for HANA Jobs.
Demand for SAP HANA Professionals:
Organizations that use SAP functional tools are plugging in SAP HANA due to which, the demand for HANA jobs are increasing each day. However, the numbers of good SAP HANA resources are much less compared to the demand, as a result of which the salary structure of a SAP HANA proficient is 15-40% more than an average IT expert. Thus, the professionals belonging to this domain get an average pay scale of about $51,994 to $145,093.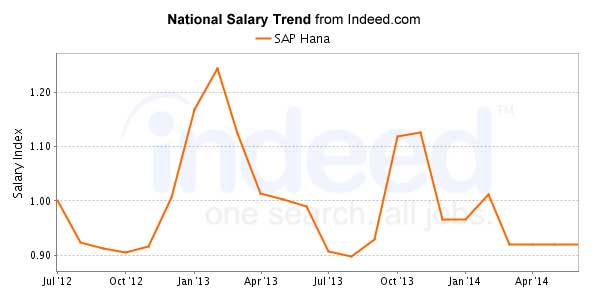 SAP HANA is an upcoming and innovative trend. Pursuing this course with an aim of getting a certification puts candidates on a bright career path. The overview course of this module is highly beneficial for project members, business executives, IT managers, independent application consultants, BW/data warehouse consultants, IT freshers with basic awareness about SAP ERP system and many others .It can be covered in 2-5 days.
To pursue a course in SAP HANA, an individual must possess:
Basic Knowledge about the information technology and database domains
Insights into BI reporting tools and Business Warehouse (BW)
A fair idea about business processes and applications
A degree from a recognized university
SAP HANA also serves to be feasible domain for professional and budding data modelers who essentially handle huge databases that support real time applications.
SAP HANA in-memory Business Consultant: He/she should understand how in-memory technology technologies can cause interruption in the businesses and knows how to apply the technology concepts to business scenarios.
SAP HANA Performance Consultant: He/she is responsible to take the models developed by the Business Consultants and then creates architectures, solutions and designs using SAP HANA Modeller tool.
SAP HANA Operations Consultant: He/she should understand technical architecture, Linux, in what way SAP HANA should be installed or migrate systems, along with a basic understanding of SAP Basis.
SAP HANA BW Consultant: The individual should have specific skills about architecting, re-architecting and modeling BW solutions in SAP HANA.
SAP HANA Application Developer: He/she should understand the existing development platform, and in-memory computing concepts to build ABAP applications using the HANA database, or mobile applications using the HANA XS Application Services layer.
SAP HANA Security Consultant: This is a niche area which includes security design, access control and security models. The individual should have skills in SAP ABAP, Java, Sap HANA, enterprise portal etc.
Read more about SAP HANA Certification Cost and Course Duration in India
SAP HANA Project Manager: He/she should have prior experience with SAP HANA implementation or enhancement projects along with at least 6 years of project management practical experience.
Uncover the value of SAP HANA - join today!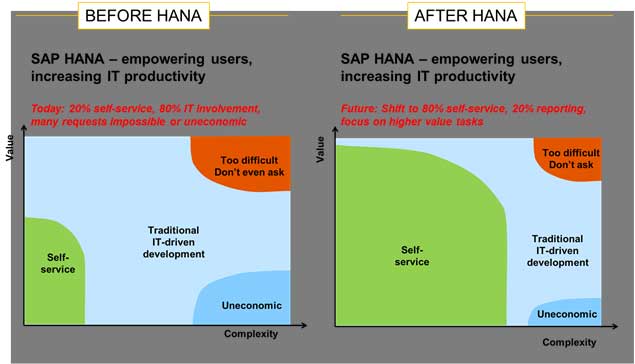 Read Here for More SAP HANA Tutorials.