Hello,
I hope you experts out there can help me resolve this issue regarding all the background jobs failed. I have remove all the inconsistency objects on the TEMSE using SM12. Somehow the problem still persist. Please see message below: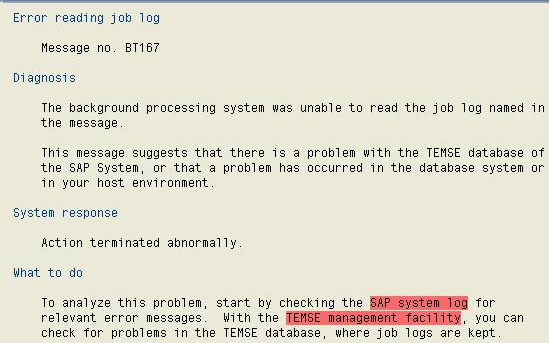 -------------------------------------
Try these options in your system:

Do a consistency check of the Background Processing System as follows:
Run Transaction SM65
Select Goto ... Additional tests
Select these options: Perform TemSe check

Consistency check DB tables
List
Check profile parameters
Check host names
Determine no. of jobs in queue
All job servers and then click execute.

Once you get the results check to see if you have any inconsistencies in any of your tables.
If there are any inconsistencies reported then run the "Background Procesing Analyses" (SM65 .. Goto ... Additional Tests) again.
This time check the "Consistency check DB tables" and the "Remove Inconsistencies" options.
Run this a couple of times until all inconsistencies are removed from the tables.