The terms SAP HANA and SAP S/4 HANA create some level of confusion among a majority
SAP HANA is a database of SAP. & SAP S/4HANA is an application.
of the SAP clients and partners these days. Somewhat, SAP projects can be tricky and challenging for SAP workers and clients to use partly due to the lack of proper understanding of each terminology and their differences. SAP HANA and SAP S/4 HANA are two separate domains in SAP that almost many team workers and stakeholders find confusing. This article will comprehensively discuss the differences between SAP HANA and the SAP S/4 HANA.
What is SAP HANA?
SAP HANA or SAP High-performance Analytic Appliance is a fast and robust database that renders multi-model, real-time data analytics. It holds data in the memory instead of storing it on a disk.
It thus results in the fast data processing and the magnitude becomes more instantaneous than the speed of the disk-based data systems, allowing for groundbreaking and real-time analytics. SAP HANA provides a medium for Enterprise Resource Planning (ERP) software with various other business-based applications.
SAP launched SAP HANA in 2010, having advanced properties and providing modern and matured solutions to customers and clients to meet spatial processing, analytics of graph streaming, time series, machine learning, text analytics, research, and cognitive services. SAP HANA is the fastest database, i.e., 3600x expeditious than any SAP's traditional database.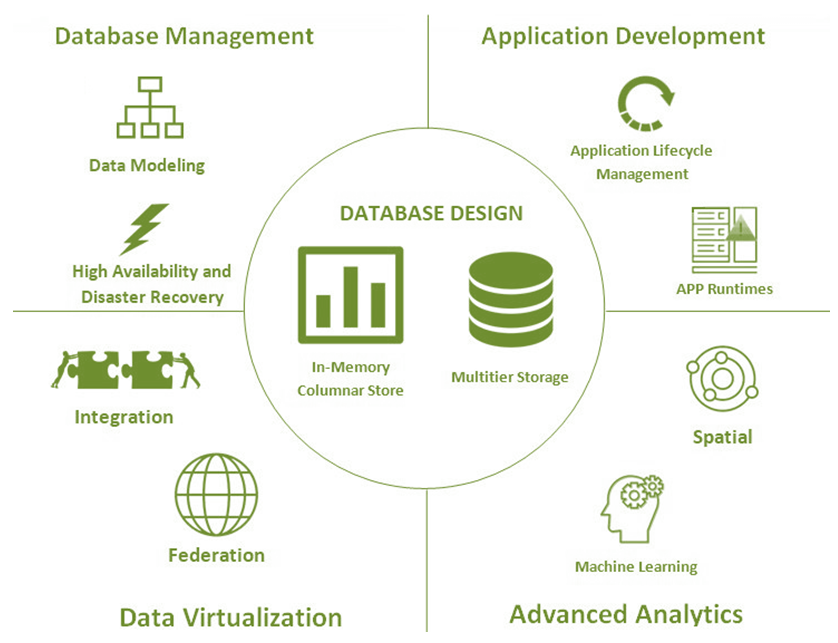 Capabilities of the SAP HANA app:
Some widely used features or capabilities of the SAP HANA are as follows:
1. Multi-Model Processing:
In SAP HANA, SAP clients and partners can store and process multiple types and sets of data in various formats. It includes tables, graphs, and documents.
2. Hybrid Processing:
SAP HANA can serve as both an analytical database and transactional simultaneously. It processes both kinds of requests on a single data set simultaneously.
App Development Tools:
SAP HANA renders a comprehensive range of application development tools, including Web IDE and Eclipse. Administrators can streamline their custom application's architecture by operating with coding languages that best suit their requirements and objectives.
Moreover, SAP HANA provides the following features:
In SAP HANA, a multi-Tier storage system is available.
HANA provides a comprehensive administration tool.
It can manage disaster recovery and robust security.
HANA has advanced features like graphs and spatial processing.
It has application development and data modeling tools.
SAP HANA can remotely organize data, known as remote data synchronization.
It performs parallel database processing.
It also includes responsive web applications.
Advantages of SAP HANA:
With the advent of technology, SAP HANA made it possible to deal with any state of innovation to cause the retrieval process and data storage super fast.
In the case of SAP HANA, it stores data in the RAM and then fetches it from the processing units directly from the storage location. This technique makes the data retrieval process quicker compared to traditional databases.
Some more highlighted advantages of the SAP HANA are as follows:
1. Consistent efficiency:
As SAP HANA provides advanced data storage facilities like columnar storage format and highly advanced data compression, it becomes possible to store data cost-effectively and manage extensive data sets. It eventually brings a plausible business benefit to every surge issue.
2. Ownership management:
The SAP HANA strategy is a cost-effective choice for many clients and companies. It enables them to enlist all analytical and transactional capabilities of different systems within a single platform. If you are a client or a stakeholder looking for an alternative that can render a higher Return on Investment (ROI) in an extended term, then we prefer to go for SAP HANA.
3. Simplification:
Simplification is one of the significant benefits of SAP HANA. It is crucial to ease issues and promote one source of truth. With SAP HANA, companies can use the benefit to improve the reliability of the data across functions. SAP HANA comes with vital clarity to the administration and management of the complete IT landscape.
The connection between the cloud adoption potential and SAP HANA brings it to the front network and hardware sources that have never been so consolidating.
What is SAP S/4HANA?
SAP S/4HANA is a cloud-based, latest ERP software and current enterprise application suite of SAP. SAP launched S/4HANA on 3rd February 2015 for every business requirement, powered by AI and analytics.
With SAP S/4HANA Cloud users can manipulate their mission-critical operations in real-time anywhere. They can also introduce new business models in their enterprise and develop globally with a trusted SAP partner.
S/4HANA is the digital core or centerpiece of SAP's approach for promoting customers to undergo digital modification. It is a broadly defined strategy where an enterprise can modify its current business plans, method, and models or create new ones.
It allows the companies to be more responsive, adaptable, and resilient to changing business needs, consumer demands, and environmental requirements. SAP refers to the S/4HANA-centered business domain as an intellectual enterprise.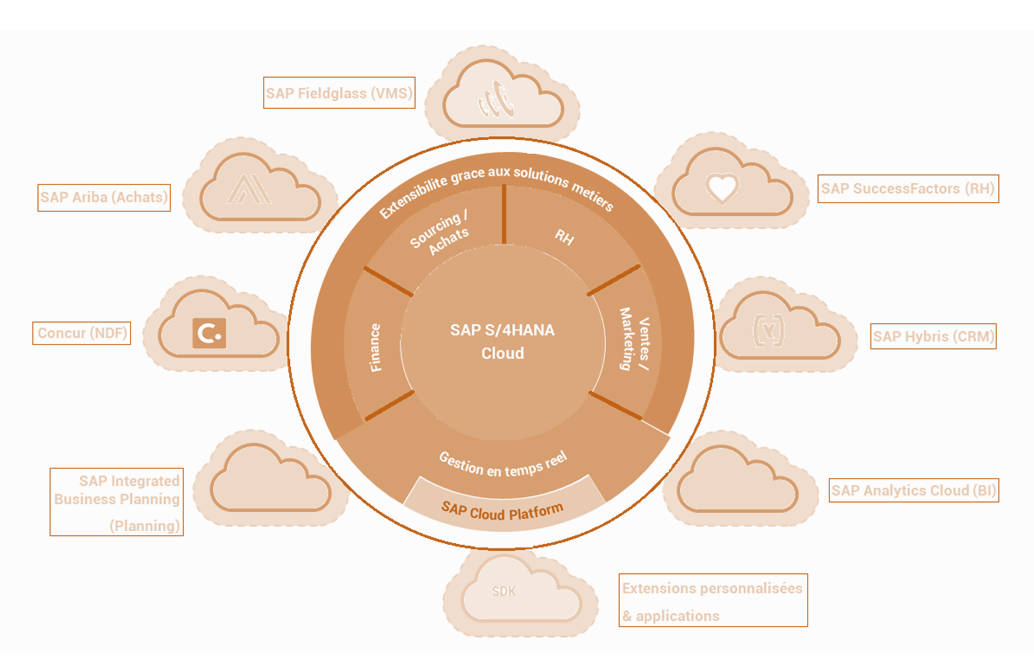 Capabilities of the SAP S/4HANA:
Some of the features of the SAP S/4HANA are as follows:
1. Business Technology Platform:
SAP S/4HANA is a business technology platform that contemporizes business plans and turns data into action. It provides companies with multiple options to support application development and integration.
2. Experience Management:
Experience Management solution of SAP S/4HANA aims to boost customer, brand, and product experiences. It is a system that monitors every interaction stakeholders has with an organization in real-time to troubleshoot and solve these problems.
Some more features of SAP S/4HANA are as follows:
SAP S/4HANA has a synchronized presentation of 1426 features set into the standard Discrete Enterprise Resource Planning (ERP) system. It offers clear modules and sub-modules.
SAP S/4HANA provides every single feature, from comprehensive support to partner add-ons, third-party, business plan and strategy customization, and many other features, that rate the level of support of S/4HANA.
Advantages of SAP S/4 HANA:
SAP S/4HANA is a cloud-based platform that provides the digital core for connecting enterprises with business networks, customers, big data, and the Internet of things (IoT).
Some of the significant benefits of SAP S/4 HANA are as follows:
1. Easier to update business models:
SAP S/4HANA is developed from the ground up and accounts for the practice enterprises now accomplish for their business. This SAP platform is easier and faster to get into these new domains.
2. Faster analytical insights:
Running on the SAP HANA in-memory database, S/4HANA boosts implementation exponentially. S/4HANA has an intelligent data structure that eases data repetition and aggregates tables for better efficiency.
3. Simpler user interface:
In addition to the above features of S/4HANA, enterprises can utilize the SAP Fiori user interface, HTML5-based (SAPUI5) software embedded with S/4HANA, also available as a standalone tool. It facilitates companies to do standard business tasks on Android and iOS devices.
4. Flexibility:
S/4HANA offers the flexibility to add additional business assets, proactively monitor acquisitions and cut off all tedious tasks from their personnel's workday.
Difference between SAP HANA and SAP S/4HANA:
| Characteristics | SAP HANA | SAP S/4HANA |
| --- | --- | --- |
| Nature | SAP HANA is a database of SAP. | SAP S/4HANA is an application. |
| Usage | SAP HANA is an in-memory database technology that serves as the central technology for various other applications for SAP and non-SAP. | The functioning of the SAP S/4 HANA, a new generation ERP solution, depends on SAP HANA database architecture. |
| Live Reporting | SAP HANA supports live reporting. | SAP S/4HANA does not support live reporting. |
| Capabilities | SAP 4 HANA is SAP's ongoing project. SAP is working on the code of HANA to optimize and update it. | S/4HANA is a powerful ERP solution that includes both ERP and BI capabilities. |
| Business Warehouse | Not available in SAP HANA | SAP S/4HANA Finance and SAP S/4HANA Enterprise Management has a business warehouse. |
Conclusion:
SAP HANA and SAP S/4HANA are two of the most well-known and conventional SAP database and ERP systems. But somewhat, these two confusticate many as these terms are identical in SAP. We hope this article has given a crisp idea of the difference between SAP HANA and SAP S/4HANA.