Human capital management is one of the most important aspects of any company. It covers a set of practices companies use for recruiting, managing, and optimizing employees. This is important for bringing out the true potential of the employees. All this is done for increasing their value and contribution to the firm.
For all these companies, SAP offers its specialized software called SAP SuccessFactors. This is a cloud-based software solution for human capital management. It is also very well known for talent management in any organization.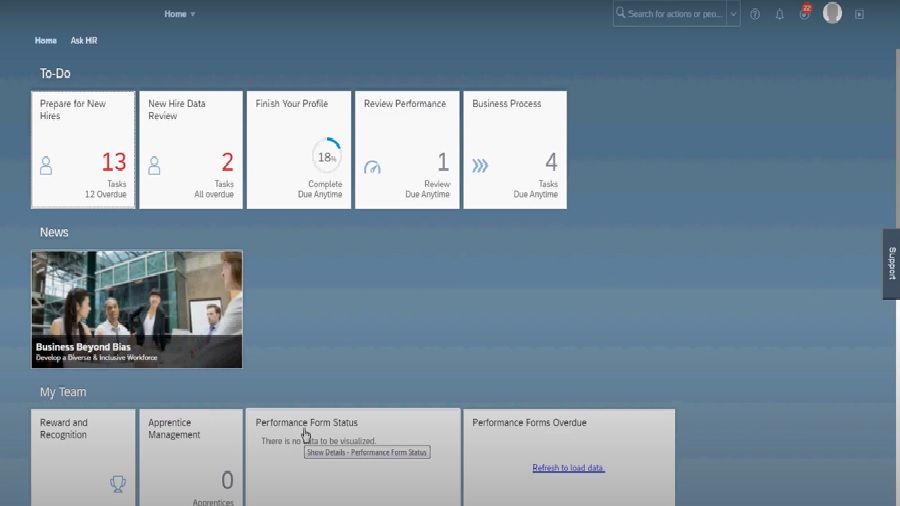 Companies such as Gartner and IDC choose SAP SuccessFactors over other software. They depend on this software solution due to its amazing features.
Without further ado, let us learn more about this amazing software.
What is SAP SuccessFactors?
SAP SuccessFactors is a complete solution for all HR requirements for a firm. It is based on the SaaS model and can be integrated with other SAP applications and on-premise apps.
It supports various HCM activities such as -
Talent management
Recruiting
Development
Learning
Performance management
Compensation management
It comes in two versions – a standalone and a hybrid solution. The hybrid version can be integrated with the on-premise SAP HCM software.
The software is designed to meet the HR requirements of firms in more than 60 industries. Over the years, it has helped many companies to achieve their HR goals. It has led to the enhancement of their business performance.
SuccessFactors is broadly classified into 4 categories -
1) Core HR solution - Employee Central (ES)
2) Talent Solution - PMGM, Compensation, LMS, Succession, and CDP, Recruiting, Onboarding
3) HR Analytics - Workforce Analytics and Planning
4) Social Collaboration - JAM
History of SAP SuccessFactors
Here are some important landmarks of the history of SAP SuccessFactors –
SAP SuccessFactors was founded by Lars Dalgaard in 2001
In November 2007, the company registered under NASDAQ. It went public under the stock symbol SFSF
In July 2008, SuccessFactors made their way to the NYSE, NYSE Euronext, and the Frankfurt Stock Exchange
Later in 2011, SuccessFactors was acquired by SAP and was named SAP SuccessFactors
By October 2013, SAP SuccessFactors had become a core component of the SAP online Cloud Platform
Then in 2015, SAP SuccessFactors started offering many impressive features. These included total workforce management and attendance management
In 2018, SAP creates an HR Community with Simple Solutions to Big Problems
In 2019, the software's connectivity is strengthened with the power of the SAP S/4HANA platform
Key Features of SAP SuccessFactors
The primary features of SAP SuccessFactors include –
Tracks all workforce-related data. For example - attendance, time, paid time off, sick leaves, and other employee schedules
Maintains position descriptions, pay grades, and salary structures
Prevents business risks by ensuring that the compliance standards are met
Allows admins to create business processes by developing custom objects, views, rules, and fields
Offers several currencies and languages for business transactions
Easily accessible for users on all mobile devices for those who are on the go
Users can track business progress using real-time analytics
Offers in-built dashboards and custom reports
You can create expense reports and access them offline using SAP SuccessFactors
Can integrate with other 3rd party performance management software to measure employee performance
SAP SuccessFactors Modules
SAP SuccessFactors has many integrated modules offering a wide variety of features. Let's check them out one by one –
Employee Central
This is a cloud-based employee information system. It allows companies to automate HR processes. It is a user-friendly solution that helps in storing accurate employee data. Plus, SAP SuccessFactors Employee Central can work on diverse global workforces. Thus, the feature enables organizations to develop stronger relations with employees, business partners, contractors and other stakeholders.
It offers services such a –
Organizational management
Employee time tracking and attendance
Employee self-services
Administration of global benefits
Employee Central Payroll
The SAP SuccessFactors Employee Central Payroll helps to simplify all the payroll processes. This ensures that all employees are paid on time. And when employees are timely compensated, they work harder. This proves to be a huge plus for any company.
This assists in automating the payroll process, reduce risks, speed up processes and reduce manual payroll management tasks.
Time and Attendance
This feature aids the monitoring of employee attendance and absence. It also calculates overtime hours for employees. For complex business environments, SAP SuccessFactors tracks employee working hours, workforce scheduling, leave management, and related activities.
Recruiting
SAP SuccessFactors Recruiting takes care of the entire recruitment process. Using this, recruitment officials can source candidates across 4000 job portals. They can search for candidates from universities, social media platforms, and other organizations. The software helps in creating a talent pool of candidates. It can also send targeted emails/ SMS to these candidates. All this establishes a better relationship between the candidates and the firm.
Onboarding
This helps HR managers to handle all the onboarding tasks. Using this feature, the hiring managers ensure that the onboarding process of recruits is carried out smoothly. They can check whether the candidates have completed the onboarding steps. Furthermore, managers can offer a personalized platform for each candidate. This helps recruits connect with the managers, experts, and other employees for accomplishing their tasks.
Performance and Goals
As the name suggests, the feature helps in handling individual goals. It also keeps track of employee performances across the organization. By assigning individual goals to employees, managers can track their performance in real-time. This also helps employees to focus on what matters.

After the employee analysis, managers can tie their performance reports to business goals. This aids the development of more accurate performance appraisals. Plus, managers can also give valuable feedback to the employees.
Compensation
SAP SuccessFactors helps in compensating the employees based on their achievements. This helps in establishing a pay-for-performance culture. Based on their performance, the company can keep the best candidates. This also helps in boosting better talent within the organization.
Succession and Development
This functionality helps in creating a solid workforce full of talented employees. Using the software's interactive interface, HR managers can identify the skills and competencies of an employee. It lets managers conduct a company-wide search for finding out more talented individuals. Competency gaps and risks for talent loss can be determined.
Learning
Managers can develop well-rounded learning and development programs using this feature. These learning courses for employees can be managed and enhanced. The SAP SuccessFactors platform offers a Content-as-a-Service (CaaS) solution. This eliminates the need of maintaining the underlying infrastructure. Furthermore, it handles the security, bandwidth delivery, and upgrades for all the courses automatically.
At the end of the day, employees are offered state of the art e-learning programs.
Workforce Planning
Companies use this to analyze the resource gaps. Using workforce information, managers can enhance their workforce mix, reduce risks and make better decisions. As a manager, you can use this tool to create headcount plans and sub-plans. This will give you a clear picture of your workforce.
Moreover, using what-if analysis and analyzing business outcomes, companies can check the results of talent acquisition and recruitment.
Workforce Analytics and Reporting
Using business data, this feature can help in providing quantitative insights about your workforce. This helps business analysts and HR professionals to make well-informed decisions. With the help of more than 2000 pre-defined metrics, managers can figure out their workforce-related queries. Using these HR metrics, HR professionals can determine workforce trends, outcomes, and turnover.
The software allows employees to create interactive dashboards and HR reports to share information.
SAP Jam
SAP JAM is SAP's cloud-based social media platform designed for employees. This lets companies combine communication, collaboration, and content creation tools. JAM has simple screen capture and video service. This lets every employee share his/ her experiences and thoughts, from any device.
SAP SuccessFactors Deployment Model
To integrate SAP SuccessFactors with SAP ERP HCM and SAP ERP, there are 3 integration models –
Talent Hybrid Deployment Model
Full Cloud HCM Deployment model
Side-By-Side HCM Deployment model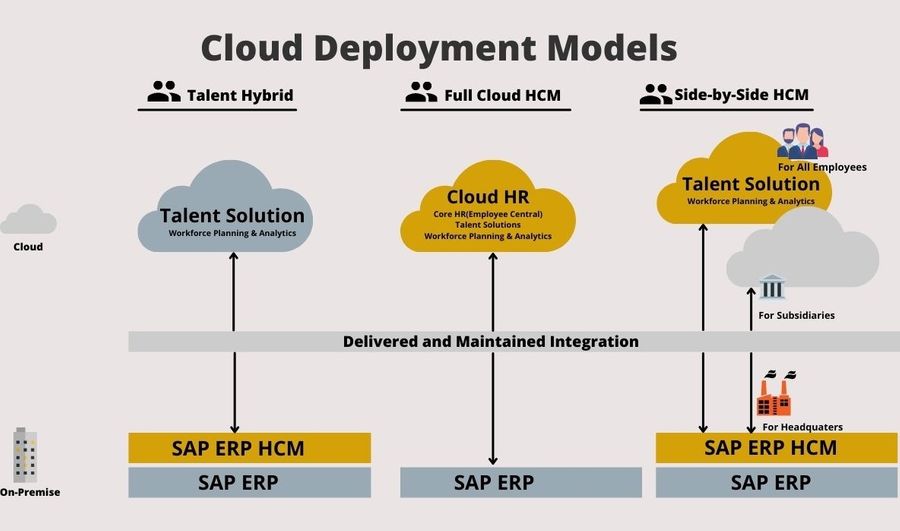 1) Talent Hybrid Deployment Model
The Talent Hybrid model was designed for people who are looking to move SuccessFactors talent solutions in the cloud while keeping their core HR solution on-premise. The model also offers talent solutions, workforce analytics, and workforce planning. Moreover, this model helps users to use the potential of SAP ERP HCM and SAP SuccessFactors innovations.
2) Full Cloud HCM Deployment Model
This model is ideal for users who want to transfer their HCM applications to the cloud. They can do this while integrating their system with SAP ERP. SAP offers high-end technology that can be used in retail, banking, or manufacturing industries. Thus, all data storage and processing needs are met.
The Full Cloud HCM deployment model offers workforce analytics, workforce planning, and Core HR talent solutions.
3) Side by Side HCM Deployment Model
The Side by Side HCM deployment model is designed for users who want to install SuccessFactors Employee Central (EC) as their Core HR system, but for a particular section of the employees. This allows them to retain the SAP ERP HCM for the remaining employees. Thus, this model has been adopted by many companies who are want to enjoy flexibility while adopting cloud technologies.
This model significantly helps companies who transition from a non-SAP HR system, from an existing SAP ERP HCM system or a mix of both. The model helps companies to merge organizational and workforce data in Employee Central. They can use their existing HCM systems as records for storing data.

Moreover, it provides a consolidated view of the data and leaves their SAP HCM systems unchanged. By this, users can install EC for a specific country while keeping the remaining system landscape unaltered.
The model provides benefits such as easy migration, reduction in operating expenses, better workforce planning, and a unified customer experience.
SAP SuccessFactors - Integration Add-On Factors
SAP ERP HCM and SuccessFactors HCM has certain Integration add-on factors that enable companies to integrate data between different environments. We will take a look at these factors -
Compensation Data
By moving data from compensation SAP ERP HCM to SuccessFactors BizX, company officials can support the compensation process. They can also transfer planned compensation data from SuccessFactors Business Execution to SAP ERP HCM. Moreover, this data can be imported into the payroll cycle in the HCM suite.
Employee Data
Integration add-on enables you to extract attributes for employees. This data can be transferred from SAP ERP HCM to SuccessFactors. This is done for managing the Talent Management process on SuccessFactors Business Execution.
Evaluation of Data
Data can be transferred from SAP ERP HCM to the SuccessFactors cloud. This helps in workforce planning and analytics. You can download the data as a text file from the SAP ERP HCM and upload it to SuccessFactors Workforce Analytics.
SAP SuccessFactors – Architecture
The infrastructure helps companies to manage business data and handle HR functions effectively in the cloud. It also offers the facility to integrate to SAP ERP using SAP HCI or SAP PI. The model has two parts – On-premise and SAP Data Centre.
SAP SuccessFactors helps companies to manage HR functions in the cloud environment effectively. This cloud computing solution helps you to integrate to SAP ERP using SAP HCI or SAP PI. But, most of the clients in SuccessFactors don't prefer integration with the SAP ERP solution.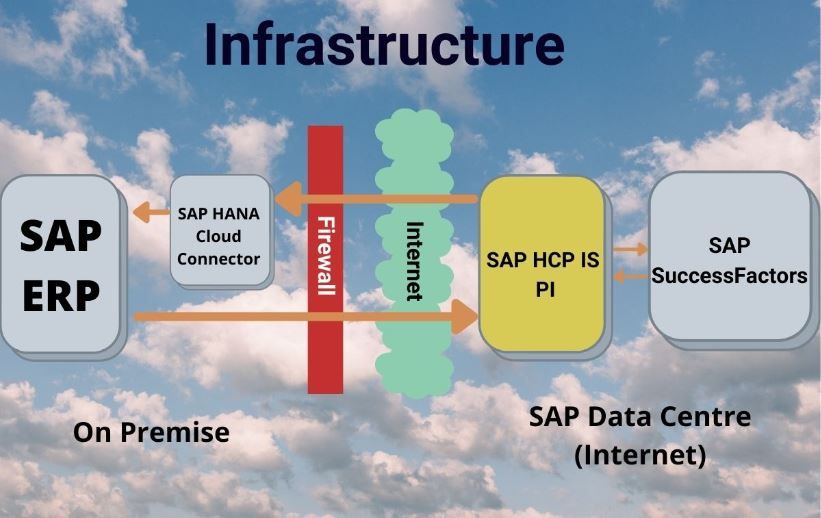 This is the enterprise resource planning software that provides a unified department for all aspects of the business. This includes sales, HR functions, finance, accounting, manufacturing, and production. It gives employees real-time access to business data that helps in managing various business operations.
The SAP HANA Cloud integration processes are carried out for moving your business from on-premise to the cloud. This process allows you to integrate business processes between different companies or business units within a company. Executing ETL (Extract, Transform, Load) functions between the cloud and on-premise is also simple.
If you want to map business operations, you can use the Eclipse-based integration.
SAP Process Integration (PI)
SAP Process Integration is a middleware used for integration between SAP and non-SAP systems, within the company or outside. The system helps in the cross-component management of business processes. It allows companies to establish a cross-system communication to connect SAP and non-SAP systems. These systems may be based on languages such as Java or SAP ABAP. SAP PI offers an open-source environment for integration and communication.
Advantages of SAP SuccessFactors
The advantages of using SAP SuccessFactors for any business are –
All the HR data is stored in Employee Central, which is accessible from any part of the world by any employee
Offers many self-services for employees that reduces the burden of the HR department
Enhances the quality and speed of the employee onboarding process
Offers a vast variety of functions for recruiting, selection, creating interactive workflows, and training. All this eases out the HR processes
Provides a clear view of the recruited employees and the stages of recruitment
It helps in promoting talent within the organization by using performance reviews and appraisal interviews
A highly flexible cloud product that can be customized as per customer's requirements
Assists in workforce planning and respond to changing business requirements
Using the interactive interface, employees can easily create and share business analysis reports
Helps in analyzing the current business situation and develop goals for the future
Assists senior officials to take predictive decisions after analyzing business data. This helps in increasing the revenue and productivity of the organization
Cons of SAP SuccessFactors
Disadvantages of SAP SuccessFactors –
The cost of implementation and subscription is a bit on the higher side
The online training, support, and payroll solution can be improved
The Administrator interface is tough to learn for new administrators
It takes a little time to wrap your head around the software's interface
Other Key SAP SuccessFactors Terms
Here are some other terms of SAP SuccessFactors which you should know about –
i) Payroll Control Center – This is an add-on for SAP Payroll processing that makes the payroll process smoother

ii) Qualtrics – This is an experience management solution used for surveys and feedback

iii) SAP ERP HCM – It was launched as a part of SAP ERP as SAP's human capital management solution

iv) SAP SuccessFactors Admin Center – The app handles all administration tasks such as –
User management
SuccessFactors configuration
Revoking and assigning permissions
Conclusion
The new age of Human capital management is dominated by cloud computing. SuccessFactors is one of the frontrunners of this new wave of digital transformation. As many companies choose to move towards the cloud, the demand for this software is steadily increasing. It can possibly take over all HCM software solutions in the future.
SAP SuccessFactors Other Important Resources