SAP is the most sought after career option these days, especially for the younger generation. SAP (Systems, Applications, Products in Data Processing.) is essentially a market leader in the present times in the field of enterprise application software. Ever since the company evolved they have been consistently deriving newer ways of growth and innovation and have always been stated to be much ahead of competition. Besides providing solutions for its external customers, the brand also aims at providing growth opportunities for its employees along with a considerable amount of learning, which enables them to move ahead in their career.

Let us understand the job titles within SAP, as per the recent demand in the current times.
The junior most level can be seen at the bottom of the list, and as the levels graduate, the highest is seen at the top.
VP/Director, SAP Program Management
SAP Master Data Manager
Sr. SAP Business Analyst
SAP Business Analyst
SAP Design Architect
SAP Functional Analyst (SME)
Sr. SAP Configuration Analyst (Lead)
SAP Configuration Analyst
Sr. SAP Security Administrator
Sr. BASIS Administrator
BASIS Administrator
Associate BASIS Administrator
Sr. ABAP Developer
ABAP Developer
Associate ABAP Developer
Generally it has been observed that the roles and levels may vary in different organizations and are typically based on individual skills as well as responsibilities. This data is a resultant of Foote Partners, which conducted a thorough research in 83 cities located in North America and comprised of 160 IT jobs, and the data was collated on a survey of 200,337 IT professionals and included a premium pay of 730 certified as well as non certified technical skills.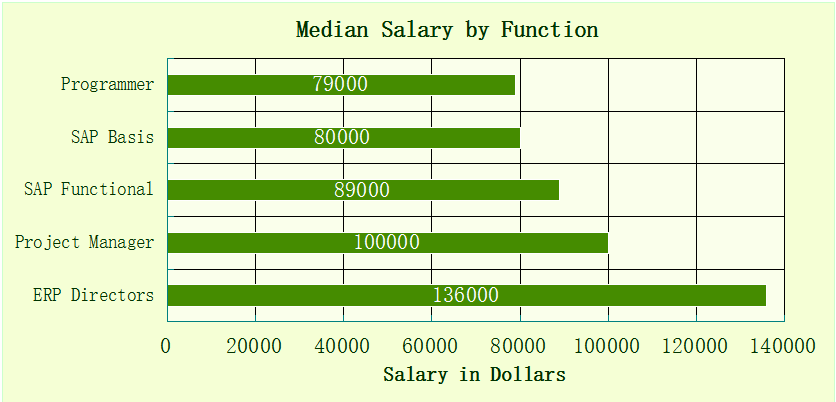 Foote partners also observed that in most of the companies the role of the IT professional did not match the respective job title, because of which in many places the salary of a SAP professional could not be accurately compiled.
It has been observed that generally the SAP ERP Directors and Project Managers are typically the highest paid ones. Amongst all the geographical regions from where data has been collated it was seen that North America topped the list of all the SAP consultants. Europe and Asia were at the same level and Latin America paid the least. Not to miss the performance incentive this comes along with the annual salaries, which quite a few companies are now offering to their top employees.
In India too the average salary of a SAP software engineer is that Rs 606, 460 and may vary any where uptil 880 k. The salaries vary as per the country one is working in, the role that you play in the organization, and last but not the least the responsibilities that you handle within the organization.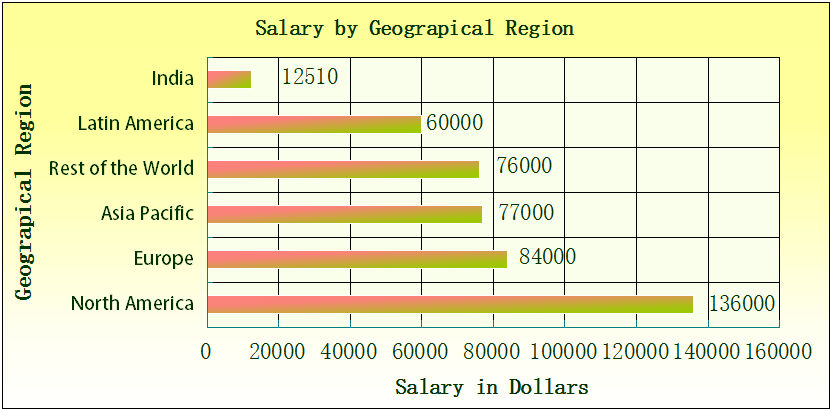 As far as the number of experience was concerned the salary wise bucket and experience states that at an average the people with an experience of 1 to 6 years got an average median salary of $76000, while 7-8 years got an average median salary of $85,000 and over 10 years generally fell in the $110000 bucket.

The following list was complied which helps us understand the skills in SAP which were in demand as on 2014, May.
Emerging Modules as per present demand as per Foote Partner Report
Project Manager
BASIS
ABAP
FICO
SAP HR
SAP SME
Related: Top 10 Rising SAP Modules for Year 2016
Read Here to know SAP Course Fees and Duration for Different Modules if you are planing to learn the aforemetioned emerging Modules
There was a very high demand of the following skills as on 2014
Enterprise Architecture
SAP Mobile / Mobility Consultant
SAP Solution Manager
SAP UI5, Usability, and Development
SAP BI/BO
SAP Functional - CRM, PLM, SRM, and SCM
SAP Basis- Upgrade & Migration
SAP HR
SAP is quite certainly quite informative, provide you with ample of learning opportunities and not too miss the lucrative financial gains that come along the way!
Read Here for SAP Career Guidance to Know the Best Suitable Module as Per Educational Background and Experience.