A robust management structure can improve any business by bringing the company's profit and reputation. Management has always been the central part of all successful businesses and provides a fruitful outcome more than anything else.
Among many economic activities of a firm, transportation plays a vital role in providing the fundamental benefit of linking the business to its suppliers and consumers.
SAP Transportation Management is one of the conventional logistic processes for transportation management solutions. This article will depict how SAP Transportation Management (SAP TM) helps in the physical connection and transportation of goods from source to destination.
What is SAP Transportation Management (SAP TM)?
Every company needs a management system for transportation that assists companies in managing transport logistics. Business holders can use this for managing physical transportation via land, water, air, or any combination of transportation ways.
SAP came up with a best-in-class Transportation Management System to map intricate transportation network and supports the complete business process called SAP Transportation Management (SAP TM).
This scheme can manage all aspects of transport processes within a business, including transportation optimization and designing, freight tendering, transformation management, etc.
The SAP Transportation Management System, also called the TMS or SAP TM, is a trait of the broader supply chain management scheme, which enables:
Automate all time-consuming tasks and authorizes optimization of freight and delivery routes.
Helps businesses in tracking shipments on localized or global routes.
Enables automation for generating compliance documents and freight invoices.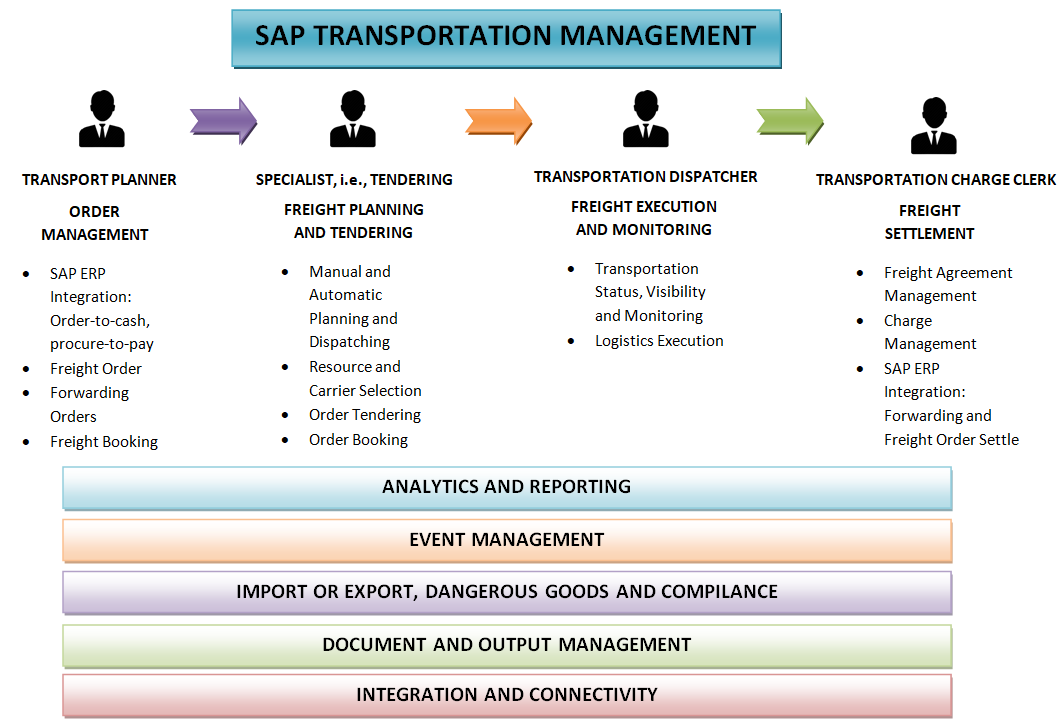 Discuss in brief how SAP TM works:
Using SAP TM, a business can get the insights to cover a full range of modes of transportation such as air, land (rail, road), water (sea, ocean), etc. SAP launched TMS from SAP TV/PS solution, and this evolution consists of optimization algorithms for transportation and routing management.
This SAP tool is for both Shippers and Logistics Service Providers. SAP TM delivers an out-of-the-box feature for both procure-to-pay and order-to-cash systems.
Businesses can implement TMS that store, accesses, and compare operator attributes if they want to connect with different freight operators. This strategy consists of routing management and optimization, algorithms for shipping and transportation, tracking shipment progress, etc.
Also, for more efficiency, SAP TM integrates with SAP ERP billing and invoicing, enabling faster and more robust strategic management of freight settlements. It works with various SAP applications as a core component of the supply chain management system. SAP TM integrates with these software, namely SAP EWM and SAP WMS.
Features of SAP TM:
SAP TM covers the following key features that facilitate businesses by reducing expenses in freight transportation and improving logistics flexibility and efficiency. These are:
Order Management:
The integration of SAP TM with the SAP ERP system in conjunction via the Process Integration (PI) interface helps in an end-to-end management of orders. Businesses can use this combined feature after integration, from ordering and delivering in SAP ERP to SAP TM delivery requirements systematically.
Furthermore, users can use this feature for creating, editing, and confirming orders from the ordering partakers. Also, they can create forwarding quotations and ship them to their ordering partakers.
Strategic Freight Management:
SAP TM helps manage freight procurement at scale, letting businesses streamline agreement quoting, predict future shipping requirements, and negotiate rates with consumers, couriers, and logistics service parties.
Set objectives through planning and optimization:
Proper and effective planning can support businesses in setting real-time, efficient, sustainable goals to meet the requirements. SAP TM provides manual and automated tools for transportation plans based on orders.
These orders were either entered in forwarding order management or shared through an ERP system. It is flexible, and users can perform planning strategies manually and automatically with SAP Transportation Management.
Document Management:
TMS can manage and create documents required for the shipment of freights. Businesses can improve their productivity using the Document Management base portion of TMS.
It offers tools for securely storing, updating, accessing, and sharing any document type to service parties that monitor large volumes of information within a firm. With TMS, users can generate the following documents and manage their status:
Forwarding instructions
Create bills of freight shipment for land, water, and air transportation
Freight Forwarding Orders (FWO)
Tags for freight shipments
Delivery-based Transportation Requirements (DTR)
Order-based Transportation Requirements (OTR)
Analytics and Reporting:
TMS provides real-time actionable data for business insights that help by producing reports to monitor freight shipment operations. The recent release of SAP TM versions leverages the S/4HANA in-memory database, which also renders a comprehensive record of SAP Fiori applications to anticipate and support business processes based on transportation.
Benefits of SAP TM:
Using SAP TM, firms can manage their inbound and outbound domestic and international lading in a localized and global environment. These can also benefit their businesses by tracking and visualizing the orders, shipments, freights, and logistics processes.
Companies can get benefits from real-time inbound and outbound transportation to ensure good supply chain management with SAP Transportation Management in the following manner:
SAP TM is highly cost-effective and reduces expenses, and enhances operational performance.
Using TMS, businesses can implement logistics and fulfillment processes.
SAP TM helps in improving carrier collaboration and resource utilization.
Provides efficient procure-to-pay and order-to-cash systems, order and process management.
TMS improves performance visibility and responsiveness.
Uses of SAP TM:
Businesses always need to deal with various activities linked with the physical transportation of freights from one site to another. SAP TM supports all such activities to perform the following operations:
Users can generate forwarding orders for their ordering partakers
Make efficient planning and management of the transportation and traceability of carriers
Businesses can leverage TMS to generate freight bookings
They can ship orders and deliveries from an ERP system
Takes responsive care of transportation services
TMS takes responsibility for the shipment and monitoring of the freight transportation
SAP TM records the transportation expenses for the ordering partaker and the supplier party.
Integration of SAP Transportation Management (TMS):
In this section, we will highlight the integration of TMS with the following SAP applications:
SAP Enterprise Resource Planning (ERP), SAP Warehouse Management Systems (WMS), SAP Extended Warehouse Management (EWM), SAP Event Management (EM), and SAP Customer Relationship Management (CRM). The integration of these five SAP applications with SAP TM can improve the quality of transportation of freights and can support end-to-end administration and automation of the logistics processes:
SAP Enterprise Resource Planning (ERP):
In SAP TM, users can perform accounting, order management, planning, and implementation for their ERP orders, shipments, and order billing. Enterprise services enable invoice verification and invoicing for Transportation Management process documents. When users transfer data using Enterprise Services and IDocs, leverage the integration of SAP TM and SAP ERP.
SAP Warehouse Management Systems (WMS):
SAP WMS enables businesses to run warehouse functions such as order management and processing, palletizing, freight shipment, receiving orders and dispatch, and inventory monitoring.
SAP Extended Warehouse Management (EWM):
Users can also use features of SAP that integrate SAP TM and EWM for shipment-based warehouse planning and execution.
SAP Event Management (EM):
When companies want to implement event tracking to track the execution status of their transportation, they can use integrated SAP EM and SAP TM.
SAP Customer Relationship Management (CRM):
The integration of SAP TM with SAP CRM can help facilitate Logistics Service Providers (LSPs) and sales agents of couriers for marketing the freight to forthcoming consumers such as merchants or carriers.
Conclusion:
We hope this article has given a crisp idea of various benefits and use cases of the Transportation Management solution of SAP on merchandise. Integrating all the SAP applications and features can provide a robust and productive outcome for businesses targeting to face real-time challenges, transport scenarios, and settlements of freights.
Also, companies can procure a stable position in the market with SAP TM through all the robust features such as Interactive and Mass Processing, Order Management, Planning and optimization, Document Management, and many more.