SAP landscape is a system or a layout that helps in creating the composition for the server system like quality assurance server, development server, and production server. It allows creating a group of servers by installing all servers & linking them to various transport routes to maintain the entire system. Every company comes up with its own landscape. The standard serves as an SAP-based enterprise for development, quality assurance, and production server. IDES and few other servers are complementary. Let us now understand each of these servers in detail.
Development Servers:
The development server is called a sandbox client where these servers the management team or the server admin handles the new customization and write a new set of instructions depending on the business requirement. It contains 200 sandbox clients and 100-development clients. The development servers have three clients. These are -
The sandbox: It is a section where all the system-related work takes place.
Customize the client: Once you configure the sandbox and everything is as per the procedure, recreate the identical configuration in the configuration client.
Development Testing: This client uses unit testing. Some project integration and testing also demand this client.
Quality Assurance Server:
It is where the corporate team members and other employees keep on testing the new customization, programs, etc. Such servers are used to perform testing on new development and customization of products. There are 300 quality testing server.
Production Server:
It is another client that is also called the Golden Client. This server records live data of the enterprises once the project goes live. The permission for production clients is very limited. There are 700 pre-production clients and 800 production clients.
The server request flows from the development till the production like this:
Development > Quality > Production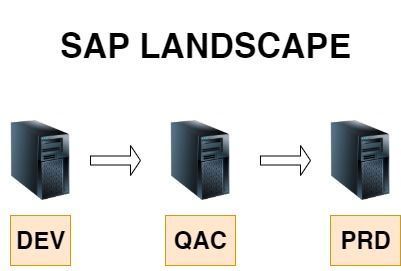 SAP landscape for IT architecture:
It comprises the external system where your SAP landscape system communicates or receives messages and data. The communication means along with the importance of each system within the processes enables your SAP system. Furthermore, it involves your SAP landscape with the servers like development system, quality system, integration system, and production system. The SAP user can include any or all of these modules that are supporting, as per requirement.
Conclusion:
The organization's business & functional requirements define the SAP solution. The SAP landscape plays a significant role in defining the architecture of the server. Every enterprise follows its SAP landscape but by following the standard approach.