Transporting native SAP HANA content with SAP HANA Application Lifecycle Manager
This tutorial focuses on Application Lifecycle management aspects and transporting native SAP HANA Content with SAP HANA Application Lifecycle Manager
What is SAP HANA Application Lifecycle Manager?
SAP HANA Application lifecycle management is the tool which helps user in all phases of a SAP HANA application lifecycle that are from modelling user product structure, through application development, transporting, assemble, and installing .
SAP HANA Lifecycle Manager Aspects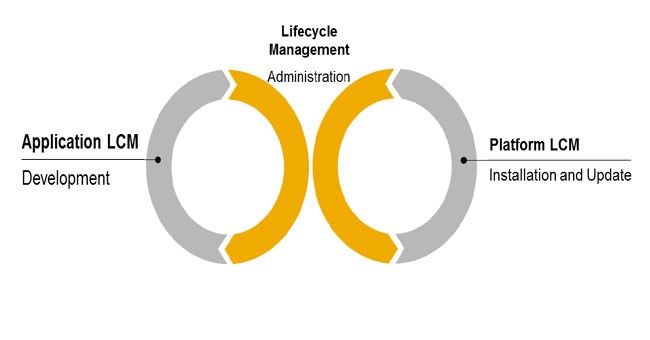 Platform Lifecycle management Aspects
SAP HANA Platform Lifecycle Manager is used for platform Lifecycle management tasks
Updating our SAP HANA system
Adding/removing additional SAP HANA systems or additional hosts
Adding additional SAP HANA components
Integrating our SAP HANA platform into your system landscape
Application Lifecycle management aspects
SAP HANA Application Lifecycle Manager is used for application lifecycle management tasks
Consist of a product management parts to manage products, delivery units and packages.
It also consists of transport management part in order to manage systems and transports routes
Perform transports and monitor transport processes
Accessing SAP HANA Application Lifecycle Manager
Please follow the steps given below in order to access Application Lifecycle Manager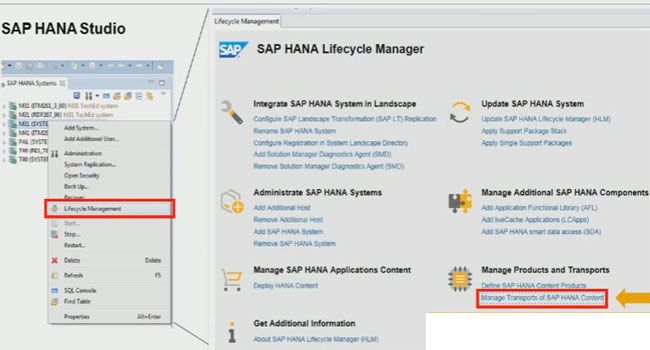 First Go SAP HANA Studio
Right click on the system and select Lifecycle Management
SAP HANA Application Lifecycle Manager Basic Transport Landscape
There are mainly three basic tools in SAP HANA Application Lifecycle Manager basic transport landscape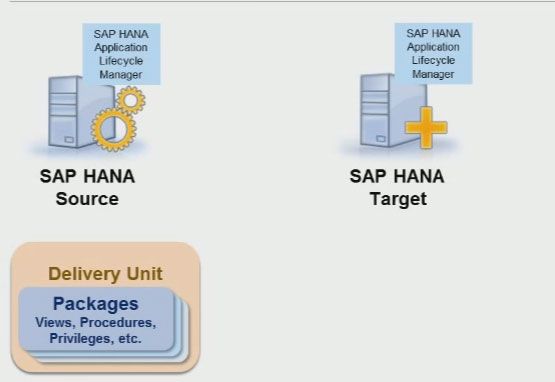 SAP HANA Source
SAP HANA Source system is place where all the development objects are created and located
SAP HANA Target
As an administrator role, user uses SAP HANA Target system in order to register the source system, define transport routes and assign appropriate delivery units.
As a transporter role user execute transport by full on or delta delivery unit and for monitoring transport logs.
Delivery Unit
Delivery unit is transported from the source system to the target system by a pull principal.
The Delivery Unit exported from the source system. It is transferred in one step in one action and imported to target system.
Use cases for SAP HANA Application Lifecycle Manager
SAP customers who need a lightweight transport management
New SAP customer without SAP ABAP experience.
Advantages of SAP HANA Application Lifecycle Manager
SAP HANA Application Lifecycle Manager
is a native SAP HANA transport tool which can be used without any additional system
SAP HANA Application Lifecycle Manager is lightweight and easy to use tool
Easy setup and minimal configuration effort
Disadvantage of SAP HANA Application Lifecycle Manager
SAP HANA Application Lifecycle Manager does not have central management of extended system landscape
No transport synchronization o non-HANA content
No integration in SAP process tools (ChaRM, QGM)