The SAP GUI window is composed of following Navigations:
Title bar
Menu bar
Standard tool bar
Application tool bar
Status bar and
Function keys
Title bar:

It is at the top of every SAP window and gives the description of the screen for a current window that is displayed.
SAP User menu

It is built as per users specific needs. It displays all the transactions relevant to a user, grouped under relevant folders.
SAP Easy Access Menu
It includes the transactions offered by SAP, grouped in folders according to SAP various modules.
SAP Menu Bar
The contents of SAP Menu bar changes from one screen to another. The options in the menu bar match the module currently processing.
SAP Standard Tool Bar
It remains same from one transaction to another. SAP Standard Toolbar is used to execute various functions. It is supported by Buttons, transaction box etc.
SAP Application Toolbar
The SAP Application Toolbar changes in accordance to the user screens and is either application or transaction specific.
SAP Status Bar
The SAP Status Bar tells you about which environment you are using, which session you are in, what client you are using. Etc.
SAP Function Keys
This provides an alternative way for navigation into the SAP system. The availability changes from one screen to another. To get the list of all the keys right click on the mouse during a transaction shall give you a list of function keys.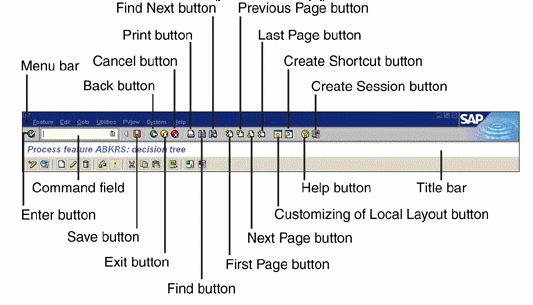 The Menu Bar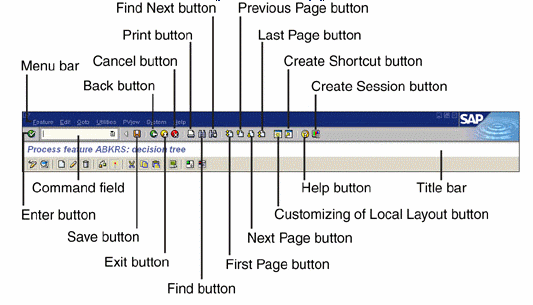 The Standard Toolbar