What should you know?
The tutorial is designed for learners with little or no SAP HANA experience. However, knowledge about basic SAP System is an advantage.
In what way should you prepare yourself and your company for in-memory technology?
The main test for the Finance department up till now has been to provide the information on real time basis. Year-by-year and period-by-period the main challenge of the Finance department has been carrying out data treatment such as Marketing Analysis, Sales Close, Production Results, MRP, FP&A execution, Finance Period Close, Budget Description etc. Other than this, they carry out work like business result anticipation or real profitability in the CO-PA or taking out data to BW for data mining for increasing the workload and the information cost.
The present resources include:
People
Hardware maintenance
Software license
All these resources are dedicated to facilitate information which monitors the establishment for improved decision making.
SAP HANA's innovative technology of in-memory data processing ensures that the information is delivered from corner to corner of all business financial and functioning scopes on real time basis relating to the financial and managing accounting and productivity data into a single universal journal.
The finance objective conveyed by SAP HANA has been explained in the advertising motto for finance:
Construct the probability to ride on-the-fly financial investigation to take the finest decision in the correct time.
Fetch the database to memory as it will offer prompt information access by decreasing physical disk read. The main SAP ECC presentation blockage drives SAP to a solution to fulfill the needs of the current customers'.
With SAP HANA there is definitely a reduction in the cost of information when compared to the actual SAP ECC structure. Thus, it can be said that from now on there will be a huge demand in the number of SAP HANA migration projects.
This migration must start immediately with the present main users and system professionals to get set for the nearby prospect of in-memory technology.
The definition of this process occasionally has to be associated with the data flow and information system which will have an innovative notion with in-memory technologies necessitating a restructure of business process over this novel data treatment.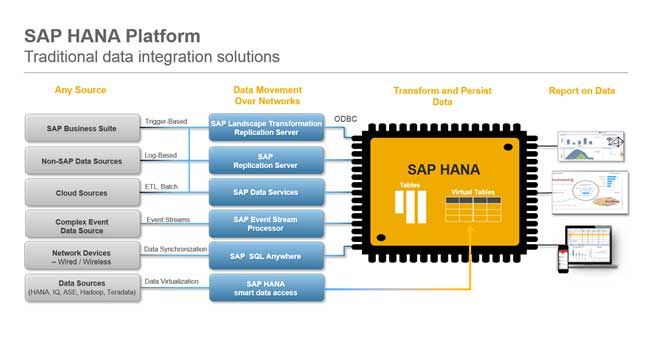 Which actions should be taken even if your company will or will not migrate to SAP HANA?
Data centralization
One should evaluate the system landscape around the present ERP System and check data storage reduplication, for instance, legacy system keeping the similar information as the ERP in a different database. It is not sensible to apply SAP HANA with a lot of legacy system or with a system landscape and databases integrated by interfaces.
Process redesign
Certain process cannot be applied in the existing system owing to data processing and management. For instance, due to the great volume of database lock designing, production procedure and online backflush in a repetitive manufacturing is occasionally not possible. The present production process may have asynchronous producing WIP materials when actually it does not exist. At this point use ideas that could be applied or enhanced with in-memory technologies resources.
Revive and readdress your knowledge
With SAP HANA technology, an individual's functional skills will be enlarged and not misplaced. It is the opportunity to readdress ways of working so far to in-memory technologies and propose developments presently undelivered for technical restrictions. This way of thinking will refresh an individual's knowledge and prepare them for the near future.
Integration and cross-business process understand
The objective to deliver real-time information across all business process will require the individuals to have the cross-business understanding. The information will be activated and combined in real-time, involving all business areas. It will be essential to understand and comprehend the information from the start till the end.
Thus, it can be said that sap-in-memory technology can help in improving your company as well as your own growth.