Definition-What is SAP Plant Maintenance (PM) ?
SAP Plant Maintenance—an effective software based automation application that offers a wide range of solutions for streamlining all the plant maintenance tasks of an organization, goes a long way in integrating the related data and functions with the system's natural process flow. This popular SAP tool offers practical help and is useful for automating the tasks on hand. The user friendly components of SAP PM (Plant Maintenance) make day-to-day processes easier and highlight certain untouched aspects that are usually done manually.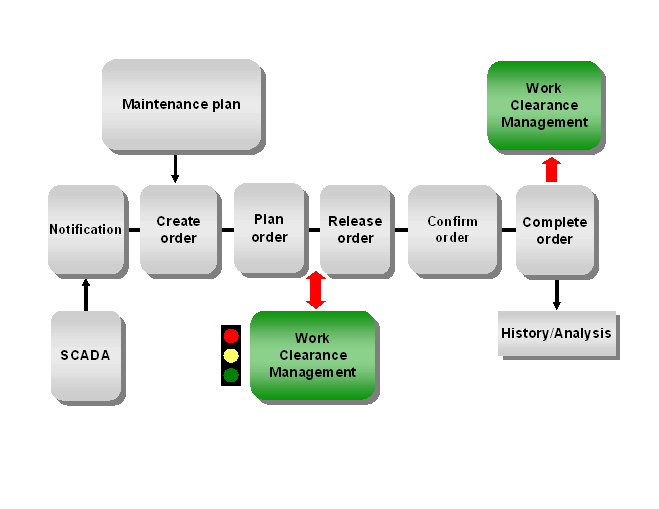 The provision of a healthy, safe and productive working environment for employees is one of the most important responsibilities of an organization. Tasks like regular checkups of tools and equipments; along with their trouble shooting, functioning, general clean up, monitoring and maintenance of all facilities, are considered to be the fundamental functions of plant maintenance. SAP is a suite of ERP software that is specifically designed to automate and support business processes and encompasses distribution, manufacturing and financials in large and medium sized businesses. These functions are all the more evident in the case of maintenance organizations where the SAP PM module integrates diverse orders, maintenance notifications, task lists and Work Clearance Management.
Important functions of the SAP PM Module
Preventative Maintenance: SAP PM plans and manages proactive/ scheduled maintenance procedures that are designed to predict and/ or prevent the breakdown of critical systems. These breakdowns can lead to large repair costs and lost production.
Problem Rectification: The module permits maintenance organizations to trace and rectify issues in any of the tools and equipments under their control—regardless of whether the problems are caused due to deterioration over time or due to complete failure.SAP PM pinpoints the exact location of the problem and automatically generates a comprehensive maintenance order that includes engineering drawings, all necessary specifications and safety precautions. Proper detailing in this regard is a must as any negligence may lead to the halting of production, endangering of lives, or both.
Split-level Maintenance: The breaking down of plant maintenance into various levels—particularly at the planning and performance levels, is one of the primary advantages of the SAP PM module. Along with maintaining independents equipment like vehicles, it also takes care of several pieces of interdependent tools/ equipments in a production line; where maintenance tasks are performed at the "Functional Location".
Other Benefits: In a nutshell, SAP PM allows plant maintenance tasks to be standardized across the enterprise and integrates them with other functions. In the process, it creates structured information; reduces reliance on standalone computer systems and paper-based systems; reduces the maintenance costs of critical systems; and offers better control of manpower, resources and overall maintenance costs. Along with promoting the ownership of maintenance data, it also monitors and improves the performance measures in regards to plant maintenance.
SAP PM may be used as a component of logistics applications or in the form of a standalone management system. Modeled to obtain an in-depth understanding of plant maintenance processes and their integration with other modules; this course underlines the tasks of planning, execution of production activities and plant maintenance.
The topics covered are:
An introduction to SAP navigation and ERP Systems.
Overview of plant maintenance, Corrective/ Preventive Maintenance.
Creation and changing of functional locations.
Transfer of data from functional locations.
Preventive maintenance objects and organizational elements of plant maintenance.
Document Management and classification.
Integration of SAP PM with other modules.
The duration of this course may vary in accordance to the skill sets possessed by individual candidates. In general, SAP PM covers 3-5 days with 40 hours of training. The course fee is dependent upon specific institutes and may vary from INR 25K to 2.5 lacs.
The SAP PM program is designed to offer an insight into the various activities of plant maintenance. It helps candidates adopt SAP PM as an effective managing tool for planning, monitoring and scheduling the different tasks of plant maintenance. It is a good course for those with a background in Information technology and having a degree in BCA, MCA, B.Tech/ M.Tech (CS, IT or mechanical engineering).
Freshers in the field of IT or mechanical engineering may like to go in for the basic SAP PM course and get an easy breakthrough in well placed organizations. Awareness of SAP (System Application & Products ) navigation tools and plant maintenance program objectives is essential for this course. Training in this module is best suited for project members of PM and/ or supporting teams; maintenance managers; as well as business analysts. SAP consultants may also enroll to enhance their skill sets and apply for good job profiles.
SAP PM certification presents good jobs in reputed companies globally. Varying in accordance to the skills and experience of the applicants, these jobs offer salary structures in the range of INR 30000 for entry level consultants to INR 870K for senior SAP consultants with greater skills and more experience. SAP PM managers may look forward to huge paychecks that may go up to as high as 1.2 million; along with a bonus of INR 25K for 1-4 years and INR 80K for 5- 10 years of experience.
Click here for SAP PM JOBS
90 percent of the jobs on offer in this field are in the salary bracket of INR 45000, while the remaining 10 percent offer salaries of more than INR 75000. There are more than 55 job posts open for grabs every month. Reputed companies are known for offering good bonuses on a yearly basis or after one product life cycle. Here, the bonus figures may go as high as INR 50K annually.
Explore the various opportunities presented by SAP PM and say "yes" to a lucrative and action-packed future. Today!