Definition - What is SAP FICO?
SAP FI CO - the best configuration for internal as well as external accounting processes; represents FI (Financial Accounting) plus CO (Controlling). It is an important core module of ERP processes, wherein real time financial transactions are integrated with various parallel SAP modules for best results.
Well suited for professionals desirous of excelling in the fields of accounting and finance; SAP Financial Accounting (FI) offers highly sophisticated means of financial transaction reporting and better handling of accounts. The external reports generated with the help of SAP FI CO are being increasingly utilized by banks, administrators, Tax Authorities, stock holders and managers, in line with their specific requirements. SAP FI is responsible for integrating diverse modules and generating a single system for the entire organization. In a nutshell, it draws data for external reporting procedures while its SAP Controlling Module (CO) lays emphasis on data for internal users.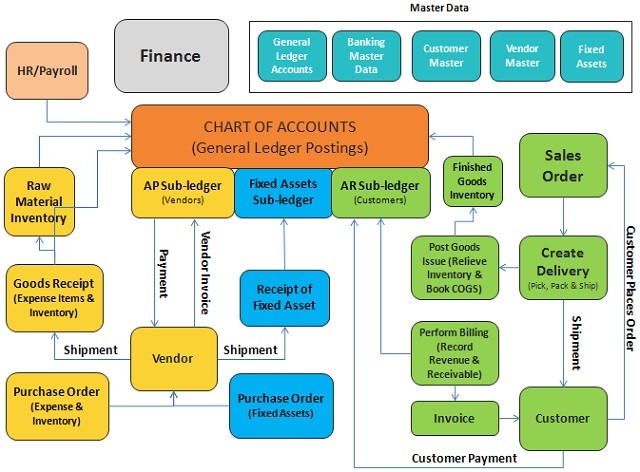 SAP Controlling is vital for management decision making processes and is often used for internal reporting purposes. The Controlling area is typically a smartly conceived organization unit that is useful for representing the controlling and accounting activities of profit centers, product costing, profitability and so forth. CO, the controlling module, aptly complements the value created by the FI reports and utilizes the many features of the vastly used SAP FI components. The SAP Controlling Module (CO) further helps the management by organizing profit centers, Cost Centers, contribution margins and so forth. Once the transactions are posted in FI, they are transferred to CO for further processing, Cost Accounting, analytical reporting and audit-control.
Some important features and benefits of using SAP FI CO are:

The SAP FI/CO course is specifically designed to impart comprehensive knowledge in regards to the proper utilization and management of various external reports and controlling components.
The diverse SAP Topics covered under this module are:
The course triggers off with business analysis, defines the business environment, outlines planning methodologies and procedures and provides insights into Asset Accounting, cost object controlling and so forth. The duration of this certification course varies from one institute to another (from 2 to 6 months) and its fees fall in range of INR 25,000/- and above.

In depth knowledge of essential ERP Systems is a must for those wanting to get their hands on the implementation of the entire SAP Life Cycle and get entry as senior SAP FICO consultants.
Candidates wanting to pursue a career in SA FI and Co should have:
The SAP FI CO course is good for freshers wanting to get highly paid jobs. After completion of this course, the usual job profile is of that of a SAP FICO Consultant.

SAP FICO consultants support and implement this module by enhancing various client business functionalities and maintaining the highest levels of customer satisfaction. These professionals are responsible for the design, implementation, management and testing of all FI/CO modules. With time and greater levels of experience, entry level consultants may look forward to the positions of a SAP FICO trainer or senior SAP FICO consultant. The salary of a SAP FI CO consultant in India varies from INR 247,000 to INR 4, 50,000 and includes bonuses in the range of INR 10,000 to INR 15,000. Added experience in the fields of finance and accounting enhance the opportunities for well paid jobs.
Sign up today and get ready to take your SAP career to unprecedented levels of success—the right way!