Definition or Meaning - What is SAP FICO?
Full form or SAP FICO stands for FI (Financial Accounting) and CO (Controlling), SAP FI CO is the best configuration for internal as well as external accounting processes. It is an important core module of ERP processes, wherein real time financial transactions are integrated with various parallel SAP modules for best results.
Well suited for professionals desirous of excelling in the fields of accounting and finance; SAP Financial Accounting (FI) offers highly sophisticated means of financial transaction reporting and better handling of accounts. The external reports generated with the help of SAP FI CO are being increasingly utilized by banks, administrators, Tax Authorities, stock holders and managers, in line with their specific requirements. SAP FI is responsible for integrating diverse modules and generating a single system for the entire organization. In a nutshell, it draws data for external reporting procedures while its SAP Controlling Module (CO) lays emphasis on data for internal users.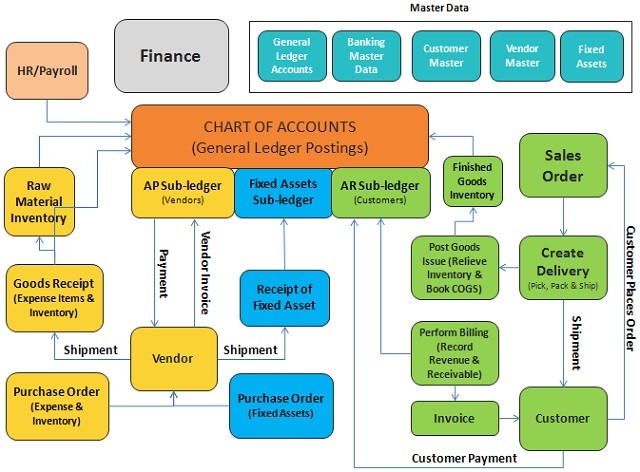 Sub-components of SAP FI
SAP FI General Ledger accounting
Asset Accounting
Funds Management
Accounts Receivables
Accounts Payable
Special Purpose Ledger
Consolidation
Travel Management
Bank Accounting
SAP Controlling is vital for management decision making processes and is often used for internal reporting purposes. The Controlling area is typically a smartly conceived organization unit that is useful for representing the controlling and accounting activities of profit centers, product costing, profitability and so forth. CO, the controlling module, aptly complements the value created by the FI reports and utilizes the many features of the vastly used SAP FI components. The SAP Controlling Module (CO) further helps the management by organizing profit centers, Cost Centers, contribution margins and so forth. Once the transactions are posted in FI, they are transferred to CO for further processing, Cost Accounting, analytical reporting and audit-control.
Sub Components of SAP CO
Cost Element Accounting
Profit Center Accounting
Cost Center Accounting
Internal Orders
Profitability Analysis
Product Cost Controlling
Some important features and benefits of using SAP FI CO are:
SAO FI offers some of the most important components for diverse SAP implementations.
SAP FI (Financial Accounting) is an effective tool for reliable, accurate and time based external reporting in the form of Profit and Loss statements, Balance Sheets and so forth.
Other SAP modules like SAP SD (Sales and Distribution), MM (Materials Management), PS (Project Systems), PM (Plant Maintenance) and SAP PP (Production Planning) integrate well with SAP FICO and provide it with postings in a consistent way. These benefits of SAP FI CO are being utilized by applications in most organizations, globally.
All accounts-relevant transactions are generated in Logistics (LO) and are posted in real-time to Financial Accounting modules through automatic account determination techniques. All this data is also capable of being passed on to Controlling (CO).
Read Next: