What is Document Types in SAP?
Document type is a key used for classifying accounting documents & differentiate between trade transactions to be posted. SAP users enter the document type in the document header, and it gets automatically applied to the entire document.
SAP users have to define the document types at the client level. The standard system produces several document types that you can utilize or modify as per requirement. By customizing the default document type in SAP against each transaction type, SAP users can release the user from keying each time amid posting a transaction.
Function of Document Types
Distinguish between business activities: Document types differentiate business transactions and control document filing.
Control the posting of account types (for vendors, customers, or G/L accounts): Document type decides which account types a particular document can post to.
Assigning document numbers: Document type also helps to determine the assignment of document number to every document type. It should store the original documents from one number range together.
How to Define Document Type in SAP?
Here are the steps you need to follow to define Document Type in your SAP system:
Enter t-code as OBA7 in SAP Command Field and press Enter key.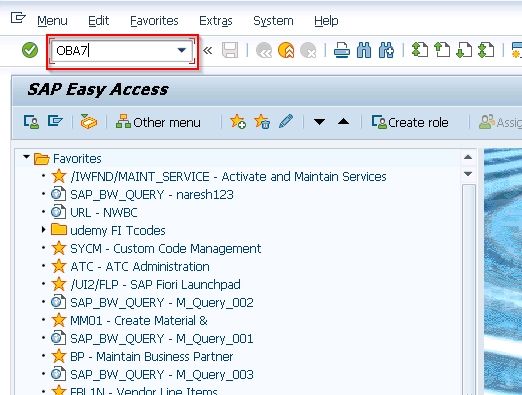 OR (for SAP Navigation Menu)
Execute t-code SPRO in SAP Command Field.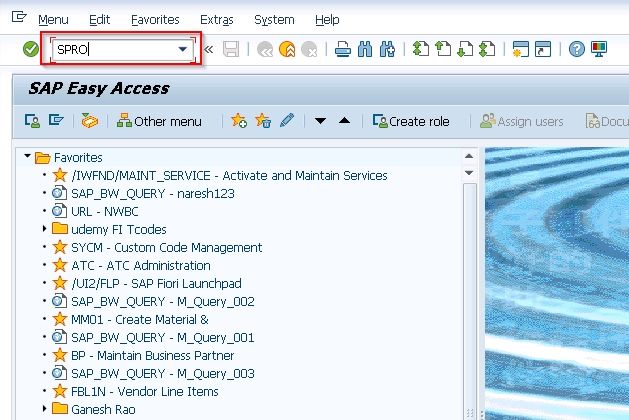 On the next screen, click the SAP Reference IMG button.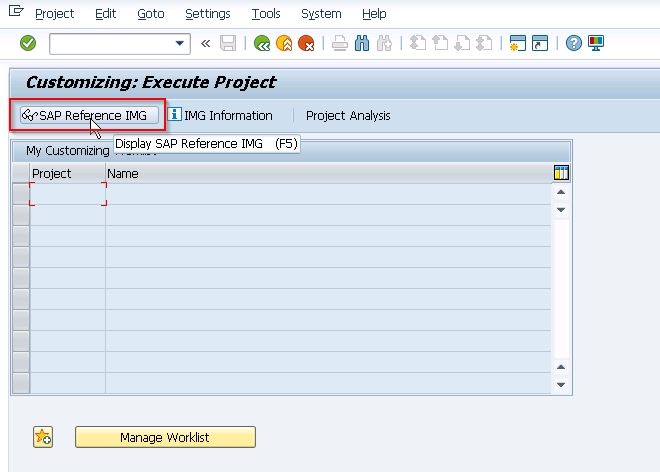 Now follow the following SAP menu path:

SAP Customizing Implementation Guide –> Financial Accounting > Global Settings > Document > Document Header > Define Document types.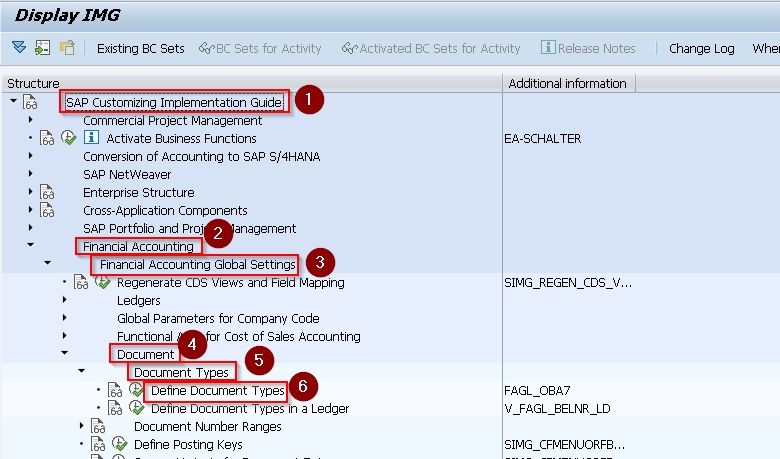 Next, in Change View "Document Types" Overview screen, there will be a list of all previously defined document types on your SAP system.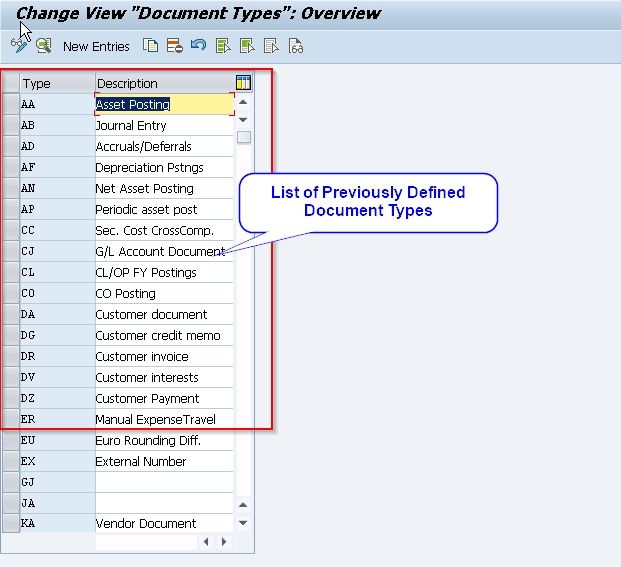 Click the New Entries button present in the toolbar.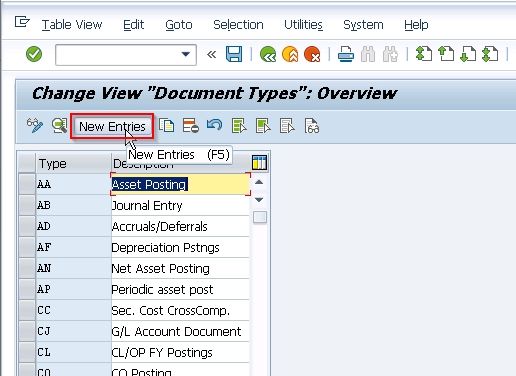 On the next screen, enter the following details:
Document Type: Enter 2 character unique key
Number Range: Enter the number range
Reverse Document Type: Key for reverse document type
Click the Number Range Information button
Account Type Allowed: Under this section, choose the type of account for your document type i.e. vendor a/c, asset a/c, etc.
Control Data: Select appropriate control data for your document type.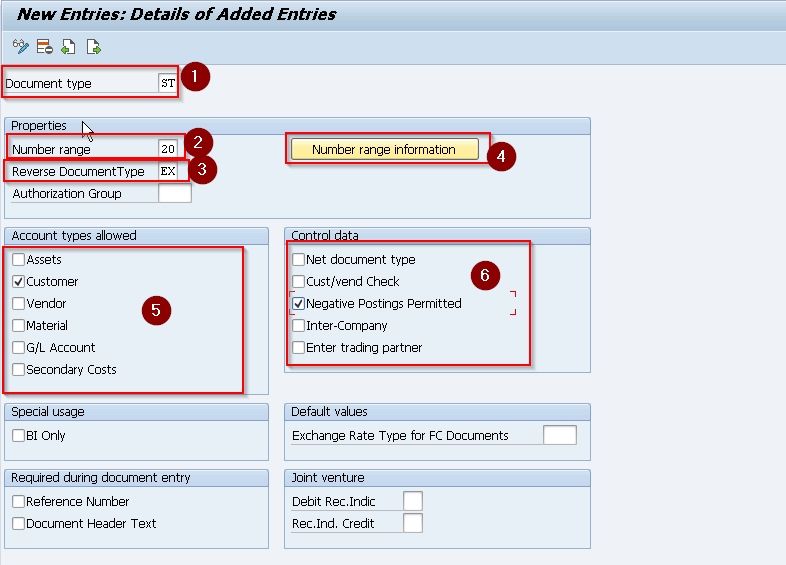 Next, click the Save icon once you entered all the required data.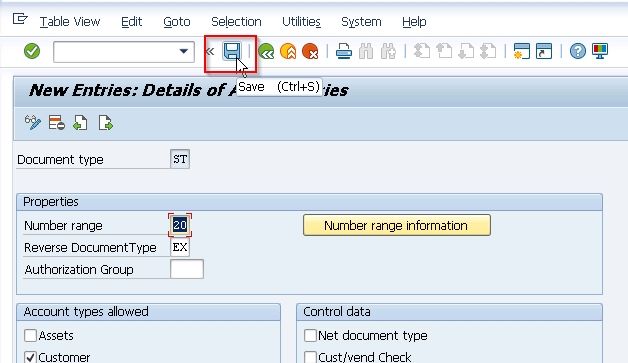 Now enter your Customization Request code and click the green tick icon or hit the Enter key to proceed.

All the data for your Document types have been saved in your SAP system.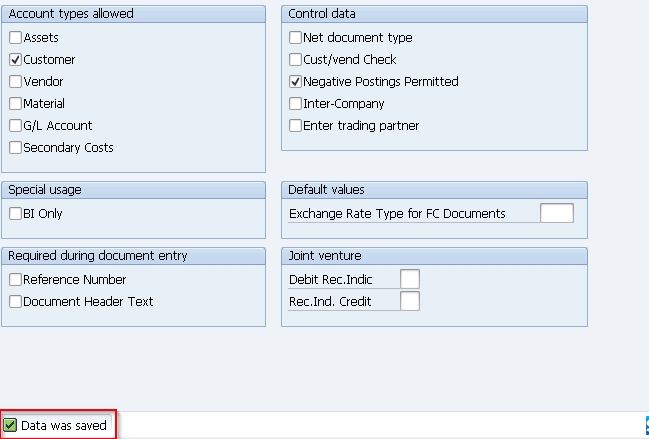 Once you save the document type, update the description of the document type and click the Save icon again.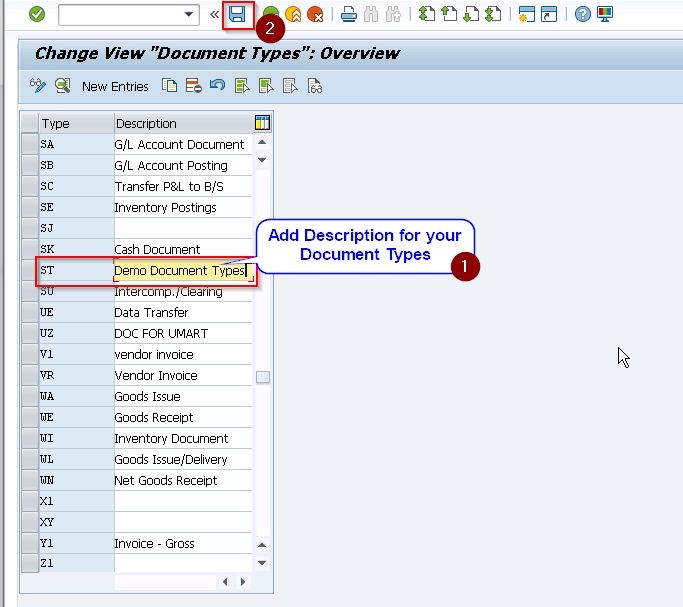 Thus document types are successfully configured in the SAP system.
Standard Document Types
Here is the list of Document Type Keys provided by SAP standard systems:
| Standard Document Types | Document Type Description |
| --- | --- |
| AA | Asset posting |
| AB | Accounting doc |
| AE | Accounting doc |
| AF | Dep. postings |
| AN | Net asset posting |
| C1 | Closing GR/IR accts |
| CI | Customer invoice |
| CP | Customer payment |
| DA | Customer |
| DB | Cust.recurring entry |
| DE | Customer invoice |
| DG | Customer credit memo |
| DR | Customer invoice |
| DZ | Customer payment |
| EU | Conversion diff.Euro |
| EX | External number |
| GF | Subsequent adjustmnt |
| JE | G/L account posting |
| KA | Vendor |
| KG | Vendor credit memo |
| KN | Net vendors |
| KP | Account maintenance |
| KR | Vendor invoice |
| KZ | Vendor payment |
| ML | ML settlement |
| NB | Vendor |
| PR | Price change |
| RA | Sub.cred.memo stlmt |
| RE | Gross inv. receipt |
| RF | Invoice |
| RK | Gross inv. receipt |
| RN | Net invoice receipt |
| RV | Billing doc.transfer |
| SA | G/L account |
| SB | G/L account posting |
| SK | Receipt f. cash pmnt |
| SU | Subseqnt debit doc. |
| VI | Vendor invoice |
| VP | Vendor payment |
| WA | Goods issue |
| WE | Goods receipt |
| WI | Inventory |
| WL | Goods issue/delivery |
| WN | Net goods receipt |
| X1 | Recurring entry doc. |
| X2 | Sample |
| ZA | Asset post. Period |
| ZC | Client Funds |
| ZF | Dep. postings |
| ZP | Payment posting |
| ZV | Payment clearing |