AS03 - Display Asset Master
Functionality

You want to see the values in the asset master which is created.
Scenario

This transaction is used to display an asset master record.
Requirements

None.
| | |
| --- | --- |
| Menu Path | Accounting ® Financial Accounting ® Fixed Assets ® Asset ® Display ® AS03 - Asset |
| Transaction Code | AS01 |
1. Double Click on AS03 - Asset
Display Asset: Initial screen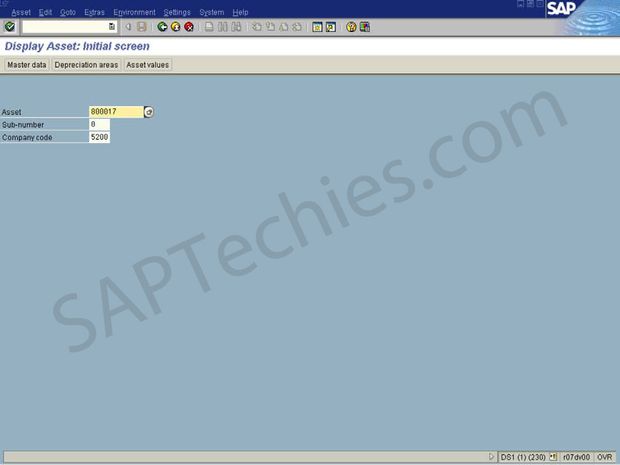 2. Update the following fields:
| | | |
| --- | --- | --- |
| Field Name | Field Description | Values |
| Asset | This is the number which, together with the asset sub-number, identifies a fixed asset in Asset Accounting. | Example: 800017 |
3. Click Enter

.

Display Asset: Master data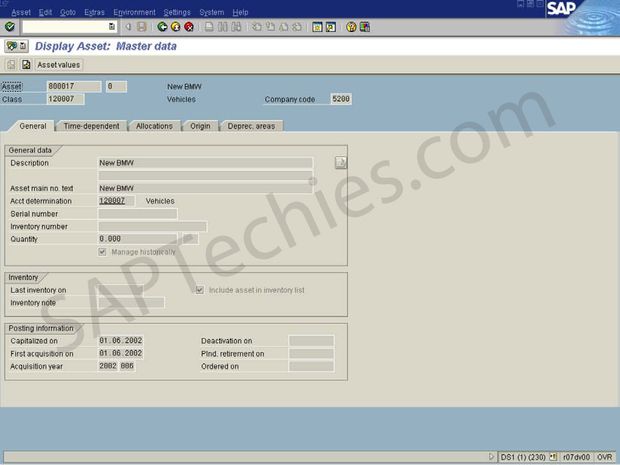 Note: This page displays general data for the asset. The account determination is the key link between asset accounting and the general ledger. Each asset class has a separate G/L control account.
4. Click <stab button> Time-dependent

.
Display Asset: Master data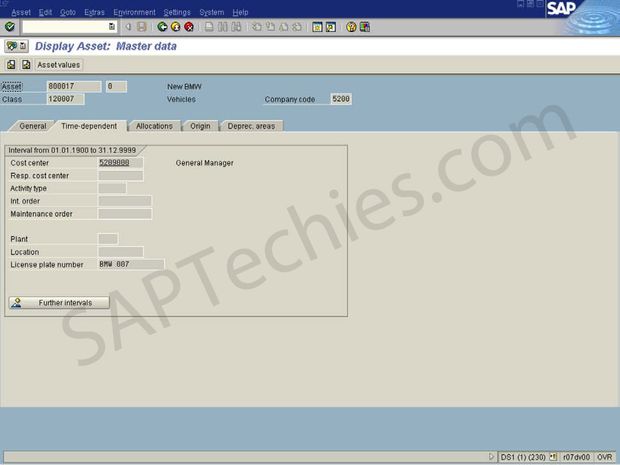 Note: Time dependant data is used to manage costs associated with the asset from a responsibility point of view during the asset's life cycle. For assets under construction, an internal order is used to manage budget / actual expenditure at SAI.
5. Click <stab button> Deprec. areas .
Display Asset: Master data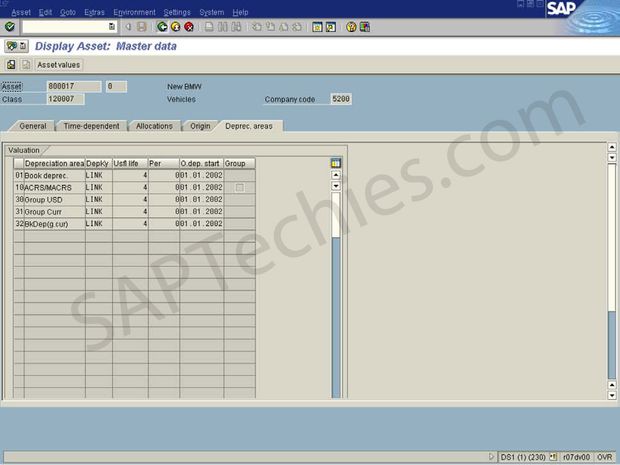 Note: Each depreciation area is set up to handle depreciation for a particular purpose (e.g. book depreciation, tax depreciation, group depreciation, cost-accounting depreciation, etc.).
Every depreciation area belongs to at least one chart of depreciation , and is managed independently from other depreciation areas. .
6. Click Asset Values

.

Asset Explorer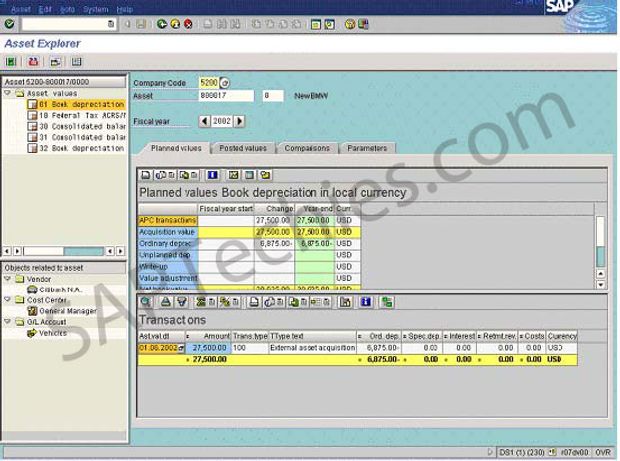 Note: This function shows all the values of a fixed asset, including APC values and depreciation, in various forms and summarization levels. Planned values are displayed, as well as values already posted. You use this function to display and analyze asset values. Double clicking on transactions will open the original financial document.
7. Click <stab button> Posted values

.
Asset Explorer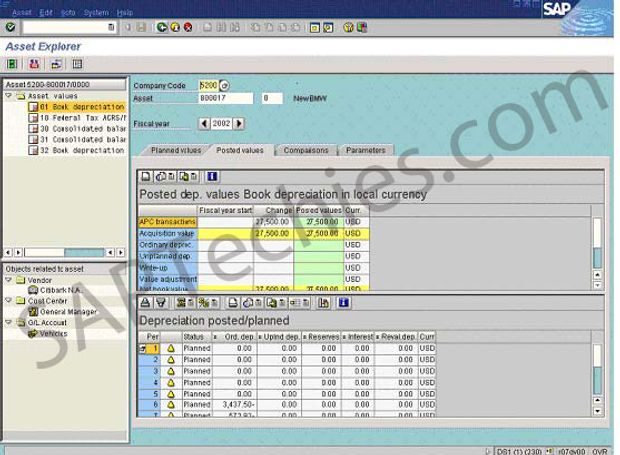 Note: The Asset Explorer consists of the:
Header, in which you enter the company code and asset number
Overview tree, with which you can navigate between different depreciation areas
Overview tree that displays objects related to the asset
Tab, in which you analyze plan values and posted values using different parameters, and compare fiscal years and depreciation areas.
8. Click Back thrice to exit the transaction.