(Consider Restaurant Activities).
Each user transaction may be served by one or more processes with out restricting to the user similarly each work process serve multiple users with out restricting the user. (No dialogue process remains ideal)
Each process can serve 5 - 10 users and Each SAP transaction consists of multiple (LUW - Logical unit of work) Each LUW contains task which should be completed/ rollback as a group. Each LUW is a commit or rollback (no intermediate stage ... which makes the system inconsistency)
Consider a Travel agency
In a travel agency buying the ticket is LUW (Outward/inwards).
1. LUW (Outward/ inward)
Booking accommodation (LUW for number of days)
2. BIND 1 & 2
Tickets to and fro + Accommodation)
3. Transportation (LUW for a local tour)
BIND 1 & 2 & 3
4. Appointment (Dates are not available Eg: Darshinam)
BIND 1 2 3 4

Each of the LUW is performed by a single different work process and is restricted to 600 Seconds and task has to complete within 600 milliseconds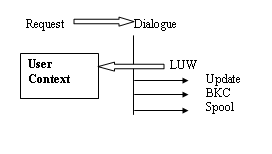 Read more about SAP BASIS Tutorial